The top 30 stores in the UK that highlight retail design at its very best, making them a top destination for consumers.
Click on the company names below to jump to the corresponding description.
The UK remains in the vanguard when it comes to creating stores that push the envelope, shift the paradigm, and just make people shop.
This is retail's design premier league and department stores continue to make the running, with the lion's share of the top five positions and Selfridges at the top.
This diverse part of the retail spectrum continues to prove itself a well of innovation and glamour.
The best department stores are worlds under one roof – places where shoppers head to spend time as well as cash. They stand as experiences in their own right.
The same, to an extent, is true of all the stores in this ranking.
Top of the Shops is a fluid list and the fact that there are a significant number of new arrivals in the Top 30 is testimony to that fact.
Over the past 12 months some of the new arrivals have elbowed those who appeared in last year's ranking firmly out of the way.
No doubt you will have your own opinions about which stores should have made the list and they will almost certainly differ from what appears here.
Please do therefore share your thoughts and continue to make suggestions. Let us know what you think of the list by commenting below, or using the hashtag #TopoftheShops on social media.
1. Selfridges, Oxford Street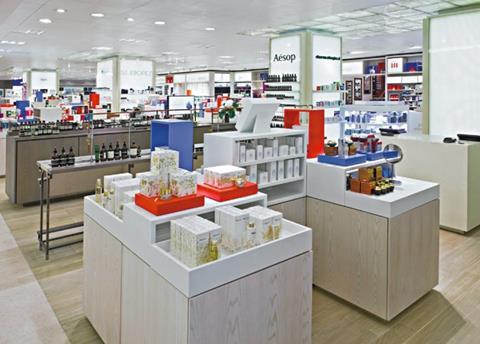 Glamour, innovation and a sense of place. All this and more are the reasons for Selfridges taking top honours once more, as the best shop in the UK.
Whether it's windows celebrating Shakespeare's 400th birthday or another makeover to one of the fashion floors, there is always something to make a repeat visit worthwhile, which is probably the reason that it continues to be a magnet for locals and tourists when in central London.
2. John Lewis, Leeds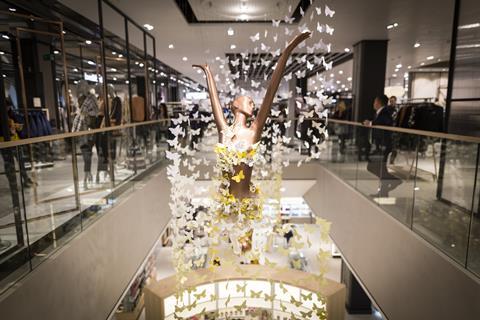 Opened on October 20, 2016, at 170,000 sq ft this is a full-line John Lewis store trading from five floors and the thing that really marks it out is the visual merchandising.
This succeeds in taking the shopper gently around the store without obtrusive signage while managing to raise a smile courtesy of the installations that are used to help customers find their way around.
John Lewis may still be the spiritual home of commodity presentation but it has a lightness of touch that sets it apart.
3. Uniqlo, Oxford Street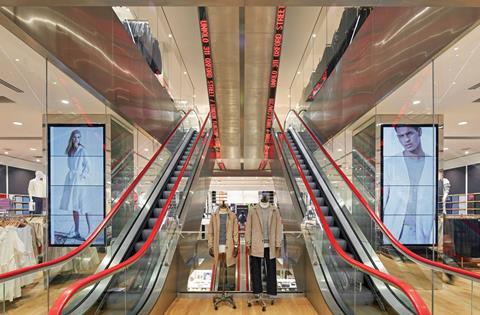 Close a store for a year, add an extra two floors and create two distinct shops under one roof and you have Uniqlo on Oxford Street.
This is the Japanese fashion retailer's European flagship and as well as the usual signature elements of its other 'global' stores, there is a loft-style space on the top two floors that feels as if you have entered another shop, although the stock is the same.
This store is about taking a design template and using it to create difference and to make it an Oxford Street one-off.
4. Harrods, Brompton Road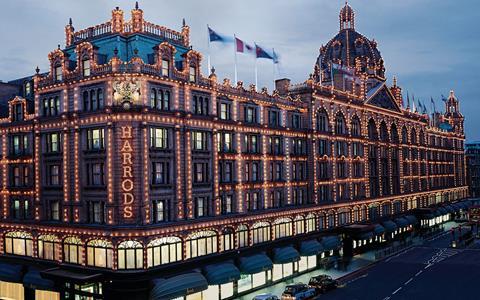 As Europe's largest department store, Harrods is an icon for the sector and a historic London landmark.
The neo-classical French and Queen Anne Baroque-style building undergoes almost continual reinvention as it keeps pace with the changing face of retail. There is almost nothing about this store that is not opulent, from the world-renowned food halls, to the fine jewellery rooms.
For shoppers, it is often a case of selecting an area to explore in detail, as the store is almost too large to be digested at a single visit.
5. Topshop, Oxford Circus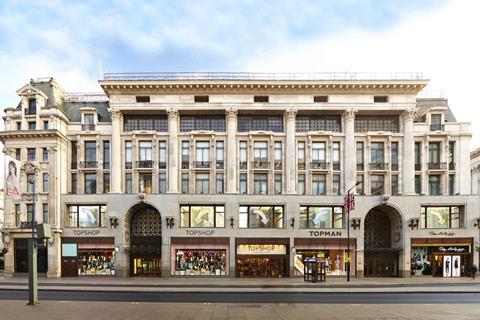 "Fashion central", as it is known by the modish crowd, is a multi-floor edifice that has a basement, a sub-basement and then a series of floors dedicated to style.
The point about Topshop is that while it may appear, from time to time, vaguely chaotic, it is in a constant state of flux – making it worthy of repeat visits by the fashion pack in search of something new.
In terms of visual merchandising, the windows alone make this one worth a visit, as does the store layout, where each floor feels almost completely different.
6. B&Q, Cribbs Causeway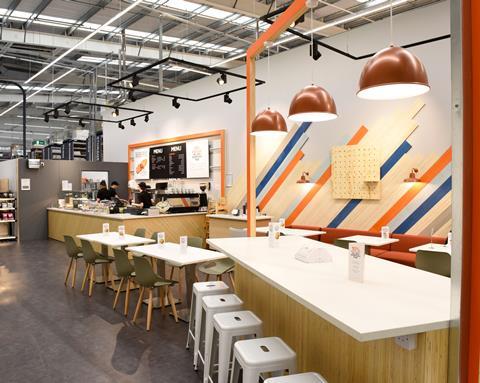 Large sheds are normally functional places that shoppers end up in because they offer both range and ease of access.
This is certainly the case in the newly refurbished B&Q at Cribbs Causeway, but unusually it is also a very large store that shoppers might enjoy spending time in.
B&Q parent Kingfisher has opted to take elements of its Castorama fascia and combined them with B&Q to achieve operational synergies. In so doing however, it has also created an interior that has more light and a simpler layout than in other branches.
7. Sainsbury's, Nine Elms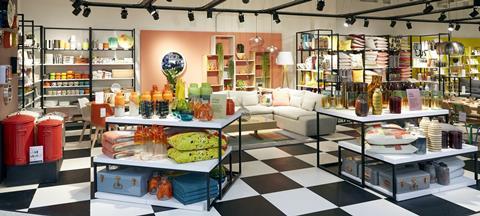 Stores of the future are prone to failure largely because they are more about showing what is possible, particularly when it comes to technology, with little attention paid either to shoppers or cost.
The Sainsbury's store in Nine Elms however is a store of the near future, home to both to an Argos and a Habitat, both part of the recent acquisition from Home Retail Group.
Here, a keen eye has been kept on cost and the outcome is a supermarket that is easily navigated and which makes food shopping close to being a pleasure.
8. Apple, Regent Street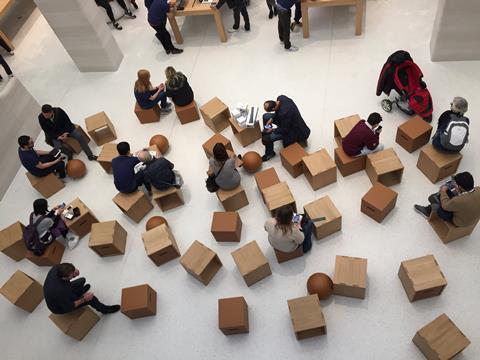 Freshly refurbished, the Apple store on Regent Street, which first opened in 2004, is testimony to the enduring power of this company's design power with an avenue of potted trees being the main feature that welcomes shoppers heading through the doors.
Much of what is on view will be very familiar to Apple fans, but in-store change at this brand tends to be incremental, rather than complete reinvention.
All of which means that once again, Apple has created a store that is a thing of beauty to many and that should ensure that its ability to attract shoppers remains undiminished.
9. Ikea, Aberdeen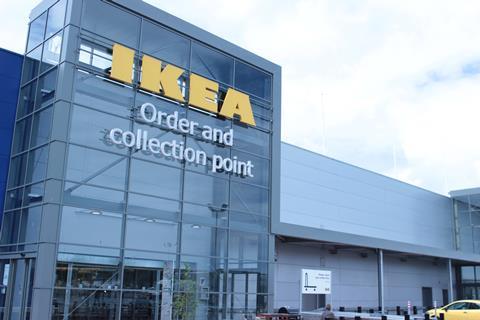 Think Ikea and the first thing that comes to mind probably involves a very large shed somewhere on the edge of a substantial city. It would be reasonable to expect therefore that a store in Aberdeen would be a behemoth in excess of 300,000 sq ft.
In fact it measures just 47,363 sq ft and is one of several 'order-and-collection' points that the retailer has opened this year.
There is a limited range from the 'market hall' offer and shoppers can also plan their kitchens and element of their interiors, but for the most part this store is about making the world Ikea available to shoppers who may instead face a drive of two or more hours to the nearest full-line store.
10. Dyson, Oxford Street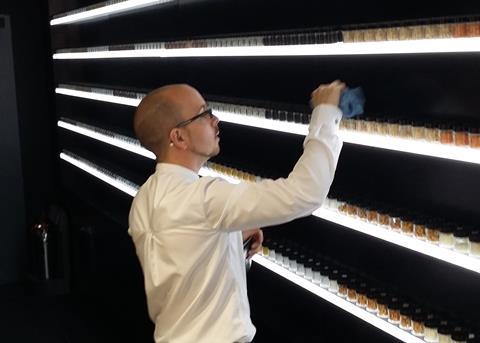 Brands that become retailers are a new facet of high street life and Dyson's decision to open a two-floor store on Oxford Street is a premium example of the trend.
The ground floor is home to vacuum cleaners and fans, while upstairs an entire floor is devoted to Dyson's hairdryer, for which the store is a launch pad.
As an example both of a brand becoming a retailer and of explaining how products work, this is one of the best stores of its kind.
11. Polo Ralph Lauren, Regent Street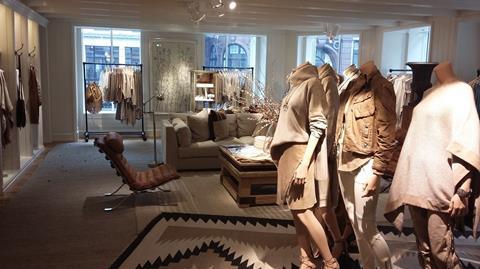 A European flagship for the preppy lifestyle brand does much to affirm Regent Street's 'Little America' status.
This multi-floor emporium largely follows the template set at the Polo Ralph Lauren on Fifth Avenue, which opened in 2014. Much has been done however to ensure that it is localised and there is also a heavy emphasis on personalisation to allow shoppers to leave with a one-off garment.
Attention to detail and the finishes are what made this an obvious contender for inclusion in the list.
12. Harvey Nichols, Birmingham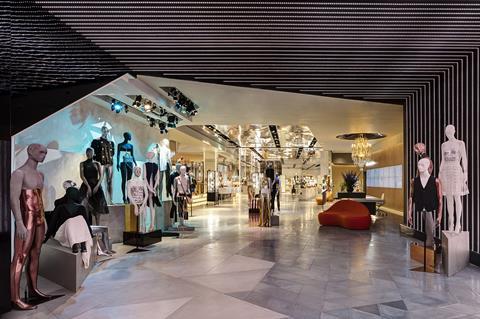 Opened in 2015, Harvey Nichols in Birmingham remains a department store beacon in the UK's second city.
Trading from a single floor and with a Hollywood walk of fame-style entrance, this store has everything that you'd expect, but it also makes good use of technology with a 'Digital Concierge' to help shoppers decide on a purchase, a tablet-filled beauty department and LEDs used to create high and lowlights. All of the equipment in the mid-shop is bespoke, meaning an interior that is like no other.
13. H&M, Cardiff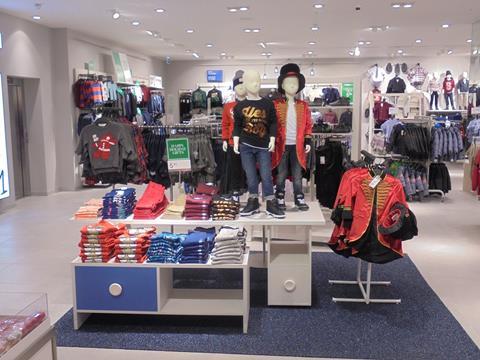 This is currently the biggest H&M outpost in the UK, although it will forfeit this title when the staged opening of the 64,600 sq ft store in Westfield London is completed by 2017.
For the moment however, this is the store where every element of the H&M offer can be found, from homewares to fashion, making it interesting purely because at a time when other retailers are shrinking their store sizes, this retailer continues to plough its own furrow.
14. Primark, Tottenham Court Road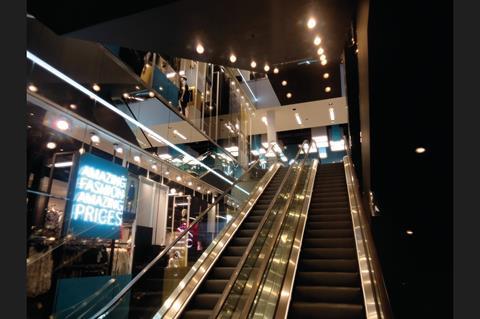 This is the second Oxford Street 'flagship' for the discount retailer, roughly a mile along the thoroughfare from the Marble Arch store. Located opposite Tottenham Court Road tube station, this store takes value fashion and pulls off the trick, as do most of the retailer's newer stores, of making it feel not only acceptable, but desirable. It does so through a heady mix of large format graphics, a massive video screen on the ground floor and large amounts of natural daylight on every level. The West End of the store is currently being enlarged.
15. Waterstones, Tottenham Court Road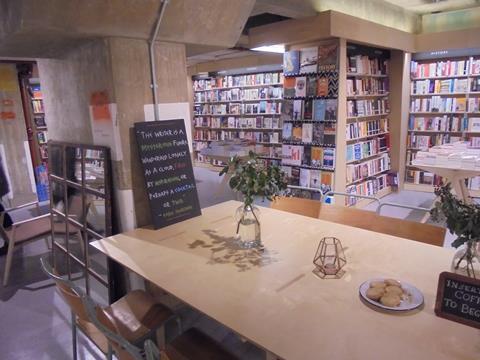 Opened at the end of 2015, this is a bookstore, that is a cinema, that is a cafe-cum-bar and all housed within a raw concrete unit at the south end of Tottenham Court Road.
As such, it is quite unlike the bookshop norm and has a community feel to it with its mix of freelancers using the Wi-Fi in the cafe and students from nearby Univeristy College London.
Waterstones has understood that buying books is just part of the process when visiting a bookshop and this store has been busy since it opened.
16. Waitrose, King's Cross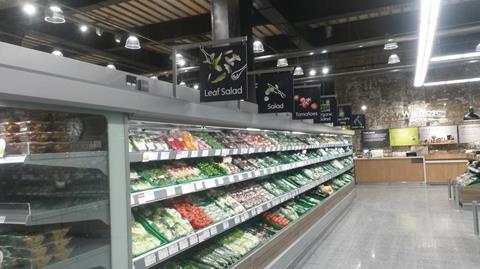 Putting a 24,000 sq ft supermarket in central London is unusual, given the constraints of cost versus return on investment. Doing this in a Victorian-era, listed railway depot building makes the Waitrose store in London's King's Cross a unique accomplishment.
With features such as a semi-discrete wine bar and counters that place a heavy emphasis on snacking, this is a large store that sets its cap at the pedestrian shopper (there is no car parking associated with the store) in this newly fashionable part of London.
17. Lidl, Rushden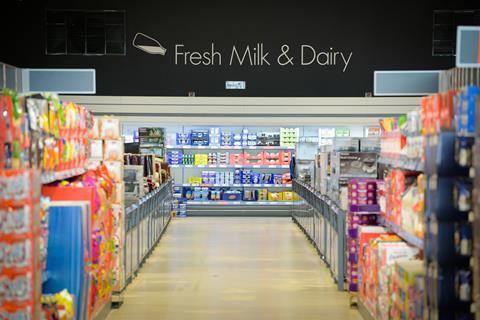 Lidl's store of the future in Rushden looks startlingly modern from the outside, with its mix of glass and steel, and once inside this 15,000 sq ft branch has a raft of features that set it apart from other stores in the retailer's UK portfolio.
With wider aisles, longer tills and a more spacious layout, this store is about providing a Lidl blueprint for years to come and the real point it is that it no longer feels like a hard discount interior.
Much play is made of the store's energy efficiency that the retailer claims reduces its carbon-dioxide emission rate by 20% compared to other branches.
18. Hamleys, Regent Street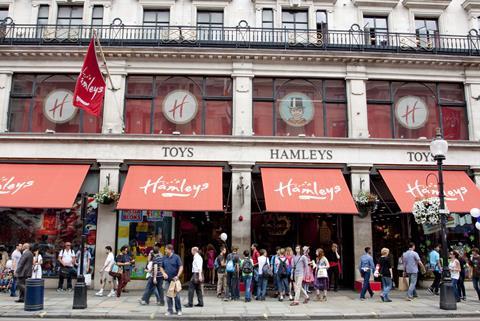 Hamleys has been around for more than two centuries, a toyshop that is a byword for its category worldwide, and is a destination in every sense of the word on Regent Street. Today the shop's floors are themed and one of the elements that sets it apart is the high degree of in-store interactivity and live demonstrations in most departments.
The windows are also noteworthy, acting as magnets in a way that few others can manage. Most shoppers with children arriving in London will, at some point, make a trip to this store.
19. Lush, Oxford Street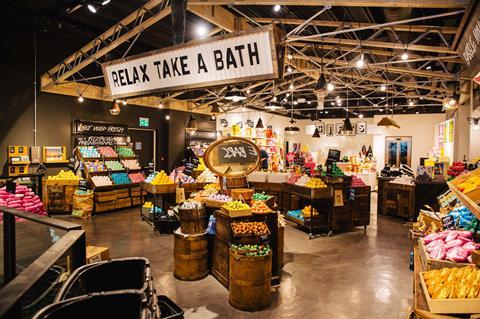 Opened in the spring of 2015, this is a three-floor flagship for the cosmetics retailer most famous for its bath bombs.
The underlying intention here is to create a destination that will deliver a range of experiences from spa treatments in the basement to a Lush "party" on the first floor.
The ground floor features bath bombs of various compositions in baskets, on shelves and stacked high on tables, providing a feast of colour for the eyes and scents for the nose. With heavy use of recycled materials for the fit-out, the store manages to maintain the ethical stance for which Lush is known.
20. Whole Foods Market, Piccadilly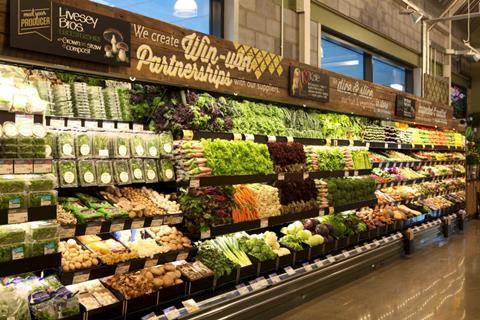 This Piccadilly store's footprint is a fraction of the size of the Kensington High Street flagship, it appears that Whole Foods Market has hit upon a two-floor format that has found favour with casual diners and those in search of food-to-go.
There is much to commend about the interior, which relies heavily on visual merchandising to make its offer appealing and signage about food provenance and quality abound. This is a model for retailers looking at city centre food retail and offers Whole Foods Market the realistic possibility of UK expansion.
21. Mercato Metropolitano, Elephant & Castle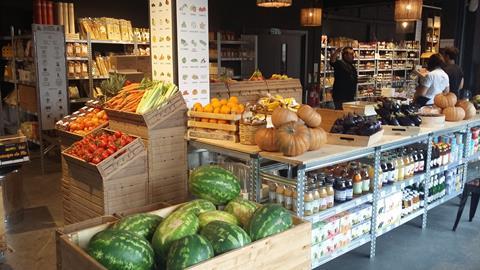 Opened in the autumn of 2016, this is a food store and dining destination that targets those in search of an authentic Italian experience. As such, it has a shop-cum-deli where the idea of fresh is to the fore, and which works well in promoting the feel of an indoor market. This is coupled with an indoor and outdoor dining area filled with counters offering different types of Italian food to be consumed on the premises. This is the second Mercato Metropolitano, the first was in Turin, and is a new retail proposition for London.
22. Currys PC World Carphone Warehouse, Hedge End, Southampton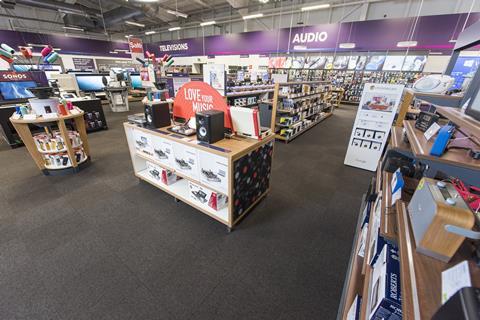 Following the merger of Carphone Warehouse and Currys PC World in 2014, the new retailer unveiled a "3-in-1 store concept" with all three fascias under one roof.
The result can be seen at the vast 40,000 sq ft store in Hedge End, Southampton. In terms of category killing offers, this is about as good as it gets, as not only is there massive choice, but the retailer has made it easy to identify the different parts of the shop using, in the main, product as the navigation method.
This is certainly a destination, but the chances are good that it will also function when it comes to garnering incremental sales as there is much to encourage impulse purchasing.
23. JD Sports, Oxford Street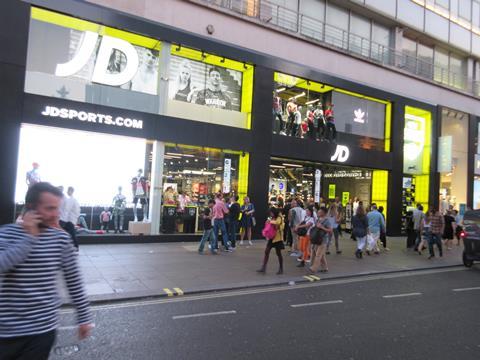 With Niketown just along the street, any rival has to deliver something special if it is to be a contender. JD Sports achieves this with a store relies heavily on technology to provide an experience where shoppers can look at sportswear, examine its quality and see the use to which it might be put.
The shop principally offers training shoes, but clothing acts both as a commodity in its own right and as a visual merchandising prop for the main event. Couple that with an interior where the stock, rather than the shop, is lit, and shoppers have a sports and leisure space that goes the distance.
24. Fabled, Tottenham Court Walk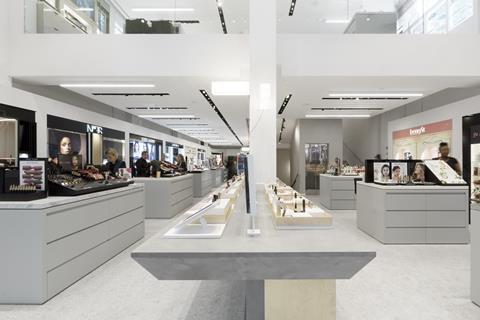 Tie-ups between retailers are reasonably commonplace these days, but when a fashion and beauty magazine joins forces with an online supermarket, it is perhaps indicative of broader thinking.
At Fabled, fashion magazine Marie Claire has teamed up with Ocado to offer a beauty store that puts tech know-how and the brand power of a national periodical centre-stage.
This is the physical evidence of a retailer whose activities are predominantly online and as well as being a bill-poster for the virtual store, it is a good-looking store in its own right.
25. Liberty, Great Marlborough Street, London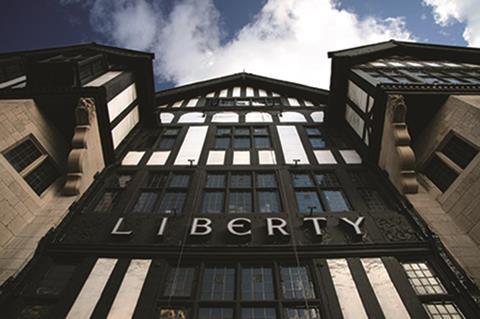 Opened in the 19th century, Liberty remains a retail icon with a loyal UK following and a very healthy level of recognition internationally. Its size has flexed over the past decade and it lost its Regent Street frontage in the last decade.
It remains however a department store beacon for British design and continues to be a West End launchpad for new talent, as well as existing big names. Its substantial back catalogue of Liberty prints, many of which were created for the store by arts and crafts hero William Morris, ensure its continued relevance and the building itself is unique.
26. River Island, Birmingham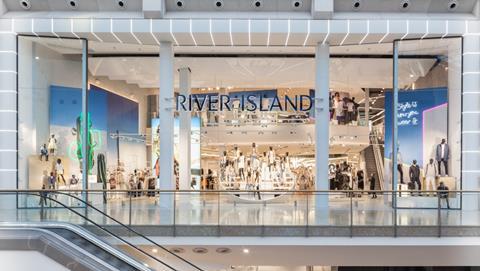 Opened in early 2015, this store is a relocation in Birmingham's Bullring shopping centre and the most obvious thing that marks it out from its competitors is its fascia. It is open, triple-height, and affords passing shoppers views deep into the interior of this palatial branch.
The underlying intention inside is to create a sense akin to a luxury experience without the concomitant price structure. Practically, this means on the two floors extensive use is made of visual merchandise props, ranging from copper-clad 1960s-style cocoon chairs to a gold-plated Tyrannosaurus rex as the introduction to menswear on the first floor. The store also makes very good use of large format graphics.
27. Fenwicks, Newcastle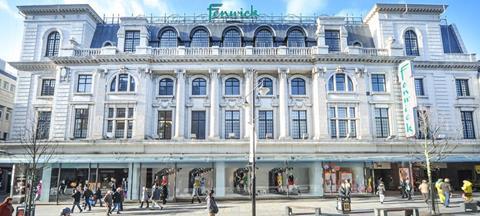 The flagship for the Fenwicks department store chain is at the heart of central Newcastle. Founded in 1882, with five floors and located on the Regency thoroughfare that is Northumberland Street, the store is also the flag-bearer for an 11-store-strong nationwide chain.
Most of the UK's larger cities have a department store that they can reasonably claim as their own, but Fenwicks in Newcastle has an unusually close association with the urban fabric.
That it has managed to stay the course and flourish when Newcastle also has one of the most vibrant city-centre shopping offers is testimony to the level of loyalty that this store inspires.
28. Full Gas Bikes, Sheffield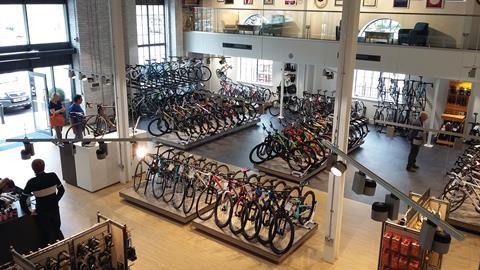 Good-looking bike shops are everywhere these days, so it takes something special rise above the crowd. Full Gas Bikes is an independent bike shop a few miles outside Sheffield that achieves this with a mix of architecture and a determination not to overcrowd the sales floor – essential when the majority of branded bikes tend to start around the £500 mark these days.
The highlight of this store has to be the upper part of the back wall where bikes are installed at an angle in internally lit niches, offering real theatre to the visiting cycling enthusiast. Also worth noting are the Pop Art style graphics depicting famous cyclists. A trip to this store is an occasion in its own right.
29. Paperchase, Glasgow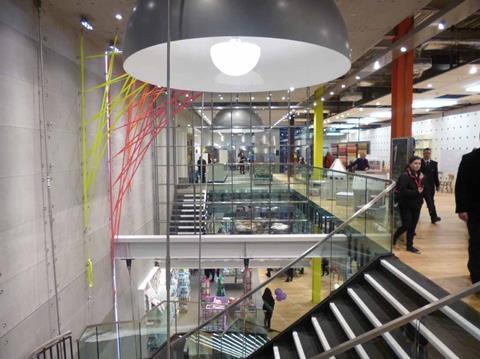 Stationer Paperchase opened its store at the top end of Glasgow's Buchanan Street in 2013. This is a two-floor branch and while, at 15,000 sq ft, it is very much smaller than Paperchase's larger Tottenham Court Road outpost, it has all the trappings that shoppers expect of a retail show-pony.
From the large glass frontage, designed to look like an envelope, to the modern take on a Palladian staircase on the left-hand side of the mid-shop, this may be "design-neutral", as the design company that created the store blueprint claims, but it is hard not to admire what has been done.
30. Bentley, Westfield London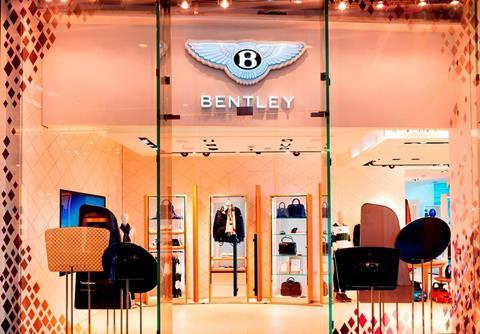 Shopping centres giving space to car brands is a new trend and with names ranging from Hyundai to Tesla promoting their products in malls, it is a rapidly growing phenomenon.
At the top of the tree is the Bentley store in Westfield London, which as well as offering shoppers a glimpse of a hyper-luxury world is also an object lesson in taking a brand that wouldn't usually be associated with a shopping mall and making it relevant.
The store is about a car marque as an experience and there is a sense that it is less about selling and rather more concerned with brand awareness.