As far as drawing on local themes, landmarks and history goes, Ted Baker's new store in the Canadian capital is an exemplar of the tactic.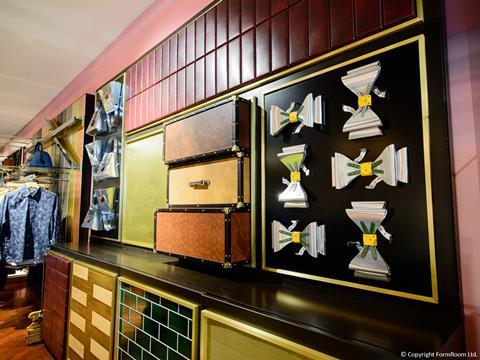 Creating store interiors that reflect their location and/or provenance is not new. Whether it's wooden beams supposed to remind shoppers of the interior of an Australian cattle station (the new RM Williams store in Westfield London) or Hamleys on Regent Street, which takes Britishness and sprints with it, there are many variations on the theme.
The recently opened Ted Baker store in Ottawa, however, shows what is possible with a not-too-literal view of local architecture. Designed in-house, working with London-based design consultancy FormRoom, the store takes its interior cue from the engineering of bridges and railways in the Ottawa area.
Practically this means everything from details found in the city's train station to faux leather luggage panels, intended to mimic the feel of luxury train travel. The mid-shop has display tables whose lower portions have copper and brass pipes and valves of the kind found on steam trains, while the fitting rooms have quilted leather seats that might have been lifted out of a first-class compartment.
Retailers should always be sensitive to their location and this is one of the better examples of what is possible.