The latest Adidas store on Fifth Avenue in Manhattan makes a bold statement with its sleek architecture and interior design.
There's been something of an arms race in New York to open branded sports flagship stores lately, with Under Armour due to open in the former FAO Schwarz store on Fifth Avenue, and Nike having already done so in SoHo.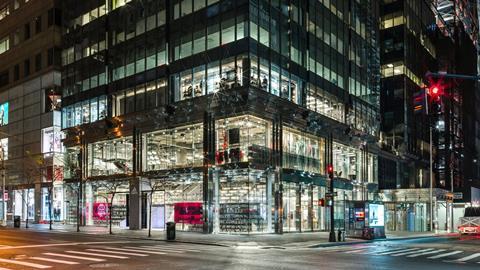 Adidas has not been slow off the blocks either, and this store – on the corner of Fifth and 46th Street – ensures that it remains in the major league among the city's sports retailers.
Recently opened and with four floors with a selling area of 45,000 sq ft, this is a statement of brand intent featuring, among other things, the footwear customisation area, a tunnel entrance inspired by sports stadiums, and a live game viewing space.
It is the glass, steel fixtures and raw concrete that really makes this store stand out, with the inference that if you choose to buy Adidas products you are in the vanguard of style, as much as you are in sports and athleisure.
In terms both of architecture and interior layout, Adidas on Fifth Avenue is a store that pays homage to its location.