When it seems almost every shop is running a Sale, how can retailers ensure that their deals are heard above the siren song of others?
For those who have stayed indoors hibernating over the past few weeks, it is just possible that not knowing about the launch of the latest Sales might be a reality.
However, the overwhelming majority will have encountered pre-Christmas discounting, followed by the Christmas Eve Sales when the floodgates opened wide as retailers launched their January extravaganzas.
"Visual merchandising plays just as great a part in clearing cut-price stock as it does full-price ranges and providing a clarion call to shoppers remains a priority"

John Ryan
The fact that retailers are now in a climate that seems to require them to begin marking down prices from Black Friday – surely an own goal, if ever there were one – and then to compromise margins right the way through January is surely a signal of disarray.
But given that this is the current state of affairs, how have retailers gone about differentiating themselves from rivals?
Visual merchandising plays just as great a part in clearing cut-price stock as it does full-price ranges and providing a clarion call to passing shoppers remains a priority.
In the past signs such as 'Assistant buyer's regrets' have raised the occasional smile but in 2016 things are either more in your face or considerably slicker.
Levi's, Regent Street
The Levi's flagship on Regent Street has a distinct advantage when it comes to creating impact because the first third of the store is dedicated to marketing.
In non-Sale periods this can vary from workshops, in which shoppers can have their jeans personalised, to quasi-gallery art installations.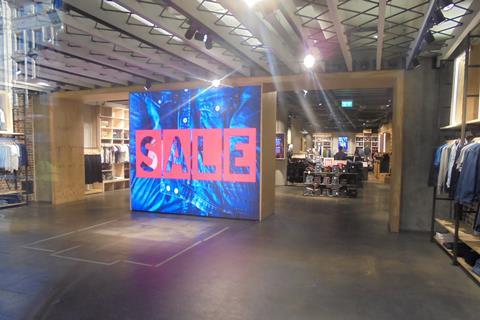 For the Sales however– which started in the week before Christmas – all of this has been stripped out and in its place a floor-to-ceiling block that functions as a screen forms the main attraction for customers.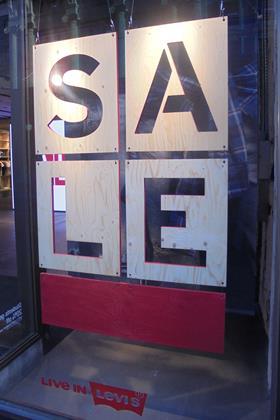 Rather than just showing a digital Sale sign in red, the screen alternates Sale banners, one of which is backed by blue denim, and carries brand messages as well as using the letters of the word 'Sale' as the basis for a display.
In a bid to emphasise the craft and heritage element of the brand's products, the Sale sign in the window is formed of plain plywood sheets with the letters cut out in stencil fashion.
This is probably the most considered Sale campaign in the West End and one that combines digital with physical.
Ben Sherman, Carnaby Street
Superlatives are a common feature of Sales and the windows of the Ben Sherman store on Carnaby Street illustrate this tendency.
Large banners announce that this is the retailer's 'biggest ever Sale' in the hope that this will prove sufficient enticement to distract shoppers from the many other offers along this fashion thoroughfare.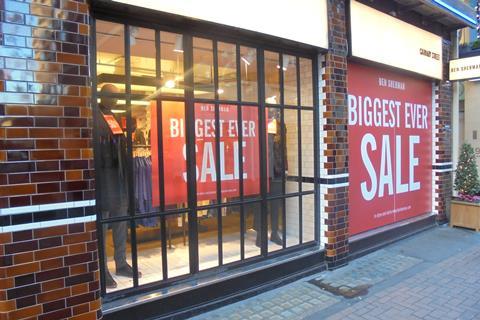 Close scrutiny of whether this is indeed Ben Sherman's biggest ever clearance is not the point – it may or may not be and nobody will bother to check out the veracity of the claim.
The difficulty that faces those adopting this particular approach is that when all others are engaged in doing something similar, it becomes a little like the promotional equivalent of white noise.
This was in fact a store-wide Sale and rail upon rail of reduced merchandise indicated that the warm weather had taken its toll upon purveyors of winter-weight stock.
BHS, Oxford Street
Following its sale by Sir Philip Green in March 2015, BHS has gone all out in promoting discounts in its first winter Sale under new owner Retail Acquisitions.
Immediately prior to Christmas, the Sale was already well under way with the large windows of its Oxford Street flagship informing shoppers that a 50% gift clearance was already on offer in store and online, accompanied by female mannequins in 'mix and match sleepwear'.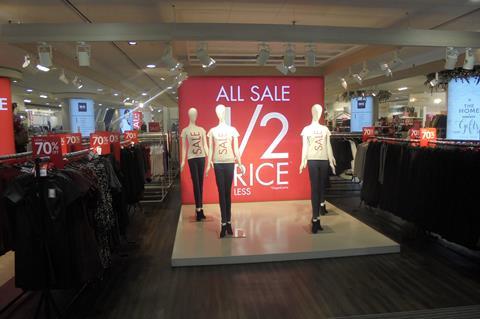 Inside it was a case of all hands to the promotional pump. A large white dais backed by a banner signalled that all Sale items were "half-price or less" and the message was rammed home by a series of mannequins dressed in white Sale T-shirts.
The big discount guns had been positioned to either side with rails of merchandise marked at '70% off' tempting shoppers to bag a bargain.
BHS has had a tough time of it, so a heavy clearance period was inevitable, but the scale of the discounting might mean that it emerges fresh and ready to do battle anew on the high street in 2016.
Oasis, Argyll Street
A sense of humour is generally a good thing when it comes to visual merchandising but this is all too frequently overlooked in the rush to shout about discounting as the Sale period hovers into view.
"A sense of humour is a good thing when it comes to visual merchandising but this is frequently overlooked in the rush to shout about discounting"

John Ryan
Oasis provides a welcome break from this in the windows of its Argyll Street flagship in London.
Against a Dickensian-looking scene that shows a street of terraced houses as a backdrop, a 'For sale' sign has been hoisted across the front of the window with white mannequins posed in the middle of the street.
The 'For' has been crossed through with a white line and the sign is instead made to read 'On Sale'.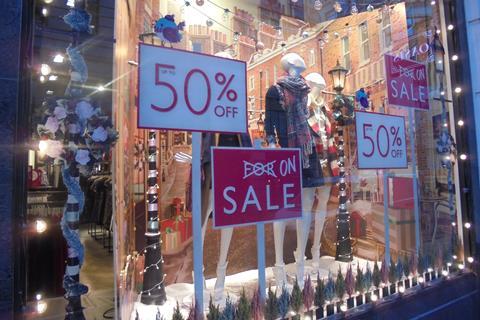 It is a simple device and two other estate agent-style signs read '50% off', completing the discount message.
The property theme is maintained inside the store with the area at the entrance featuring a faux brick wall that employs the same device.
Otherwise, this is a fairly standard Sale interior, but enough has been done to get shoppers through the door, which is the point.
Forever 21, Oxford Street
US fashion retailer Forever 21 has adopted a back-to-basics approach to letting shoppers know that there are bargains to be had inside.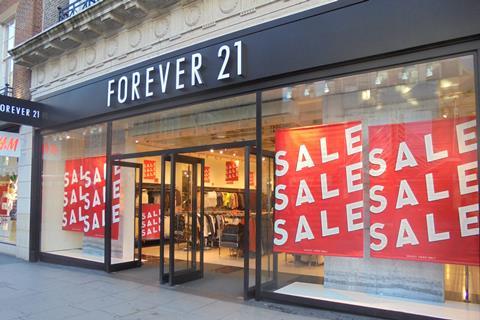 The windows of its Oxford Street store feature traditional red Sale signs and although it looks pretty much like the efforts of many others, the sheer profusion of banners plastered across the exterior goes some way towards separating it from the herd.
Inside it's the same story with side-hung rails – a Forever 21 speciality – of assorted marked-down stock inviting shoppers to rummage through and uncover something that might be to their liking.
The in-store point-of-sale is just as straightforward as the window and while there is nothing remarkable about this, the clearance message is as obvious as it gets.
January Sales 2016
Level of discounting 50% off as a starting point
Colours used Red everywhere
Novelty The use of digital light-boxes with moving content to attract attention
High point Levi's, Regent Street – creating interest from necessity
Low point Old-fashioned red Sale banners – the promotional equivalent of white noise
Ambience Discount and shop early to avoid disappointment