Fashion retailer Oasis has opened a new format store in the heart of Georgian Farnham that seeks to appeal to local shoppers. John Ryan visits.
Farnham, Surrey, is a market town with all that you'd expect of somewhere with that label. In the centre, the streets are Georgian, for the most part. There's a castle and the river Wey flows through the town's southern reaches.
And almost as you might expect, Jane Austen lived and wrote her books not far from here.
Farnham is in fact a popular commuter town for no better reason than it has character and the countryside proper begins just beyond its boundaries – London is finally left behind.
It also happens to be popular with a lot of retailers, from Jigsaw to Phase Eight and even has its own department store, Elphicks, which has been around since 1881.
"Exactly what we've tried to avoid is taking a big store and shrinking it"

Hash Ladha, Oasis
In short, this is an affluent town with just shy of 40,000 inhabitants and is the sort of place where well-heeled shoppers frequent what used to be called 'boutiques', in the sense of small one-off fashion stores.
There aren't many of these in reality, but what Farnham does seem to attract is retailers who want perhaps to be considered as boutique operators and design their shops to foster this notion.
For all of these reasons, Oasis has decided to open its first "Little House of Oasis" in Farnham and to make it different from its branches elsewhere.
Georgian style
Hash Ladha, chief operating officer, says that this shop, because it feels more 'shop' than 'store', is a shift away from the norm: "Exactly what we've tried to avoid is taking a big store and shrinking it." And standing looking across "The Borough" (a street which most thoroughfares in the town converge on) it is not hard to understand the comment.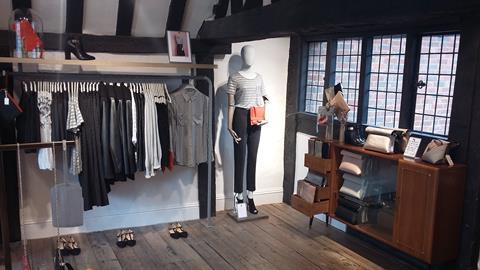 The Little House of Oasis is housed in a listed building and forms part of a long terrace of properties of a similar age. It has two floors and is built from the characteristic red brick that has been used in many of the houses and shops across the town centre.
It also has a coaching-inn-style sign made from black wrought iron and bearing a square grey-and-white Oasis sign that looks distinctly different from other stores.
Glancing beyond this to the structure of the building itself, there is another sign that plays the Georgian market town game, this time set against the frontage itself.
"It is perhaps worth noting that the manager is from Farnham, rather than being brought in from somewhere else in the Oasis empire"
Painted directly onto the brick – this one informs those looking at the upper part of the frontage that Oasis was established in 1991 and arrived in Farnham in 2016, but does so in a style and font that is Victorian showman pastiche.
Stepping through the door, this does not look like an Oasis in terms of fit-out. "When we started the concept we asked: 'In this market, what is required?'," says Ladha.
Practically, this means that it is the building that does most of the talking and internally this shop is all about using the existing brick and timber beams to good effect.
The store is divided into four rooms, each of which is relatively modest in size. Downstairs the first room that the visitor encounters is filled with printed garments – one of the retailer's hallmarks.
The merchandising is not overly dense, surprising given the mid-market nature of the brand. Ladha says: "We've put one per size out on the floor. It's a different replenishment model and it also means you can get more options out – which means your presentation is more premium in feel."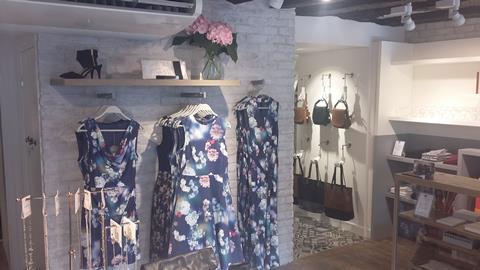 This room also has a small bar set against the right-hand wall. This boasts a coffee-making machine and, beneath the counter, a fridge stocked with Prosecco.
Ladha says that the plan is that regular shoppers will be offered a coffee or a glass of fizz, depending on how many times they have visited in a given period, in a kind of quasi-loyalty scheme.
Looking around there are also handwritten signs positioned next to some of the displays. These are a little like the book reviews by staff in Waterstones and provide the onlooker with the manager's thoughts on what is on offer.
It is perhaps worth noting that the manager is from Farnham, rather than being brought in from somewhere else in the Oasis empire.
Ladha says that it took around three months to find the right person and that it is part of the store's local relevance, rather than being an outpost of a national chain.
Attention to detail
A further room of printed merchandise awaits the shopper at the back of the floor.
Head upstairs, via a carefully polished wooden staircase, and the view is one of black timbers and more brick walls. The first room on this level has a fireplace and a faux Rembrandt-style painting is positioned directly above this, depicting a woman in period clothing knocking back a large glass of something.
It's about injecting a little humour into the interior and the more the shopper looks around, the more this trait and the attention to detail becomes apparent.
Closer inspection also reveals the fact that there are hints of hot pink wherever the gaze alights.
This is a case of a virtue being made of necessity. A couple of the planks in the floor and some of the bannister supports needed replacing.
Rather than attempting to meticulously match the colour and tone of the originals therefore, the new timbers were painted in bright pink.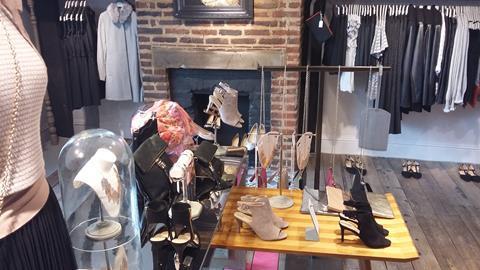 Having done this, the trope is repeated along the edge of one of the eye-height perimeter shelves and is then picked up by a number of garments on the mid-shop displays, which are the same colour.
The merchandise is plain, rather than printed, giving the shopper a visual break before heading through an arch into the final room where the printed stock displays resume once more.
"We wanted to be sympathetic to the building and at the same time to keep the spirit of the bigger stores, but to make it feel more local"

Hash Ladha, Oasis
As Ladha notes: "We wanted to be sympathetic to the building and at the same time to keep the spirit of the bigger stores, but to make it feel more local." This is a store that is unique to Farnham and it is a trial.
If it works, Ladha has visited 30 more locations where it is felt that a Little House of Oasis might be appropriate. And being 'local' is important. "Particularly at Christmas time, there's a resurgence of local shopping," says Ladha.
He adds: "In the market towns that we're looking at, the competition is quite casual. We're not a casual retailer, we're a fashion retailer. Does this make us different? Absolutely."
What this shop does do very well is to blend seamlessly into the Georgian urban fabric and, given the number of shoppers sitting in the many cafes and restaurants just before lunchtime on a sunny Thursday last week, there should be plenty of takers for this offering from Oasis.
Little House of Oasis
Opened 11 August
Design Dalziel & Pow
Ambience Georgian boutique
Design highlight The sympathetic use of the existing building
Store status Trial