O2 has opened a new-look store in Manchester designed to provide high street shoppers with more reasons to visit a phone shop.
There was a moment when it seemed that UK high streets were made up exclusively of phone and charity shops. That is now a thing of the past and phone shops today are just a part of the everyday retail mix.
"All the networks are doing the same thing. They have the same stock and they all look the same. Right now, it's time to rethink"

David Dalziel, Dalziel & Pow
Even so, the dilemma confronting any network phone retailer is simply put: how many shops are needed to satisfy consumer demand?
At a time when high street phone shops are not in the same demand as they were when handsets – rather than services – were their raison d'être, how many is too many?
Too few and networks could be accused of leaving customers short-changed; too many and the impact on profitability of a large estate is obvious.
At present, the best phone shops focus on meeting demand and giving network customers reasons to come indoors, instead of heading online.
There is a problem however. David Dalziel, creative director at consultancy Dalziel & Pow, comments: "All the networks are doing the same thing. They have the same brands, the same stock and they all look the same. Right now, it's time to rethink."
And something new is what's on offer at the high-profile O2 store that has just opened on Market Street in central Manchester.
Creating an experience
The interior has been created by Dalziel & Pow, and standing outside, it is immediately apparent that this is different from a run-of-the-mill phone shop.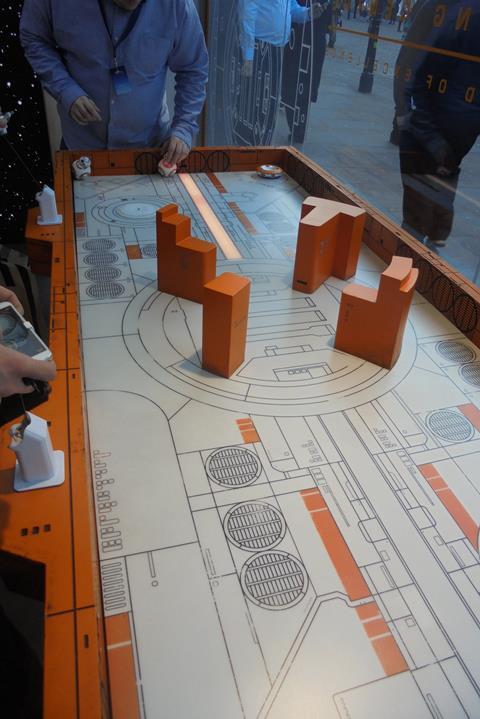 The 2,500 sq ft store faces Market Street with two windows at either side of the entrance. In one there is a screen with four glassline touchpoints that allow shoppers to interact with the images displayed, while speakers at the base of the window provide appropriate sound 24/7. On opening day, there were plenty of passing shoppers prepared to give it a go.
The other window showcases a large-scale board game featuring the Star Wars droid BB-8, which players can control using their handsets.
Bridget Lea, general manager O2 store retail, says the content is bespoke and the result of a deal the network has struck with Star Wars purveyor, Disney.
She makes the point that this is the introduction to a store that is "about an experience, rather than price" – which already puts it at some remove from a conventional phone shop.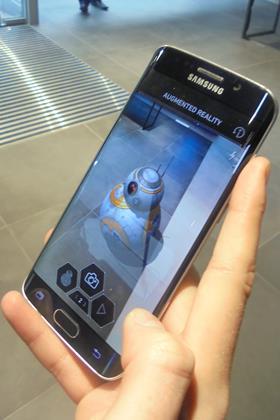 Step inside and the store's 'decompression zone' consists of slate-grey floor tiles, more Star Wars-themed displays and a young man dressed as a Jedi knight, complete with lightsaber.
For obvious reasons, this part of the store will change on a regular basis and from the end of this month it will become a fitness area. That will mean bikes, exercise machines and equipment to monitor the health of participating customers.
For the moment however, for those who are interested, BB-8 can be made to appear by using an app and aiming the camera at pictures that feature throughout the shop.
Augmented reality is just one of the high-tech elements that make this store more than just a place to buy the latest smartphone.
Comfortable feel
Moving beyond the grey-tiled 'inspire' area, the shopper arrives in the mid-shop which is the business end.
Products on offer here range from 'wearables' – watches, for the most part – to dongles and tablets. In the normal run of things, this would be presented as a wall of phones and perhaps a couple of mid-shop tables displaying peripherals, and the whole offer would have a generally clinical feel.
In the Manchester store however there is a generally more welcoming feel thanks to a warm materials palette that seems to have taken its inspiration from the Ace Hotel in London's Hoxton by way of almost any Soho House outpost.
Put another way, this is an interior that takes elements of rough and ready retro and combines them with the thoroughly hi-tech.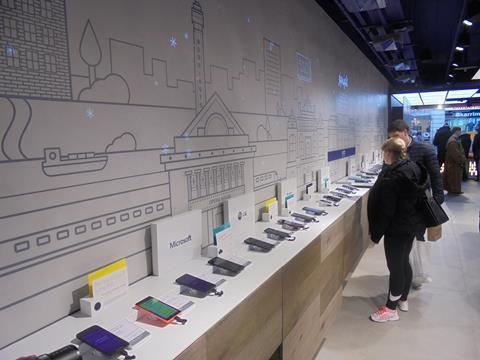 This means "polished grunge" as Dalziel phrases it, or carefully crafted, vintage wood, classroom-style chairs and dark metal on the long table in the middle of the shop.
The latter has concealed projectors that beam constantly changing messages on to the table, combining a mildly retro feel with a soft approach to tech.
But it is the walls in this part of the shop that are really noteworthy.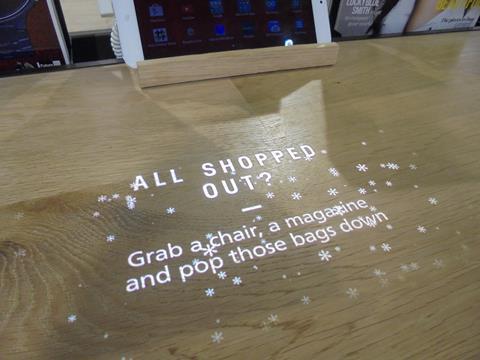 Look up and it is possible to see banks of projectors arranged as part of the ceiling. These throw white snowflakes on to the walls, including a graphic depicting the Manchester skyline.
It's a simple, but highly effective device, which Dalziel & Pow has installed, in different forms, in both The White Company's Norwich flagship and the Kikki K store in Covent Garden that opened just before Christmas.
The projections provide a gentle backdrop for the hard-edged tech on offer, making this an altogether more comfortable environment than might be the case in a standard network phone shop.
Inclusive offer
And so to the rear, dubbed 'the lounge'. This has mid-shop banquettes, a counter where transactions can be undertaken and vinyl records featuring Manchester bands.
The lighting is lower and more directed. In other circumstances it might be referred to as a chill-out zone, but this store eschews such hipspeak as it is intended to be about "inclusivity" for all, according to Lea.
"Augmented reality is just one of the high-tech elements that make this store more than just a place to buy the latest smartphone"

John Ryan
She declines to disclose the cost of what has been done in Manchester, but admits that it represents a "substantial investment" for O2.
It therefore seems reasonable to expect elements of what has been done here and in the other, smaller, pilot store in Westfield London, to appear elsewhere.
Lea says: "This is not a brand experience store. The store has to make money and to provide an experience. The next few months will be about learning what we have done and taking part of it to other stores."
Given that the average footprint of an O2 store is around 700 sq ft, this will mean a hefty amount of judicious editing, but if it is anything like what has been done in Manchester, shoppers will benefit. There is life in the high street phone shop yet.
O2, Market Street, Manchester
Opened January 6, 2016
Design Dalziel & Pow
Size 2,500 sq ft
Ambience Friendly tech
Highlights The projections and materials palette