Nike's Shoreditch store combines style with substance to create a retail environment that is as much about marketing as it is about sportswear.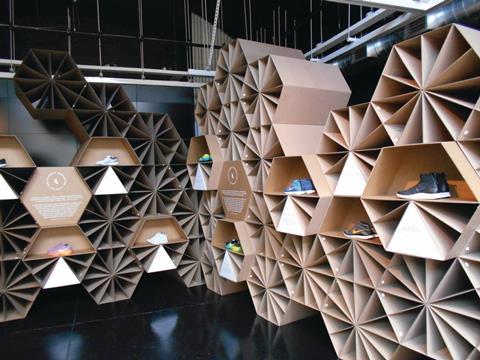 Nike has always been as much about marketing as it is about sportswear, although it would probably strenuously deny this. But if you need proof of just how slick at appealing to niche segments the American brand and retailer is, a visit to NikeLab 1948 in London's trendy Shoreditch shows what is possible.
The store, which is underneath the arches of a railway bridge, is strictly for those 'in the know' – it is unlikely that you'd just stumble across it.
On entering the courtyard that acts as the introduction to the store, the gritty urban surrounds are left behind and the shopper surveys an area that screams 'cool design'. That is realised in the courtyard by slatted, varnished wooden boxes piled on top of each other that act as seats and benches.
Pass through the glass doors that fill most of one of the railway arches and the initial interior is a mix of black-painted brick, wood and corrugated cardboard. The cardboard bit is a quasi-installation that takes the form of a series of pentagons, most of which have star-like structures within them, and a few have been left empty to display running shoes. Through another arch the space widens and brightens, thanks to the use of lighter-coloured wood and skylights overhead. This is home to clothing and sports shoes, all of which smack of limited editions.
In total, the effect is one of simplicity and of joining a select band who not only know about the store, but understand the store environment and how it is used to complement the merchandise. It's a world away from mass-market Niketown, about a mile away at Oxford Circus, but shows how the brand can work for particular customer groups. Not everything has to be about roll-out.