Luxury Parisian department store Le Bon Marché has used its Japanese promotion to add clever details to its already impressive store design.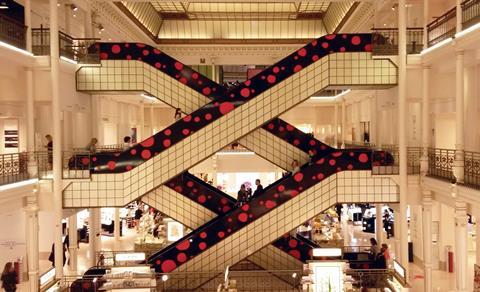 Sometimes it's easy for a retailer to make a mark if what is being replaced or added to is lacklustre. Rather more difficult is to quicken the pulse when what is already in place is among the best there is. This is the case with the Japanese promotion in Parisian Left Bank department store Le Bon Marché, where the retailer has made a good thing better.
The shop has been decked out with references to Japan, from a red wood installation at the entrance to La Grande Épicerie (right), the recently renovated food hall, to a series of white dinghies with sails bearing Japanese characters. Those visiting can actually sit in the small boats and watch videos of Japanese countryside on the screens behind the sails. And naturally there are products from Japan, over and above those normally stocked, across the whole of the store.
It is the iconic bank of escalators at the heart of the store that really takes the Kobe beef however. The sides of these have had abstract versions of a rising sun, set against a blue background, applied to them. This is a very simple showstopper, yet to judge from the number of camera phones being brandished, it is highly effective. The promotion runs until October 18.