Ikea has opened its 19th store in the UK and this one is concerned with making the locals feel at home. John Ryan reports.
One of the points about big box retailing is that everything tends to be done according to a formula. Whether it is B&Q or Toys R Us, an edge-of-town Next or one of the supermarkets, the shopper knows pretty much what to expect when heading for the door. The reason for this is simple: when working on this sort of scale, getting things wrong can prove horribly expensive, both in terms of potential lost turnover and putting things right when it is discovered that the tills aren't ringing out quite as merrily as anticipated.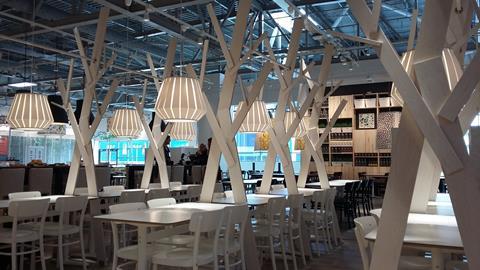 On the face of it therefore, the wiggle room for innovation or change is fairly limited for retailers trading from sites of this kind. Yet differences can be made and with a bit of canny market research a slab-sided big box can even be made appropriate to its location, unlikely as this might at first seem.
For proof of what is possible, a trip along the M4 to Reading may be instructive. On the western flanks of this bustling metropolis, with almost direct access to the motorway, is a new Ikea, which opened last week. It's the first big box from the Swedish retailer to be opened in this country for seven years and as the approach is made, almost inevitably by car, this store has all the hallmarks of both a very large, edge-of-town store and of being an Ikea.
Not your usual Ikea
The slip road that leads to the 1,000-space car park passes the familiar Prussian blue walls and yellow logo that are known across the globe as indicative signs of an Ikea. And entering the store and heading up the escalator to the restaurant of this 345,000 sq ft behemoth, all looks familiar. Yet on arrival and pausing for a moment to take a look around, things do look a little different from a standard Ikea.
For starters, the area at the top of the escalator serves as an open-plan antechamber with the store proper straight ahead, while to the right is the massive space that is the restaurant, with room for up to 500 diners. The latter is filled with natural daylight, but the immediately eye-catching element are the rows of white tables and chairs, each pair of which is separated by a white wooden framework that looks a little like a child's drawing of a tree. White pendant lightshades hang above these, lit by LED lamps, a point that store manager Johanna Heuren says is common to all lights fixtures around the store and which is part of a raft of measures that make this the most sustainable UK Ikea store to date.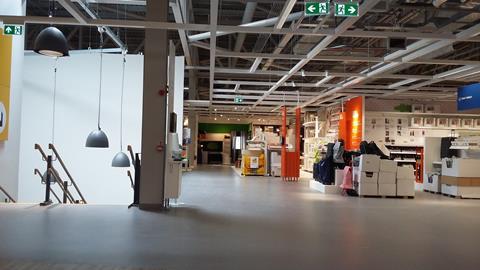 What is obvious from what has been done is that a trip to Ikea Reading will involve a visit to the restaurant for a very large number of shoppers. Rather than diving into a plate of meatballs however, look straight ahead and the antechamber itself is filled with white tables and low display units on which small Ikea products have been placed to give an overwhelming impression of green and white. This is the 'Användbar' collection – which aims to offer shoppers 'A greener lifestyle for a kinder life'. Whatever your thoughts on things eco, this seems bang on brand with Ikea and the lean-limbed Scandi types who generally seem to appear in adverts and graphics for the retailer.
Local demographics
All of which is good and visually arresting but this store is supposed, in part, to be about recognising that it is located on the Reading periphery, a fact that may not be instantly obvious as the shopper walks into the heart of the first floor – which is where the 'room-sets' are. Ikea has done a lot of research into the demographics of the area and come up with a series of conclusions that it has tried to incorporate into this part of the store.
"The plan is that many of the store's 52 room-sets will chime with the day-to-day domestic experience of somebody living in the Thames Valley and the shopper will feel at home"

John Ryan
People in Reading, for instance, like gardens (there are a lot of houses that have them in the area) and, apparently, like looking at them from their conservatories. And as this is not London, many people have garages for their cars – except that because space is relatively expensive and older garages may not readily accommodate a large modern car, a fair number of these have been adapted into workspaces, with desks, chairs, computers and suchlike.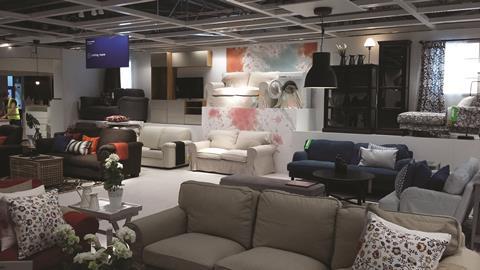 Follow the walkway around the store and sure enough there is a room-set with fake brick walls and a quasi-office in it – this is the converted garage. Another has faux windows that look out over a green setting, imitating the impression of being in a conservatory. For the average Reading dweller, all of this may not be immediately clear but the plan is that many of the store's 52 room-sets will chime with the day-to-day domestic experience of somebody living in the Thames Valley and the shopper will feel at home.
Familiar but different
The layout of the store will actually be very familiar to anybody who has been to an Ikea but there are differences, such as 'Style Island': a space in the kitchen area where shoppers can create their own mood boards that can then be printed off. The projections are also noteworthy. In keeping with most other Ikeas there are light-boxes illustrating the uses to which the flat-pack furniture can be put in a room, but unusually the store also features projectors that throw images onto mid-shop screens – a departure from the retailer's norm.
"The layout of the store will actually be very familiar to anybody who has been to an Ikea but there are differences"

John Ryan
Downstairs is the 'Market Hall', which, in truth, is pretty much like any of the other 18 stores that form the Ikea UK store portfolio, and then it is back to the car park once again, after having collected larger items in the self-serve warehouse en route to the checkouts.
A new big box store for Ikea then and although the differences are generally quite subtle, this is a move on from, say, Croydon or Southampton. The standards of visual merchandising are also sufficiently high to make many of those who follow the path through the store actually avoid the 'shortcuts' that were hailed as a revolution when they first appeared as part of the blueprint for an Ikea store.
In terms of access, this may not be the greenest store that will ever welcome shoppers – it is hard to see how it might easily be reached without a car – but it is a pleasant shopping experience, which is a lot more than might be said of the majority of big box retail units. And if you don't hail from Reading, it's Junction 12 on the M4.
Ikea, Reading
Opened: July 14, 2016
Size: 345,000 sq ft
Location: edge-of-city
Point of difference: the room-sets
Ambiance: Clean-limbed Scandi