Hackney Walk is bringing the designer outlet format to an inner-London setting and could become a new fashion destination. John Ryan reports
"Coffee, Acai Bowls, Biodynamic Wine", says an A-stand blackboard outside a café. Coffee is familiar enough but if you know what either of the others taste like, or in the case of Acai what it actually is, then you've either read The Ladybird Book of The Hipster or you may have set up home in east London.
The premises in question are actually in Hackney, ground zero as far as things modish, considered and increasingly expensive are concerned.
In the heart of this area lies Morning Lane, a scruffy two-way road that brings those coming in from Stratford and other points east towards central London without having to use one of the major, more congested, roads.
Hardly the sort of place where you might expect to browse luxury merchandise of the kind more commonly associated with London's West End and Knightsbridge. Yet it is here that new luxury outlet centre Hackney Walk has taken shape.
Hackney Walk is about taking what is already there and making more of it
Those on nodding terms with outlet centre retail will be aware of Bicester Village, the epicentre of UK outlet shopping, where coachloads of tourists are disgorged to take advantage of branded items at what appears to be a substantial discount (although like-for-like items are almost impossible to find).
It is huge and those who make the trip still probably end up spending a lot of money because although the luxury items purchased are certainly cheaper than those on show in London's golden acres, ticket prices still mean that most articles are discretionary purchases.
Making the most of what you have
The same is true of Hackney Walk. Here names such as Burberry, Anya Hindmarch, Bally and Joseph nestle with the mildly more egalitarian Nike and Ugg. Unlike Bicester Village, however, much of this new location has not been purpose built. Instead of a Bicester-style faux village, which is housed for the most part in large whitewashed, wood-clad structures, Hackney Walk is about taking what is already there and making more of it.
Practically, this means a mix of stores that have been created from spaces beneath the railway line that runs parallel to part of Morning Lane and repurposing some of the existing buildings that are found in this part of east London.
Hackney Walk
Location Morning Lane, London E9
Status Urban luxury outlet centre
Reason for visiting Glad rags for less
Ambience Luxury meets gritty urban
Founder and executive chairman Jack Basrawy
It is also worth mentioning the Burberry store and Nike stores in their own right. The former is actually a very large single floor shop that has little of the feel of a discount store about it. Instead, brown porcelain tiles, dark wood mid-shop fixturing and product spotlighting combine to create product zones and an interior that has a strong whiff of exclusivity about it.
Step outside and the exterior is a piece of slab-sided minimalism – this is an old factory building that has been given a makeover – that feels more like the sort of thing you might encounter in Miami or Los Angeles than something in Hackney.
The store in fact occupies the ground level floor of an aspirational-looking block of flats. Burberry has had a presence in Hackney for years – long before the idea of Hackney Walk began to take shape.
Turning from this store, which is on Chatham Place, and looking back towards Morning Lane, the shock of the new is apparent in the shape of the three-floor, shiny new Nike store. This may be part of a factory outlet development, but it looks for all the world like the kind of highly-designed Nike outpost that the shopper would expect to find on a well-to-do high street or better-end mall.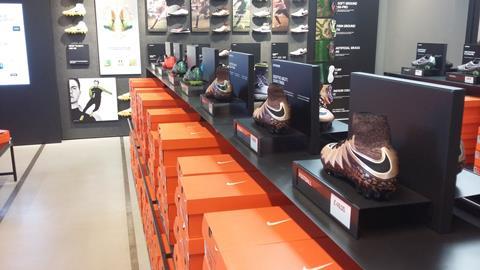 If anything, it is more striking, for no better reason than it does not have to compete with other sports behemoths, as is so frequently the case in other locations. It is also a completely new build and has been open for around two months, fronting the 'underneath the arches' units that are behind it.
Walk into this Nike store and it is filled with the kind of low-key digital gadgetry, with plenty of small screens waiting to be touched. That said, like most of the other Hackney Walk shops in which there are shoes, there are also boxes.
This is classic discount territory display stuff – the aim is not to head to the stockroom when choosing from the relatively modest number of styles, but instead to take the box containing shoes of the requisite size and head straight to the checkout. Otherwise, internally, the Nike store feels less discount and more regular store, but with lower prices.
And so to the arches. These are a work in progress with Ugg, Matches and Gieves & Hawkes all already in place with identical curved ceilings clad in corrugated metal, glass frontages and low density merchandising that is designed to set expectations about the prices that the shopper will be confronted with. At the time of writing another large unit, almost as large as the Nike store, was being fitted out, although there was no sign of who the new tenant might be.
Fashion's future destination
Hackney Walk's founder, Jack Basrawy, says of the development: "It's been very carefully curated. This is a luxury development and it's been built with brand equity in mind, rather than just creating units and then making them look pretty."
He adds that the decision to choose Hackney for an urban luxury outlet centre development was because the area is "creative and edgy".
It is also because money has moved into the area. As Basrawy points out, a two-bedroom flat in Chatham Place will cost around £800,000 and the shift has been accentuated by the improvement in the transport network that took place as part of the Olympics in 2012.
"Hackney Walk has been very carefully curated. This is a luxury development and it's been built with brand equity in mind"

Hackney Walk founder Jack Basrawy
The question is: will this work? What is currently on view at Hackney Walk is phase one of a planned development. When complete, Basrawy anticipates a luxury outlet centre that will offer in excess of 250,000 sq ft of retail – big, by any standards.
Meanwhile, wandering around the various shops on a quiet Tuesday morning, it was evident that the word about Hackney Walk is already out among the Far Eastern tourist fraternity and there were plenty who were emerging clutching branded bags.
Walking along Morning Lane it was also quite hard to miss the ambitious signs attached to lampposts outside towering '70s blocks stating "Fashion's Future Destination".
This remains an area in transition, but what has been put in place is likely to stimulate the curiosity of anybody with even a passing interest in the world of luxury fashion. Hackney Walk is a destination in the making and still has some way to go before it will rival Bicester Village, but it does have the backing of some of the sector's biggest names and is considerably more accessible than the Oxfordshire scheme.
Parking for coaches may still be in short supply, but this is something of a first in terms of outlet centre location and shoppers are finding their way to it.