Retailing has changed and that means to be successful shopfitters need to change too. John Ryan takes the temperature of the shopfitting world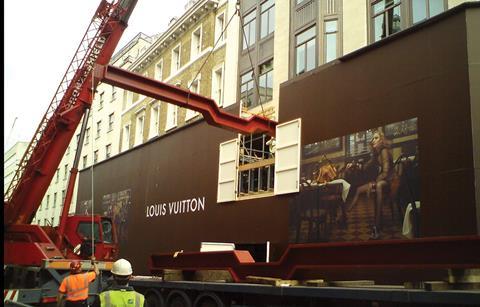 In retailing, for all but the fortunate (and far-sighted) few, it's been a tough 12 to 18 months and in spite of the announcement that we are out of recession, there is every indication that this grim state of affairs is likely to continue for at least another year or so.
And retailers are not alone in experiencing this kind of difficulty. The market may be tough and customers may be harder than ever to please but for those whose business it is to supply services to retailers, things may be even more problematic. For any company involved in the creation, refurbishment or enhancement of stores, the past year and a half has been close to cataclysmic.
Alison Cardy, managing director at London-based design consultancy HMKM, recalls the onset of the recession at the end of 2008: "In September everything was in full flow. Come October and within a week two of our core clients announced that all projects not committed on site would be put on hold indefinitely. A number of new business meetings were cancelled and in less than a fortnight our forward order book was pretty dented."
Survival stories
In the event, like almost every other design consultancy that has survived the recession, HMKM laid off nearly a quarter of its workforce and concentrated on keeping its core UK retail customers happy while moving to stimulate demand from offshore opportunities. The result is that the firm is still in business, although its revenues are coming as much from Moscow and Melbourne as from, say, Manchester.
A survival story and one that appears to have a positive end, largely owing to prompt action in the face of what appeared insurmountable difficulty.
However, there is another part of the design and construction supply chain that has been hit, if anything, even harder than the creative sector: the shopfitters. These are the companies that take the blueprints provided by designers and architects and turn them into bricks-and-mortar reality. In so doing, they are absolutely dependent on retailers in this country continuing their roll-out programmes and refurbishing their stores.
The problem is, as a stroll down the majority of UK high streets will reveal, there is still an oversupply of retail property, meaning that new stores and fitting them out remains at a lower level than pre-2009. Retailers just aren't opening as many shops as they have done previously.
Ivan McKeever, chief executive at Styles & Wood, one of shopfitting's few publicly listed concerns, puts the point bluntly: "The market has dropped by as much as 40% during the recession. The Construction Products Association projects that there could be a further 10% drop during 2010 and that prices could also fall by that amount during the year."
He continues: "We're now entering the valley of death in the construction industry. Retailers are going to have to choose between sustainable bids and survival bids [from shopfitters pitching for work]. My view is that there will be some significant casualties during the next six to 12 months."
This sounds stark - and it is. Like HMKM, McKeever acted early to ensure that Styles & Wood would see out the recession. This meant layoffs, cost savings and everything else that might perhaps be expected, but it also involved a major refinancing - putting the business back on a firmer footing.
It also involved keeping a wide portfolio of UK clients well informed, with big names, such as John Lewis, Asda and Marks & Spencer, all being kept on board by openness and transparency within a contract, according to McKeever.
Clearly there has been much pain and there is still little certainty about the turn that events are likely to take. National Association of Shopfitters (NAS) director Robert Hudson takes a similar view to McKeever about the prospects for those operating in the sector this year. "We can put whatever shine we like on the current situation, but we ignore at our peril that there are testing times ahead. 2010 will possibly prove even more challenging for everyone in the sector, as it will for retailers." He adds: "Shopfitters have never been very good at marketing themselves. There has been a tendency for them to say: 'These are the customers that we have and let's leave it at that'."
Hudson says that shopfitters have not proved hugely adept at "thinking outside the box" and that the key to improving their fortunes is to "establish better relations with the client", which sounds remarkably like the policy being adopted by McKeever.
It also means training, a hot button at the NAS currently.
Scouting for business
Alan Palmer, business development director at shopfitter Bridgford, notes: "90% of our business is retained business at present." Which perhaps comes back to the familiar sales adage that it is easier to encourage sales from existing clients than it is to win new ones.
He also says that price is not necessarily the determining factor when retailers decide to go ahead with a project. "Few and far between are those retailers that are going for all out savings." And contrary to what many say, Palmer states that 2010 so far has proved much stronger than the same period in 2009. "Last year we did eight DSGi refits in total. This year we've already got 19. Things are better. There is still some uncertainty. Some retailers got some very good deals last year."
The view that we may be on the verge of seeing better times is shared by Pete Richards, chief executive of Saltash-based shopfitter The Richards Group. He says: "At the moment things are very good. Last year was horrendous. Another year like that and we wouldn't be here. From January, we've taken as much in sales as we did in the whole of last year."
There is a reason for some of this improvement. Richards says that a combination of restricting project managers - whose job it is to deliver new stores and refurbishments - to just two clients at a time, instead of four previously, has meant that retailers are getting more attention.
This comes at a price. Richards comments: "We're actually doing more for less." Which equates to standing still rather than going backwards, as has been the case for many. That said, one of the more interesting facets of this business is that it is looking overseas for growth - in the same manner as design consultancies such as HMKM. Richards estimates that by the end of 2010, 20% of his revenue will have come from US and European retailers, against about 5% last year.
The modus operandi for overseas shopfitting involves manufacturing everything at the shopfitter's UK factory, putting it in a container and then shipping it to where it is required.
A project manager is then dispatched to oversee delivery by a local team.
Occasionally - and Richards cites the M&S store in Shanghai and a Paperchase store in Singapore - a complete team is set up to install the fixturing and to see the project through to final delivery. Richards is also working with property developer Land Securities to make its policy of bringing foreign retailers to the UK a reality.
Whichever of these routes is used, this is a radically different approach from what might traditionally have been expected of a British shopfitter and perhaps bears out what Hudson means when he urges them to do things differently.
There may be no evidence of a shopfitting status quo, but for those that refuse to move with the times the landscape may look bleak and possibly terminal. As in every sector, there are pockets of optimism and whether it
is changing the way in which the retailer-shopfitter relationship is dealt with or moving to a slice of offshore business, there remain ways to achieve a positive outcome.
It seems that at least in the short-term UK shopfitters may be forced into a little navel-gazing, but 2010 may be the year in which change really does happen. It is probably long overdue.
Shopfitting rules of the game 2010
More for the same
The days of the guaranteed framework agreement are over. For successful operators flexibility will be a key component.


Stay close to clients
Be prepared to put more man hours into project management. Tendering for work is just the beginning. It will be what happens next that counts.


Think beyond the UK
Traditionally shopfitters have proved reticent about plying their trade overseas. There are, however, significant advantages to casting the net further afield.


Market strongly
Do not expect that the business will automatically come through the door - during the recession retailers have needed to be cajoled more than ever.


Training
Skilling the workforce will pay dividends during 2010.