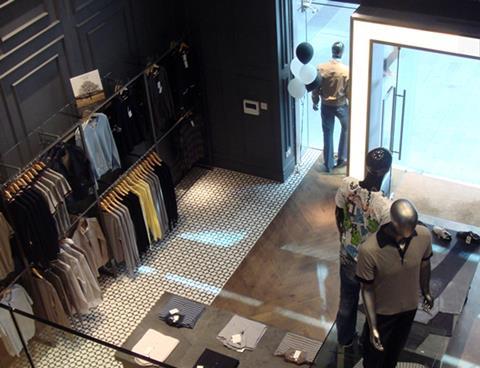 Just opened in Liverpool One, Saints & Sinners is a men's fashion shop that is dubbed a lifestyle store and which is intended to combine elements of Tokyo retail design with the look and feel of a boutique hotel.
Designed by Manchester-based consultancy Rawfish, the 4,500 sq ft store trades from two levels and also has a mezzanine and balconies.
Among a number of features are a fully glazed tattooed facade that surrounds red glass doors, an illuminated central archway and a marble-clad DJ box. The store's ground floor is treated with dark painted wall panelling, parquet flooring and slate-topped tables. On the first floor, there are light and dark areas, corresponding to the store's Saints & Sinners name.
The Liverpool-based company behind Saints & Sinners also operates Script, another menswear store in the city centre. Paul Dougherty, the firm's managing director, said: "We're going to be offering some added value services such as customisation and alterations, and possibly an in-store tattoo artist."