Making the familiar unfamiliar is what Father's Day should have been about, yet Paperchase stood alone among a plethora of unoriginal shop windows.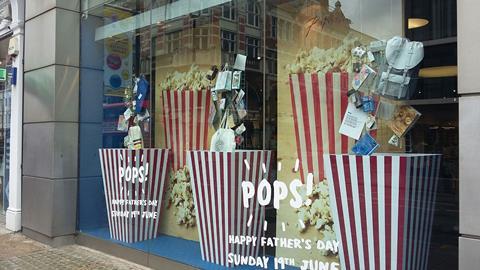 It was Father's Day yesterday, just in case you missed the campaigns that have filled retailers' windows for the past few weeks, urging you to buy anything from drones to dress shirts, and beer to barbeque sets. And if there is one thing that united the great majority it was the sense of filial duty that seemed to be implicit in the displays. Almost all seemed to be concerned with "making his day" (B&Q).
Online, puns involving pubs abounded with Thorntons vying for top honours on Friday with its message "Last orders for Father's Day". On the basis of what was on offer, blokes are a simple lot, whose needs revolve around power tools, gadgets, alcohol and, just possibly, a few clothes.
Perhaps this is the case, but suppose it isn't and that Dads en masse want to be amused, as do the people buying things for them. Step forward Paperchase. In place of all the banners using the words 'Father's Day' or 'Dad' it had "Pops", accompanied by large, striped Odeon-style popcorn boxes out of which objects appeared to be bursting.
The 'normal' words for the occasion were absent and the use of a US colloquialism was certainly eye-catching, as were the popcorn receptacles. This was a window that was intended to raise a smile among those whose job it was to find something for the big day.
Second glance
Paperchase had opted to make much of the occasion, doing so by adopting an oblique slant on the usual point-of-sale material. And that is the point: the best in-store marketing is not about marking a particular day in a wholly predictable manner.
"The best in-store marketing is not about marking a particular day in a wholly predictable manner"

John Ryan
Instead, it should be about giving shoppers reasons to give you a second glance. It's all part of the 'looked over', rather than overlooked, school of thought and is about presenting the familiar in an unfamiliar way.
"If at first you don't succeed, call Dad", was the strapline in the window of another large chain of greetings card sellers on Saturday. Not bad, but should have been better and, on this occasion, Paperchase carried the day with wit and stylish execution.