As big-box retailers like B&Q, Screwfix, Dixons Carphone and Decathlon open smaller, high street formats, John Ryan looks at the rules that should be followed. 
Selling from a large, edge-of-town shed is easy, at least as far as deciding what to include.
The luxury of space is that retailers can play with layouts and merchandising without compromising the ranges that are being displayed, which does make the matter of having everything under one roof relatively straightforward.
Lately, however, many retailers have been heading into town in the belief that massive catch-all sheds are not as alluring for shoppers as they once were, and the diversity of the city centre provides more reasons for consumers to spend time there.
"Everywhere in the world more people are living around cities. It's about how you get to those people, as close as you can"

Véronique Laury, Kingfisher
Kingfisher chief executive Véronique Laury hinted that smaller stores will play a big role in the DIY group's future expansion.
At this year's World Retail Congress, she said: "I think there are two directions of travel for stores – one of them is ultimate convenience, to be where people want you to be and to be as close as possible to where people live."
"The big impact on that is urbanisation. Everywhere in the world more people are living around cities. It's about how you get to those people, as close as you can."
Edited stock
But how do you take a medium to large format and shrink it?
Smaller-format stores may mean editing or 'curation', but there is more to creating a shop of this kind than just taking a big store and reducing the offer.
Take the Currys PC World Carphone Warehouse on Oxford Street, for example. This store has been up and running since July 2016, but little has changed in that time.
In essence, it is a two-storey concern with phones, computers and related peripherals on the ground floor and, mainly branded, 'brown goods' on the mezzanine above.
Much of what is on view is similar to a Dixons Carphone three-in-one megastore, but one category is signally absent: white goods.
The reason is simple. This is Oxford Street and the chances of consumers carrying away a fridge or washing machine and carting them on to the tube are slim.
"There are a lot of tourists, so we wanted to make sure the store was a real experience"

Chris Bright, Dixons Carphone
Instead, small electricals are the order of the day to make this small-format store appropriate for the city centre.
Chris Bright, design services director at Dixons Carphone, says: "We wanted to look at the location – it's very different from our other stores.
"Obviously, the customer too is not the same as elsewhere. There are a lot of tourists, so we wanted to make sure the store was a real experience. That's why there are so many screens on the wall, which mean you can't miss the store when you're passing."
The notion of editing is the same in sports giant Decathlon's mini store on Kensington High Street.
It opened in mid-March and covers 11,840 sq ft, with almost the entire offer housed in the basement.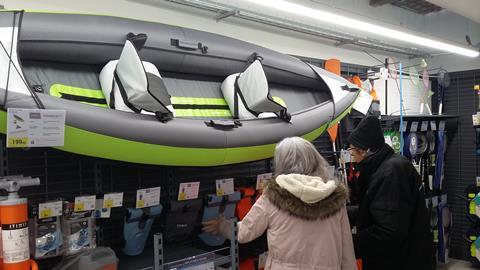 Decathlon is known for being all-encompassing as far as sports equipment and clothing is concerned, but decisions have had to be made about the offer in this store.
Even so, products for 50 sports are available, with everything from kayaks to festival tents on display.
That said, some categories are afforded greater prominence than others. Cycling, for instance, is given a disproportionately large slice of the action, while the canoeing fraternity have to make do with a single item.
There are a number of screens around the store where items not on show (a full-line Decathlon store has clothing and equipment for 71 sports) can be ordered.
On the ground floor, next to the stairs that lead to the main basement floor, there is a click-and-collect desk, meaning this is as much a sports 'grab and go' convenience store as it is a high street sports outlet.
Kingfisher's small store push
DIY giant Kingfisher is also pushing into smaller formats.
Its B&Q fascia opened the doors to its first high street store on London's Holloway Road – measuring just 3,000 sq ft against a more typical 100,000 sq ft – in March 2017. This is aimed at local DIYers who can carry their purchases away.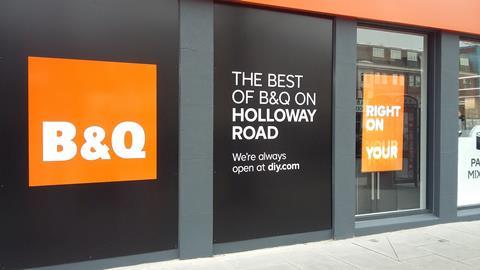 There is (very limited) parking at the back of the store, for those who choose to click and collect, but for the most part this is about domestic projects – a pot of paint or a garden rake perhaps, rather than the installation of a new boiler.
As such, the competition is the local hardware store, a world away from the edge-of-town DIY shed shopper.
The same, improbably, is true of the jewel in the Kingfisher crown: Screwfix.
Traditionally, Screwfix 'counters' have been located in secondary sites on industrial estates, mainly owing to the fact that operating costs can be controlled as rents are cheap.
Recently, however, a decision has been taken to open smaller Screwfix stores in prominent high street positions, with the latest being in Bayswater, London. And this is a very small store indeed.
Scott Parsons, Screwfix operations and property director, says: "Where a high street store really differs is the unit space, being roughly half the size of one of our normal stores.
"We sometimes find we need to adjust our plan with a high street store, to ensure the look and feel fits in with the local area. Our new store in Bayswater, for example, has a very different look on the outside – our first grey-fronted store."
At 3,600 sq ft on two floors, the store holds 9,500 SKUs, the same number of products as a store twice its size. This is achieved by using racking on rails that can be rolled together when not in use.
The store is also devoid of catalogues; it's tablets only for metropolitan Screwfix customers.
"What needs to be done is to distil down the essence of the brand and its service – this needn't mean a miniature version of a big store"

Tim Greenhalgh, Fitch
All of which means that this is almost a replica of a standard branch, but smaller and with significant operational variations.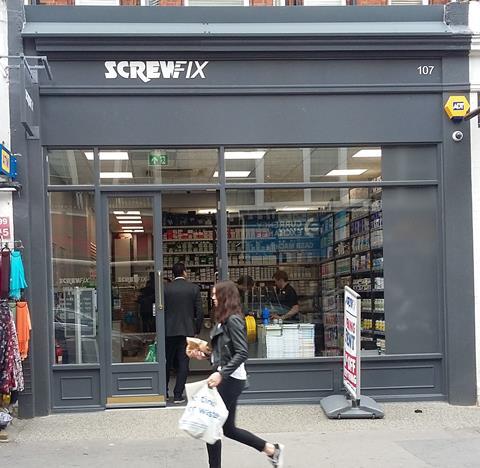 Does a reduced footprint therefore mean compromise?
Tim Greenhalgh, chairman and chief creative officer at design consultancy Fitch, makes the point that what matters is how a retailer's brand is translated.
"What needs to be done is to distil down the essence of the brand and its service – this needn't mean a miniature version of a big store," he says.
"Of course, there has to be enough product, but there is no point in operating unless you have a vital and active .com business.
"These should also be spaces where you can dedicate some time to helping the community by doing what you do in places where you might not be expected."
Things then are not as simple as they might at first appear. Small stores are different beasts from larger emporia, and thought and care needs to be taken in delivering them successfully.
Small formats: the rules
Small should not just mean a reduced version of a larger avatar
In-store, speed will be of the essence, so a dedicated click-and-collect kiosk is a must
If space does not permit the full range to be shown, make accessing the full offer simple
Blending in with the local offer will mean ready acceptance
The brand essence of larger stores still needs to be apparent in smaller versions
Consideration should be given to parking, store access and the ability of shoppers to carry products away from a store in metropolitan areas
The demographic and shopping missions of those in city centres will be different from elsewhere