There is more to the season of goodwill than Santa, reindeer and elves when it comes to creating a window display.
Christmas is, of course, the moment when we all pause and take stock of how the year has been. We relax, enjoy being with the family and overindulge in festive goodies.
Well that's the theory but, of course, we don't. Instead, we head off to the shops, gawp at the windows and smile from time to time at the imagination of some retailers when it comes to marking the season of goodwill.
And, Black Friday notwithstanding, we leave purchasing decisions until pretty late – probably in a vain fight to keep the bank balance looking sensible.
All of which means that the displays on our high streets and in the big malls are more eyebrow-raising than ever, competition is hot, and there are plenty of reasons for staying out just that little bit longer, even if the crowds are a mite irksome.
What follows therefore is a selection of some of the best that are out there and what is notable is that while some still stick with Santa, elves and reindeer, there are many who do not, opting instead to follow an unconventional path in the race to grab attention.
Few apologies for the bulk of the inclusions being on Oxford Street – this remains one of those destinations where retailers pull out all of the stops.
Boots, Oxford Street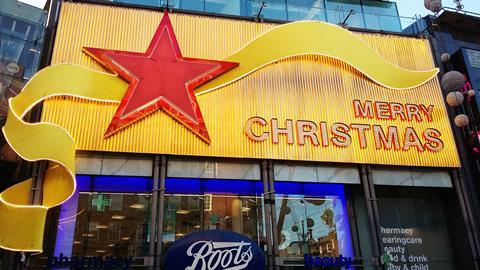 There is something distinctly Times Square retro about the large banner comprised of gold rods and a red star mounted on a deeper gold ribbon that sit above the Boots logo and all just a minute's walk from Bond Street tube station.
A simple 'Merry Christmas' suffices to remind the onlooker perhaps of 'Miracle on 34th Street' – the film that has a lot to do with Macy's in New York.
This display is totally different from anything else on Oxford Street, or the West End, for that matter.
Boux Avenue, Oxford Street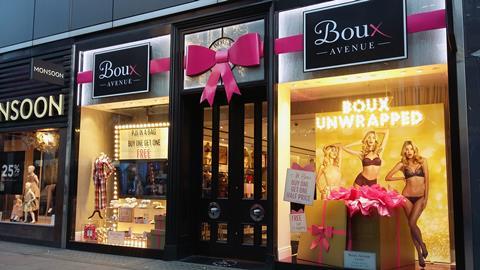 The lingerie retailer plays true to form with a window featuring predictably blonde models in their scanties with the words 'Boux Unwrapped' high-lit in movie star dressing room lights above them.
The other window has a screen depicting presents being opened on Christmas Day and more star lights are used to focus the gaze on the screen.
A pink ribbon with a bow is the finishing touch, extending across the frontage above the glass-line.
Selfridges, Oxford Street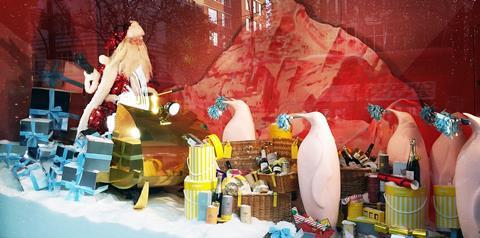 The windows in Selfridges this year are among the strongest it has fielded in the last decade and almost all of them feature a twist on the traditional Christmas theme.
Any of them would actually be a tour de force in its own right and selecting a single display was not easy, but the sight of a flock of party kazoo-bearing penguins moving towards Santa who rides a bling Trumpesque gold sleigh is one of the more surreal sights in these windows and demands to be looked at.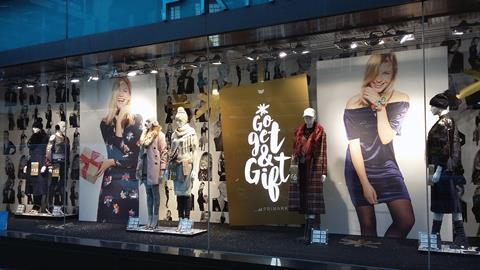 Primark, Marble Arch
Making something of not very much is the art of the visual merchandiser and window dresser and the displays in the windows of Primark at Marble Arch are about keeping costs under control while making an impact.
The strapline that unites the various windows is 'Go get & Gift…at Primark' and this is backed by monochrome images of models seemingly enjoying themselves, perhaps in party mode.
Full colour fashion shots form the rest of the backdrop for the various mannequins that occupy the foreground.
There is nothing over-the-top here, but it works.
Ted Baker, Bluewater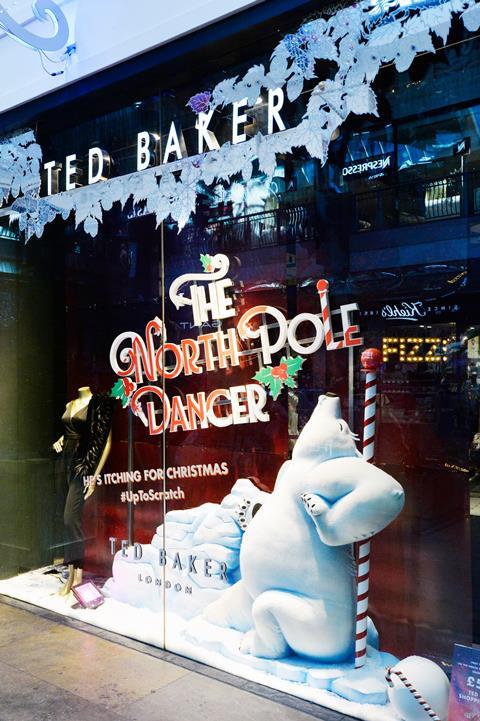 North Pole Dancing could really only be Ted Baker, complete with a Polar Bear scratching against a perpendicular barber's pole.
To this is added the legend 'He's itching for Christmas' and of course the hashtag #UpToScratch.
This is the sort of thing that really does raise a smile and which is done well enough to make passing shoppers shop and at least reach for their smartphone cameras.
A few sprigs of holly are the only concession to tradition in this window.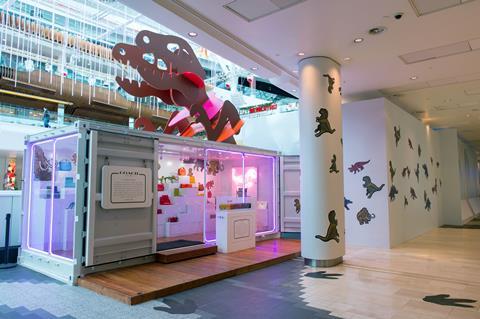 Coach, Westfield London
Aspirational leather goods brand Coach has a pop-up unit in the Westfield London mall that manages to combine the merits of paleontology and Christmas glitz.
This means a glass-sided shipping unit fitted out with glittery plinths of different heights along its principal wall and wallpaper featuring stegasauri, triceratops and suchlike applied above this.
At the back of the shop a pink neon Tyranosaurus Rex adds more festive punch and outside the unit an abstracted version of the same creature is ready to pounce on passersby.