From food retail design desert to a country that is in the vanguard, Germany's grocery sector demands respect.
Time was when, whichever way you cut it, German retail took something of a back seat when set against its UK counterpart.
To an extent this is still the case, department stores perhaps being a case in point. Until very recently, the same was true of UK convenience retail and supermarkets.
But rapid strides have been taken in Germany over the past few years and there are many elements that British supermarket retailers might wish to imitate. A trip round Frankfurt, in the company of some of the analysts from local Planet Retail office, did much to highlight what is taking place.
Rewe to Go, Kaiserstraße
Germany may have been slow to get away from the starting blocks as far as the big chains and convenience are concerned, but supermarket Rewe has entered the race with something of a head start with its Rewe to Go format.
The grocer's 'Ready to eat, ready to heat' strapline might lead to the conclusion that this is a food-to-go store with a few ready meals for the evening, but this view is dismissed by its sole high street presence – it already has a number of outposts in Aral petrol station forecourts.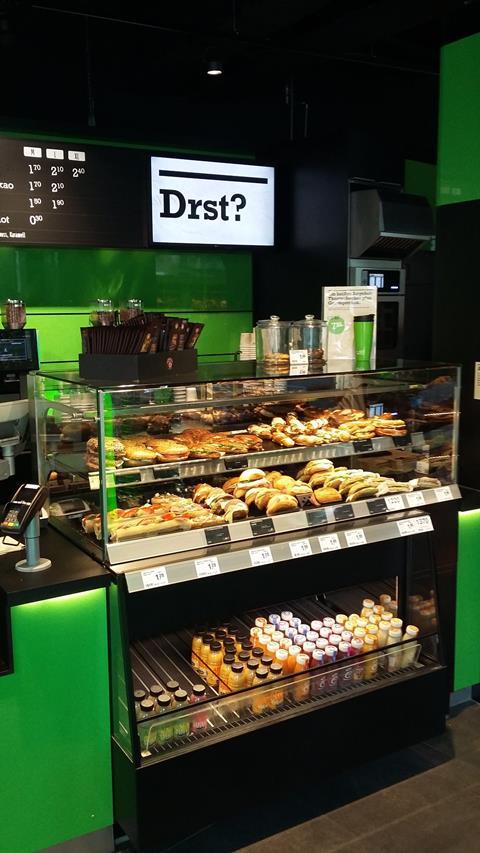 The microstore is in the heart of Frankfurt's financial district and a first glance through the door reveals a series of black counters where food to go is displayed, with bright green used as a contrast colour. Graphics feature abbreviated words – "Drst?" ('durst' means thirst) and 'Hnger?' (needs no translation).
All of this would be reasonably normal for a UK retailer, but beyond the food counters, the store splits into two distinct parts.
Armchairs and tables are provided to consume refreshments bought in store while looking out through the floor-to-ceiling windows. A different colour of floor tile demarcates the area from that of grocery a matter of feet away. This is a quiet piece of design and the effect is restful.
"Rewe has taken three potentially disparate areas and fused them into a good-looking space"
The supermarket bit of the Rewe to Go offer relies heavily on some winsome visual merchandising for the fresh food, with the ambient goods and a chiller filled with beer (this is Germany) beyond.
Rewe has taken three potentially disparate areas and fused them into a good-looking space that is markedly different from what UK and other German grocers are doing.
Rewe Center, Mainzer Landstraße
At the other end of the scale lies Rewe Center, the grocer's larger supermarket format, which has a more aspirational feel than most German food retailers.
As with UK grocers currently, a very heavy emphasis is placed on fresh produce at the front of the shop.
But in contrast to what is done in Britain, it is less regimented – the serried ranks of gondolas are absent and a more wandering layout takes its place.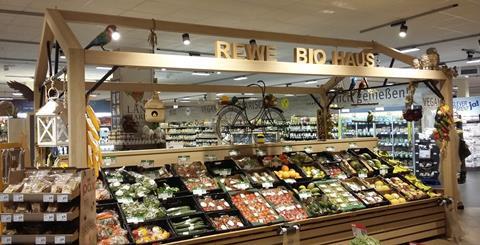 At the rear of the section is the Rewe Bio Haus, a wooden frame mimicking the outline of a building, home to organic produce and an extensive vegan offer.
Beyond this are avrious other sections, inlcuding an in-house coffee roastery and fish and meat counters. The latter makes good use of light boxes along the perimeter wall and also features a dry-aged beef chiller.
On the downside, mention should be made of the attempt to make canned goods work on a mid-floor display. The haphazard presentation is underwhelming.
Aldi, Mainzer Landstraße
Those familiar with the utilitarian interiors of Aldi in the UK will be surprised by this store, which is in the vanguard of this grocer's estate.
With wood-effect panels on the wall, green ceiling beacons above the fresh fruit and a bakery with a 'just in time' machine that counts people coming through the door and then bakes to order from the data it has gleaned, this is not a standard discounter.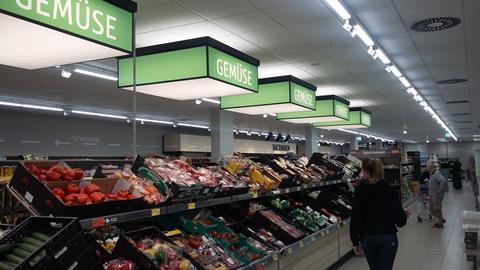 There is a warmth to the environment here, a total contrast to the UK's stores.
It is worth noting that Rewe Center and Aldi share a common entrance on this street and across the road is a large branch of Lidl.
This signals the competitive nature of grocery in Germany and the benefits of clustering – creating a retail food destination that benefits high footfall by providing a convenient location for the shopper.
Kaufland, Wächtersbacher Straße
Schwarz Gruppe's (also the owner of Lidl) Kaufland is what you might imagine would happen if a discounter became a megastore. In the new scheme of things, however, this does not mean it looks cheap.
To the front of the store, there is a wood-countered info desk with overhead video screens. A graphic features the Frankfurt skyline, referencing the store's location.
"The fresh department sets the tone for much of what follows, utilising dark, green-lined pendant lights"
The fresh department sets the tone for much of what follows, utilising dark, green-lined pendant lights to highlight the offer – a device that is used in the frozen department where the pendant lights have light blue interiors, adding interest to what could be a frozen wasteland.
Wooden ceiling rafts, a fine bakery and a cheese, meat and fish counter at the rear complete the action end of this supermarket (with more back-wall screens), which also boasts a substantial non-food element.
These German grocers are pulling out in front of much of what is done back in Blighty, particularly when it comes to food service and high street convenience retailing. Their UK counterparts should pay attention.