Department stores generally give prime space to the beauty category, but do they all do the same thing? John Ryan reports.
Walk through the main doors of almost any UK department store and it's a fair bet you will encounter a beauty department. The majority also feature branded beauty areas, and for most retailers it's a fight to get the big-name brands to take space.
The problem is that this can mean all department stores look the same. So do department stores manage to make their beauty spaces different from their rivals, or is it a case of shoppers choosing a store and seeing more or less the same thing everywhere?
"Very high ceilings, fluted pillars and overhead light-boxes featuring Pop Art-style messages stating 'I ♥ You' (it was Valentine's Day) made Selfridges the most glamorous, rather than grand, beauty hall in the West End"
It is also worth noting that at a time when beauty is seen as one of the few saviour categories for retailers, some brands are heading onto the high street in their own right as standalone stores.
A walk around the big guns of the department store world in London's West End does much to show the state of play.
Harrods, Knightsbridge: 8/10
Harrods divides its beauty offer into two rooms, cosmetics and perfume, and it rules the roost as far as the brands are concerned.
Fixturing, mid-shop and perimeter, signage and the overall colour scheme all conform to the Harrods palette, giving each brand an equal shout, with cosmetics and perfumes being sharply differentiated in terms of both lighting and the colour scheme that is used.
The rigid shell within which the brands operate means there is an overall architectural homogeneity, and for those who like grand chandeliers and a sense of the regal, this is as good as it gets.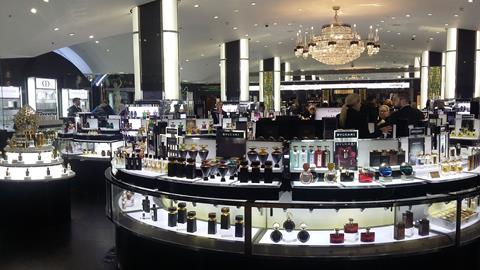 Harvey Nichols, Knightsbridge: 6/10
Low ceilings are always a problem for department stores as floor plates tend to be large and sightlines can be restricted when height is an issue.
This is the case in Harvey Nichols' flagship where, in spite of a floor-wide makeover, completed in 2017, there is a sense of overcrowding, trying to get as many big names into the space as possible and branded fixturing dominating the vista.
An attempt at unifying and owning the space has been made with the asymmetric marble floor, but it would be hard to identify this as distinctively Harvey Nichols.
Fenwick, Bond Street: 4/10
This is a somewhat predictable beauty department, and while it is certainly reasonably executed, it is the brands, led by Charlotte Tilbury, that call the shots.
The bulk of the action is in the mid-shop, and while there are variations, the colour scheme that has been selected neither excites nor offends.
Beauty departments should be about glamour and the somewhat monotone appearance of this department means that it lacks pace and feels a lot like department creation by numbers.
Debenhams, Oxford Street: 7/10
This is brand central, and while it is a fairly traditional layout, it is easy to navigate owing to generous walkways and high ceilings.
The eye is drawn along the walkways by starburst-style lighting tracks that head towards the escalator, midway into the ground floor interior.
The ambiance is glitzy, and while the brands have been reined in as far as the space afforded to their in-store marketing is concerned, they have been given a fair degree of latitude when it comes to deploying their own colours.
Selfridges, Oxford Street: 8/10
Very high ceilings, fluted pillars and overhead light-boxes featuring Pop Art-style messages stating 'I ♥ You' (it was Valentine's Day) made this the most glamorous, rather than grand, beauty hall in the West End on the day of visiting.
The brands were given almost complete largesse when it came to representing themselves, and yet this interior was unmistakably Selfridges.
House of Fraser, Oxford Street: 5/10
This is a perfectly acceptable beauty hall and an almost totally anonymous one. All of the big brands, from Dior to Prada, get an outing and all have been allowed to do more or less what they want.
The outcome is a hall of brands that feels as if it is leading to somewhere else in the store. It is little more than a pleasant distraction en route to the store's further reaches.
Marks & Spencer, Oxford Street: 7/10
The science lab is the setting for the M&S beauty department on Oxford Street, and although it is a mix of own-brand and branded merchandise, the space has the retailer's stamp on it.
Light and bright, with internally illuminated shelving, this is dramatically different from other beauty spaces in central London.
The real issue is one of location, however. Siting a beauty department on the first floor of a very large store, behind one of many womenswear spaces, means it has a real danger of being overlooked.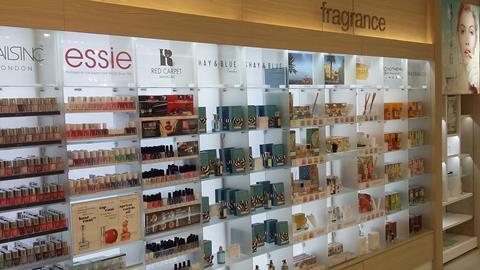 John Lewis, Oxford Street: 6/10
This is a pretty comprehensive beauty offer that mixes a semi-clinical area with a more haphazard space, which is where most of the big-name brands are located.
It has an escalator at its heart and this has been used to advantage, allowing shoppers views across the department.
There are no walkways proper and a good number of 'makeover' stations towards the front of the department.
Liberty, Regent Street: 7/10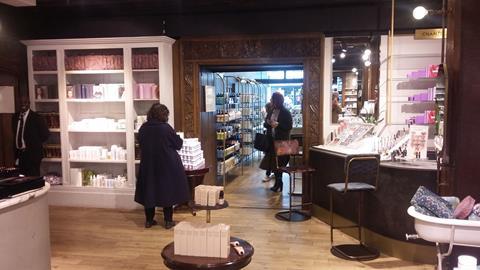 As with almost every other department in Liberty, it's the store that is the star.
The Arts & Crafts woodwork that is a feature of this interior is worked to accommodate a beauty department that stretches across several rooms, alcoves and niches, and visiting is a real voyage of beauty discovery.
A beauty treasure.