Think trainers and you might picture Niketown at one end of the scale or perhaps JJB Sports, if funds are rather more limited, at the other.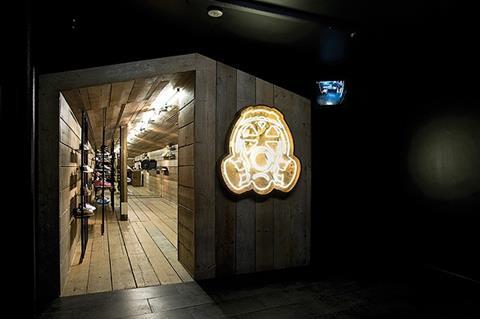 In either case, what you are likely to be confronted with are perimeter displays, arranged by brand. Much the same is true of Foot Patrol, in London's Berwick Street, but there the similarity ends as this one's store structure is unlike almost any sports retail store on the high street.
Foot Patrol is, in effect, a shop within a shop, or more accurately, a shed within a shop. The outcome of a collaboration between consultants the Wilson Brothers and Brinkworth, the aim is to makes the design of the store as much of a one-off as the semi-bespoke trainers it houses.
From the outside, the store fascia is relatively low-key, but step inside and the interior consists of a second shop, complete with pitched roof that has been constructed to float within the store shell. It is a good example of urban 'rough luxe', being composed of recycled scaffolding boards for the floors, walls and ceiling, teamed with satin black steel for the fixturing.
The far end wall is fully mirrored, making the store feel much bigger than it is. And the perimeter fixturing is also noteworthy, if only for the library-style product display system that allows the black rails to slide and be repositioned, making remerchandising straightforward.
This is probably not the kind of thing that would work across a large store portfolio, but it does show what is possible and how store design boundaries, irrespective of category, can be pushed a little further than might perhaps be expected.