London's Holloway Road will be the location of B&Q's first 'small format' store when it opens at the beginning of next month.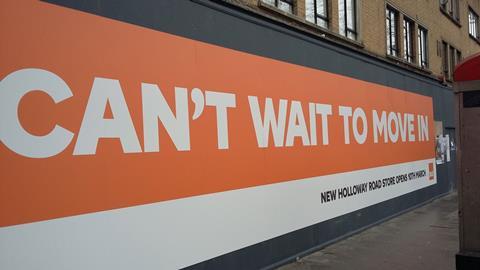 The high street store will be aimed at the 'home improver' and will serve a local market with tools and hardware.
It will not carry building materials, wood-cutting or the "Trade Point" counter associated with larger branches.
The initiative into local urban markets comes at a time when Australian DIY retailer Bunnings has just opened the first of its converted Homebase stores, in St Albans.
The B&Q shop will open on Friday 10 March at 482-488 Holloway Road in North London.
B&Q said: "The trial store will be just over 3,000 sq ft in size, and will provide customers with an offer focused on home décor, repair and maintenance, with a suite of supporting services.
"B&Q will also enable customers access to its full range of over 35,000 products via home delivery and click & collect."
The Holloway Road small format store follows the implementation of its parent company's One Kingfisher strategy, masterminded by Kingfisher chief executive Véronique Laury.
A smaller store format is a pattern that is becoming increasingly familiar for big space retailers that operate on the edge of towns and cities, predominantly on retail parks.
Ikea opened an 'order and collection' point in Westfield's Stratford mall in August last year and Topps Tiles boutique stores are now being rolled out on selected high streets.