More and more pureplay retailers are betting on bricks-and-mortar to develop their business. But is traditional retail worth the trouble?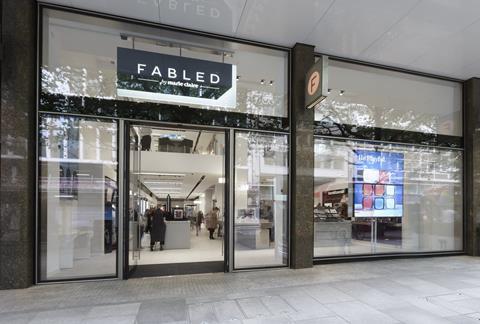 Etailers across the spectrum are moving onto the high street.
Grocer Ocado opened health and beauty store Fabled with Marie Claire in July, while fashion etailer Missguided is opening its first flagship in Westfield Stratford City this month.
Amazon even dipped its toe in the bricks-and-mortar, having unveiled its first book store in Seattle late last year.
Rumours are swirling that the online goliath is also plotting a move into grocery convenience stores.
However, not all etailers are convinced by the business benefits that bricks-and-mortar can deliver.
Shop Direct boss Alex Baldock told Retail Week earlier this year: "We have no wish to distract ourselves with bricks-and-mortar retail."
As online retailers look for new ways to drive their business forward, are stores the next leap forward?
Acquiring new customers
Verdict analyst Malcolm Pinkerton believes that pureplay retailers without physical stores may be missing a trick in terms of shopper acquisition and insight.
"Pureplay etailers are moving into the bricks-and-mortar space because they've come to realise very quickly that the consumer really sees and shops the brand, not the channel," he says.
"What I do think is they generate sales and profitability indirectly through brand awareness"

Sophie Albizua, eNova
"What we're seeing is more and more pureplays experimenting with opening up physical space not only to get a better understanding of the shopper and how they shop different channels, but also to really raise awareness and broaden the reach and appeal of the brand."
However, Sophie Albizua, co-founder of multichannel consultancy eNova says making money may not be the primary objective for investing in stores.
"These outlets will probably be profitable in and of themselves but I don't think they will add massive amounts of money to the bottom line, for example.
"However, what I do think is they generate sales and profitability indirectly through brand awareness."
For specialist fashion retailer N Brown this tactic is one that is paying off.
Chief executive Angela Spindler told Retail Week earlier this year that its stores create "a halo effect" driving online orders from shoppers nearby.
Etail high street collaborations
Prior to Missguided revealing plans to launch standalone stores, the online retailer had launched concessions in Selfridges' in Manchester and London.
This isn't the first time the department store had tied up with a pureplay retailer – it also partnered with beauty etailer Birchbox on several in-store concessions.
Pinkerton believes this type of collaboration is a win-win for both etailer and department store.
"A more established retailer can also give younger etail businesses exposure"
"Having a store, especially one with high footfall and traffic, is going to be very expensive," he says.
"If you have retailers that want to give their outlet more destination appeal then having a pop-up store is going to do exactly that, which also makes it far more viable for etailers to experiment with a bricks-and-mortar presence."
Partnering with a more established retailer can also give younger etail businesses exposure to a shopper that may never have found their products online.
"Acquiring customers online is a very expensive and increasingly difficult business," says Albizua.
"Nothing replaces footfall or brand awareness created by footfall, which is a massive advantage that traditional bricks and mortar retailers have."
A more efficient last mile
And then there's the issue of the last mile.
For online retailers, fulfilling customer orders is one of their biggest outgoing costs – expanding into bricks-and-mortar could give them a more efficient way of getting purchases to customers.
Ebay's tie-up with Argos is a prime example of this.
By allowing customers to send and collect purchases from Argos stores, eBay has increased convenience for the customer while also cutting costs.
"You can start to see a pattern emerging of which online retailers are doing entering bricks and mortar and why they're doing it," says Pinkerton.
"It's either to understand their shopper better, acquire new customers, broaden the appeal of their brand or simplify and make the final mile more efficient."
With such wide-reaching benefits, expect more etailers to enter the physical world in the future.