There's more to success overseas than turning up and hoping for the best. John Ryan talks to Raj Wilkinson, creative director at JHP Design.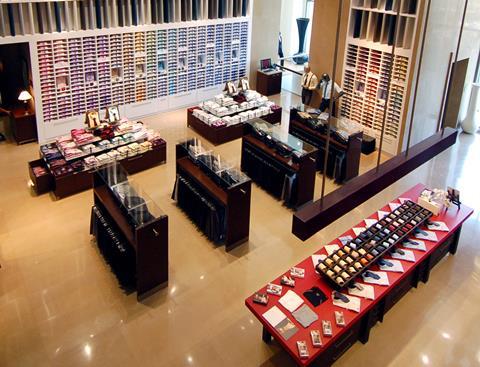 Talk to most retailers and retail design companies and the general feeling will be that, if possible, overseas expansion should be considered. Indeed, many of the larger design enterprises sense the only way is offshore.
London-based JHP Design is a case in point. This is a design outfit that has worked with many of the UK's high street majors, from Waitrose to Selfridges, and yet, according to creative director and joint managing director Raj Wilkinson, about 70% of its fees come from non-UK projects.
JHP has had time to make this work. Its first overseas project was back in 1994 and since then it has worked in markets as diverse as South Korea, India and Mexico. "We concentrate on emerging markets and going overseas means you operate in a bigger and more exciting pool than in today's tough [UK] climate," says Wilkinson.
As Wilkinson remarks, there are also some obvious pitfalls that those looking for offshore business need to be sensitive to. Foremost, perhaps, is the notion of being a pioneer. "Never be first in a country," he says, adding: "Getting in first means not having any benchmark to work against. You have no idea about the price of anything - buildings costs, labour, anything, and it's a matter of trial and error. It may be fun, but it can mean problems. There are no guarantees."
That may be so, but it does not appear to have stood in the way of JHP working on projects for retailers across the subcontinent, at a time of massive expansion in that part of the world. The Raymond department store in Mumbai, for instance, is one example.
Different rules
Wilkinson points out that an awareness of differences between here and wherever is chosen to make landfall can make the difference: "There was a proliferation of malls in India between 2005 and 2007 and now many of them are struggling, not just because of the difficulty of finding tenants but because it's hard to maintain a glass fronted mall in one of the hottest countries in the world. The costs are high."
He notes that any retailer or retail design company working overseas has to be aware that "you're in a different country. The rules are different." It would appear that heading out of the UK has its obvious appeal, not least because some economies continue to grow, but there are some pretty clear drawbacks that can be avoided with prior thought.
The view ascribed to the 2nd Baron Redesdale, aka David Freeman-Mitford, on returning from the First World War, that 'abroad is unutterably bloody' is certainly one no longer espoused by the overwhelming majority. But not all is sweetness and light. Being alert to what can occur and being prepared to sit, listen and understand is central to success in new and emerging markets.
Interiors Survey
Retail Week is conducting a short survey to learn more about the current trends in store design and the challenges facing the sector, as well as find out what retailers have the best store designs.

The survey should take no longer than 2 minutes to complete and all participants will be in with a chance of winning a £50 Amazon voucher in our prize draw.
To complete the survey go to: tinyurl.com/interiorssurvey