After investing heavily in a rebrand, Indian textiles giant Alok Group, owner of troubled fashion and homewares retailer Store Twenty One, is mulling the possibility of a sale.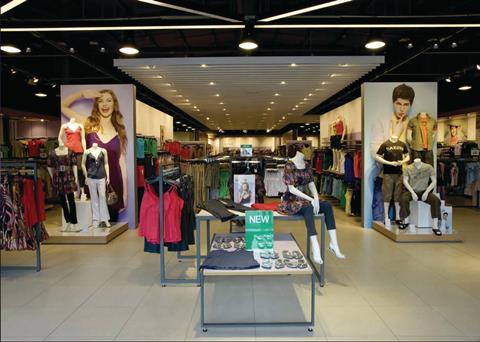 Indian textiles giant Alok Group is mulling the sale of Grabal Alok, the UK subsidiary that operates value fashion and homewares retailer Store Twenty One, as it considers disposing of all its retail operations.
In selling Store Twenty One, along with Indian retailer H&A, the group would reduce its debt burden. Since Alok acquired Store Twenty One, which developed from value fashion retailer QS Stores, in 2007 the group has been loss-making.
Losses narrowed between 2009 and 2011 as the 200-store business recorded sales growth, but performance substantially deteriorated in the year to March, 2012, when total revenue plunged 7.4% to £99.4m and pre-tax losses widened from £3.3m to £19.9m as it battled a poor economy.
Store Twenty One has shut 20 unprofitable shops over the past year and plans a further 20 closures.
It had also mooted plans to increase the level of sourcing from the Far East to improve its value proposition. The acquisition by Alok, which has a £1bn manufacturing business, was designed to give it a strong financial platform for the UK business while reducing its costs through direct sourcing from its new owner.
When Alok bought the retailer the bulk of its portfolio was the original QS fascia, but it initiated a rebrand to the more fashionable Store Twenty One.
Store Twenty One launched its new look in Pitsea, Basildon in May 2008 and the retailer aimed to roll it out across the entire estate by the end of 2011, but this target was not met.
However, Alok has invested heavily in the format and rebrand. It has now revamped almost all stores to Store Twenty One in a bid to shake off its discount image and grab a younger, more fashion-orientated audience.
Store Twenty One launched an exclusive range with celebrity Katie Price in 2011, named Katie's Boutique, to push its fashion credentials. The range initially took in lingerie and nightwear but has been extended into swimwear. Every item in the collection is priced under £10.
After buying the business, Alok revealed plans to add 40 stores to bring the portfolio up to 250. However, a week after making the statement in 2007, a 'for sale' sign was hoisted above 34 shops, which the company insisted was a "re-engineering of the store portfolio" rather than a change in strategy.
Alok had also planned to launch Store Twenty One overseas and moved the retailer's chief executive Findlay Caldwell to head its expansion in Eastern Europe and India, where it said it wanted to open 200 stores in two years. However, these plans did not come to fruition and Caldwell left the business in 2008 as part of management redundancies.
Despite its original ambitions, it has been clear that not all has been right at the retailer for some time.
Former George at Asdaladieswear designer Toni Salters, who had been drafted in to revitalise its womenswear, left after less than a year in the job, and property director Doug Sinclair also left last year.
Store Twenty One, which has been run by chief executive Anupam Jhunjhunwala since Caldwell left, has needed extra investment since its takeover and has had several rounds of investment ploughed into it.
It refinanced in 2010/11 with a $56.5m (£36.5m) convertible bond from Deutsche Bank, which will convert to equity in October 2013.
No potential bidders have yet emerged for Store Twenty One, but it's clear that any new owner would have a challenge on their hands to turn around the business.
Tough times
Owner Alok Group
Chief executive Anupam Jhunjhunwala
Stores 202
Sales down 7.4% to £99.4m
Pre-tax losses widened to £19.9m
*Financials for year to March, 2012