Republic's owner, Sports Direct, has offered landlords 15% of stores' turnover as part of a new lease proposal.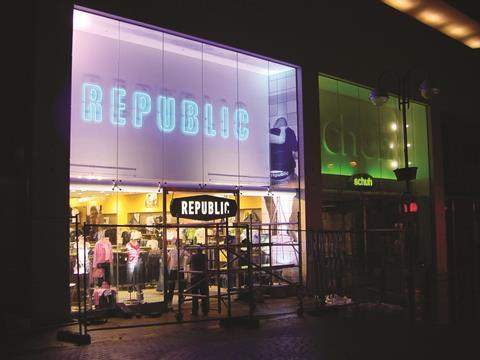 Sports Direct is thrashing out deals with landlords to secure turnover-based rents for its newly acquired Republic stores as it aims to bring the retailer back to its branded roots.
The sportswear giant, which aims to retain as many as possible of the 116 Republic stores it acquired out of administration two weeks ago, is offering landlords 15% of stores' turnover to cover rent, service charges and rates.
Sports Direct boss Dave Forsey told Retail Week that its initial conversations with landlords, including British Land and Capital & Regional, had been "very positive".
The initiative could signal a shift in Republic's store estate. Forsey admitted that some developers might not find the structure appropriate in certain high-profile schemes, but the retailer is prepared to relocate to other developments owned by the same landlord.
"We have an excellent ops team, it will take us just a few weeks to make it happen," he said.
Forsey believes that lease structures of this kind are the future of retail. "Given the number of voids on the high street, retailers' relationships with landlords are coming to the fore. We're doing something that's really innovative that should be mutually beneficial," he said.
He expects renewed contracts with landlords to retain some flexibility, such as break clauses to allow landlords to exit if they become unhappy with the arrangement. Property agent CBRE is acting for Sports Direct.
The sportswear Goliath unveiled its turnaround plan for Republic to sell its proposed leasing structure to landlords.
It is to focus on increasing Republic's branded offer and will invest in its store estate to establish branded areas, with a particular focus on footwear and denim.
Forsey, who will head Republic alongside premium lifestyle stablemates USC and Cruise, said: "Republic is our key brand going forward."
The increase in brands might lead to store relocations as Forsey said some shops were too small for its widened offer.