JD Sports holds the unique position of being both Sports Direct's biggest rival and, in many ways, its polar opposite.
At first glance the two businesses seem pretty similar as retailers that operate in the sports and leisure sector and, if JD Sports' recent acquisitions of Footasylum and Pretty Green are anything to go by, are prone to a distress purchase.
However, beyond the surface these two sportswear titans are very different – a fact perfectly encapsulated by their respective bosses.
While Sports Direct supremo Mike Ashley makes headlines on a near-daily basis for business activities far removed from the company he founded, JD Sports executive chair Peter Cowgill is much more accustomed to letting his business speak for itself.
Overseas potential
The City has made its feelings on these different strategies known. While Sports Direct's share price has consistently declined over the last year, JD Sports' has gone from strength to strength – at the time of writing, the retailer's share price was, at 513.2p, just 8p shy of its 12-month peak.
The tactic of saying little but delivering results looks set to continue next week when the sports fashion retailer reveals its results for the year to February 2.
In its Christmas trading update in January, JD said its full-year pre-tax profit would be "at the upper end of published market expectations" of between £325m and £352m.
"There are few retailers across the sector exhibiting such good growth characteristics"

Greg Lawless, Shore Capital
Unlike Sports Direct, which warned in its interim results in December that it faced "significant challenges" in turning around House of Fraser, JD's acquisitions to date have not distracted it from the core business but enhanced it.
The retailer snapped up US sportswear chain Finish Line last March and has since used its store footprint to roll out three JD-branded stores Stateside – and Cowgill says he is "encouraged by" their early performance.
As a result, a further 15 Finish Line locations are being converted into JD stores in the first half of this year. It's a move indicative of the fact JD Sports has plenty of track left to run in terms of growth potential, particularly abroad.
Growth engine
Shore Capital research analyst Greg Lawless says there are "few retailers across the sector exhibiting such good growth characteristics".
"We believe that, given that the US acquisition is potentially transformational on a three-year view, together with the international expansion prospects, that the shares remain attractive, relatively elevated multiples," he adds.
"We continue to highlight the depth of JD Sports' multibrand and multichannel proposition as a growth engine of the company."
JD's domestic sales are likely to demonstrate further growth in its full-year results, something Cowgill heralded in its latest trading update "given the well-publicised challenges within the UK retail market".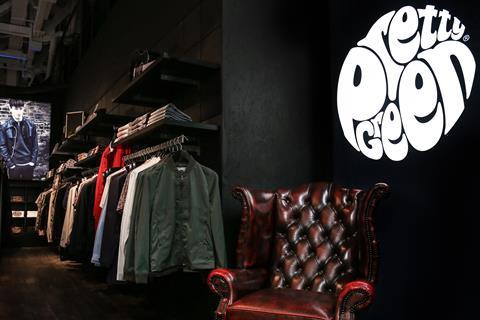 While cracking the US is a big challenge, JD Sports must now prove the recent acquisitions in its domestic market can add just as much value to the business as its overseas endeavours.
Both its acquisitions at home since the turn of the year need work to get them back on track.
Sneaker emporium Footasylum, which JD Sports snapped up last month for £90m, has had a dramatic fall from grace since its November 2017 float.
Although the retailer has achieved consistent sales growth over the last 18 months, it has often come at the cost of margins due to increased clearance activity and as a result the business has issued three profit warnings since its listing.
While there is no doubt JD Sports will have its work cut out to get Footasylum back to profitable growth, in brand terms the two businesses fit together like an Adidas hoodie and tracksuit bottoms.
At the time of the acquisition, Cowgill said Footasylum would offer JD "significant operational and strategic benefits through the combination of the very experienced and knowledgeable management team at Footasylum and our own expertise".
Decisive moves
Pretty Green is more of a head-scratcher. While Finish Line and Footasylum fit into JD Sports' sports-fashion aesthetic, mod-friendly Pretty Green is firmly in the latter half of the category.
JD has made decisive moves since it bought Liam Gallagher's brand this month, shutting all 11 stores save for its Manchester flagship and pulling its House of Fraser concessions.
However, questions remain over what role Pretty Green will play in JD Sports' wider business – will it be a bolt-on to its existing proposition to up the retailer's fashion-focused offer or will it be a standalone fascia?
But, as JD's performance in recent years has indicated, it is a business well placed to keep many balls in the air without sacrificing sales or profit momentum.
Grace is Retail Week's reporter.