The sports fashion titan's preliminaries, showing a 26.8% EBITDA uplift to £488.4m and a 49.2% swell in revenue to £4.7bn, puts the retailer in a league of its own at a time when many rivals are struggling to maintain momentum.
As Peel Hunt analyst Jonathan Pritchard says: "It's hard to think of such an impressive showing anywhere else in retail."
So, what has JD Sports done that other retailers can learn from, and how does it plan to keep up the pace?
American ambition
JD Sports' fashion arm – comprising the eponymous core business and others such as Sport Zone in Iberia and Hot-T in South Korea – notched up 6% like-for-like growth driven primarily by its international portfolio.
Its European and Asia Pacific divisions both posted double-digit like-for-like sales growth and chief financial officer Neil Greenhalgh says JD plans to increase its store numbers by approximately 40 in Europe and 20 in Asia Pacific in its current financial year, building on its estates of 252 and 46 respectively.
However, the retailer's most significant opportunity lies in the USA, where it acquired sportswear chain Finish Line for £396m last March.
Greenhalgh says in the short-to-medium term, JD Sports will be focused on bringing "commercial discipline" to Finish Line's operation to improve its profitability.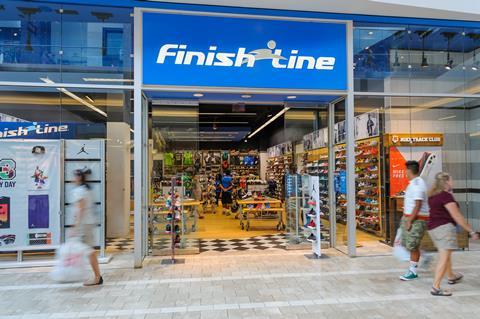 "At JD Sports we're very focused on not giving money away in markdown and instead focused on sell-throughs and getting the buy right in the first place, so we'll work with Finish Line on improving in the same areas," he says.
As well as improving profitability and margins, JD Sports is biting the bullet with Finish Line's loss-making stores.
At the time of the acquisition, Finish Line operated 556 stores across the US and Puerto Rico – today it operates 528, and Greenhalgh says the optimal number of stores will be below 500.
But perhaps the most interesting opportunity lies in what the acquisition means for the expansion of the JD Sports fascia Stateside.
To date, the business has opened five JD Sports-branded stores in the US, four of which have been converted to Finish Line, with a sixth set to open this week.
Greenhalgh says that the business plans to steadily upscale the JD Sports fascia in America, in tandem with developing Finish Line's portfolio.
"Finish Line caters to a different consumer, a little more middle class. We are focusing JD's expansion on the metropolitan areas where Finish Line are not overly represented," he explains.
"We are looking to maximise the width of the demographic that we target. The dual-fascia approach means we are not going to convert all the Finish Line stores to JD Sports, but what we will do is see what the best fascia is for a particular area based on the demographics in that area and have the right outlet there accordingly."
"We see our stores as a positive, not a negative feature of the business"

Neil Greenhalgh, JD Sports
JD Sports is taking a slow and steady approach to its fascia in the US – it plans to convert around five more Finish Line stores in the current financial year alongside up to three new store openings, according to Greenhalgh.
But executive chair Peter Cowgill is confident that the expansion presents a significant opportunity to supercharge growth.
"We believe that our acquisition of Finish Line in the United States, the largest market for sport lifestyle footwear and apparel and the home to many of the global sportswear brands, will have positive consequences for our long-term brand engagement, while significantly extending global reach," he says.
The value of stores
While JD Sports' international sales sprinted ahead, the retailer's domestic sales more closely resembled a steady jog.
Greenhalgh says the retailer's UK sales "held their own" during the period but were by no means the key driver of the business' growth.
Greenhalgh is adamant that JD, which ended the financial period with 390 stores across the UK and Republic of Ireland, was committed to maintaining a strong presence on high streets across the country.
"We see our stores as a positive, not a negative feature of the business. They showcase the product and you get more theatre in a physical environment than you can online," he says.
"For a lot of our customers, shopping is a social activity. They want to go into town with their mates on a Saturday morning, walk out of the store in the latest gear and be seen looking cool. It's a social experience."
However, Greenhalgh says JD is not immune from the external factors that are undermining sales growth for many bricks-and-mortar retailers in the UK, such as business rates, living wage costs and customers tightening their purse strings amid growing political uncertainty.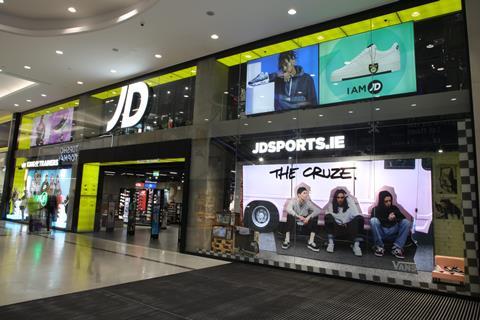 In order to counterbalance this and maintain store profitability, Greenhalgh says the business has taken several measures to free up capital.
The first of these lies in doggedly negotiating JD Sports' property portfolio to ensure the business has the flexibility across its bricks-and-mortar division to move where the customer does.
"We focus very much on break clauses and talk about not being strapped to the rocket in terms of long leases, because the reality is positions of best footfall change as tenants come and go, so you have to be able to have that flexibility and react," says Greenhalgh.
"It's important that we have that flexibility to come out of stores in short order should we need to."
Greenhalgh says the average lease length for a JD Sports store is four years, but the business is focused on "bringing it down further" to ensure it can be as reactive as possible to the waxes and wanes of footfall.
The retailer is also focused on driving in-store efficiencies to cut costs.
"In the UK arena last year, like for likes broadly held their own but rates costs increased as did living wage costs. So, if you are to maintain store profitability, your biggest controllable cost is your retail payroll," he adds.
"It's about making sure you have the right number of hours in store at the right level. Certain tasks, whether it is stock room or processing people through the till, take longer than they should do, so if you can make those processes more efficient and effective then it gives you the opportunity to control those costs."
But while rotas and rents are getting a thorough examination by JD Sports from a cost perspective, one area where the business plans to continue investment lies in the in-store experience, whether that be in terms of digital technology or a strong brand portfolio.
"We focus on the fashionability rather than the price, and think we have a fairly differentiated offer"

Neil Greenhalgh, JD Sports
From kiosks that allow shoppers to browse the full range in smaller stores, to digital imagery that gives them the backstory of a particular range, Greenhalgh says "theatre and bringing a product to life" are the differentiators that encourage a shopper to part with their cash in store.
"We focus very much on our consumer. They like their premium brands and products, they want to feel good when they're wearing it and they want it presented in an environment which really showcases the product," he says.
"We focus on the fashionability rather than the price, and think we have a fairly differentiated offer that appeals both to the consumer and the international brands."
The retailer has made its strong relationship with aspirational sports fashion brands a pillar of its success.
The business attributed "respecting the differentiated and often exclusive nature of the product assortment by avoiding unnecessary short-term reactive discounting" as one of the primary reasons its UK sales performance was resilient in the financial year despite a challenging consumer backdrop.
JD Sports' uncompromised vision on how to create a first-class shopping experience while maintaining profitability makes it a force to be reckoned with as the retailer squares up for its next growth spurt.