The vast majority of UK shoppers have never used their smartphone device to buy in-store, but contactless payments are gaining popularity.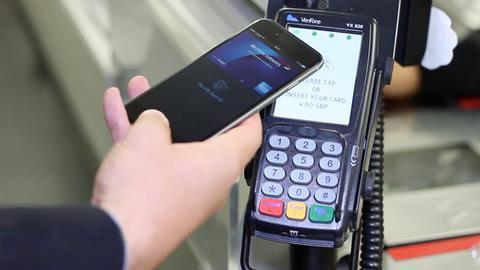 Despite Apple Pay going live in the UK last July and Google launching a rival offer for Android phone users in May, uptake of smartphone payments by UK shoppers has been sluggish.
According to a poll by ICM for Retail Week, only 17% of UK shoppers have ever used Apple or Android Pay functionality to make a retail purchase, and only 2% of shoppers use the technology to pay for items every time they purchase in store.
The uptake of smartphone payment technology was significantly greater among younger shoppers – 36% of customers aged between 18 and 34 have made an in-store purchase using their mobile device compared to 16% of 35-54 year old shoppers and 4% of customers aged 55 and over.
Male shoppers also had a greater propensity to pay for items using their smartphone, with 20% of men surveyed saying they had used the technology to make a purchase compared to 15% of women.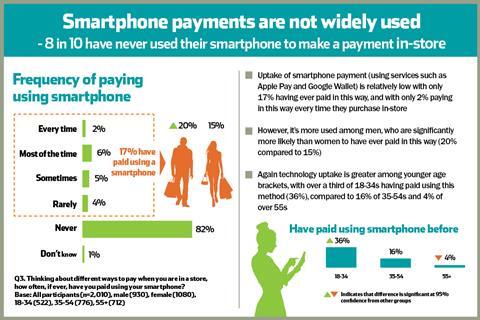 Contactless payment on the rise
Though uptake of smartphone payments has been slow, shoppers are increasingly receptive to contactless payments.
Of the shoppers surveyed, 10% said that being able to pay by contactless card was very important and 20% said it was quite important.
Nearly half (46%) of shoppers aged between 18 and 34 said contactless payment technology was important to them in comparison with 28% of 35-54 year old shoppers and 19% of shoppers aged 55 and over.
Shoppers in the South East had the greatest uptake of contactless payment, as 37% of shoppers in the region cited contactless technology as important, followed by 29% of shoppers in the Midlands and 27% of shoppers in the North.
According to figures from the UK Cards Association, contactless transactions comprised 18% of all card payments in the first half of this year.
This number surpassed the number of contactless payments made over all of last year, which comprised 7% of card transactions.
Small retail purchases are driving the uptake of contactless purchases amongst shoppers, as the average purchase using the payment method is £8.60.