Fashion etailer Asos has today launched a holding page for its Marketplace website, which will become a global marketplace where shoppers and independent retailers will be able to buy and sell clothing to fellow consumers online.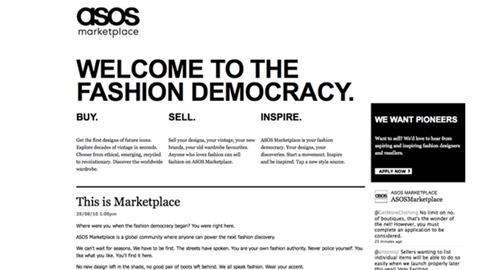 Marketplace will officially launch later in 2010 so the site is not yet trading, but the brand has created a holding page marketplace.asos.com on which to start blogs and generate interest in the new venture.
The holding page provides information about the new platform and offers a sign-up facility which gives aspiring fashion designers and resellers the opportunity to apply to open 'boutiques' in the Marketplace ahead of the site going live.
Sites such as Amazon and Play.com have already demonstrated the huge popularity of marketplace platforms, and Asos will follow suit by creating a global site which will allow fashion lovers to sell their garments online at a fixed price.
The brand will help customers to present and market their products successfully, and the site will also include a separate area for smaller independent retailers to sell good, with Asos scouts being sent to the retailer to ensure the goods are authentic.
In addition, Marketplace will offer a facility which will be open to brands and business wishing to sell overstock.