Fearing the worst but ploughing ahead seems to be shopfitters' default approach for surviving this recession. But is the optimism coming through in this year's National Association of Shopfitters/Retail Week survey misplaced? John Ryan reports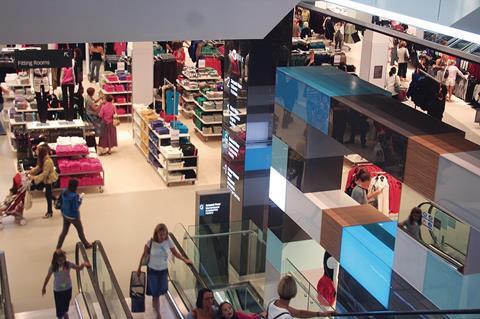 If there's one immutable constant in the face of a crisis, it must be the optimism of a shopfitter faced by a seemingly intractable set of economic statistics. Glance down the table of this year's survey of the National Association of Shopfitters' (NAS) membership and one thing is apparent – more than half of the respondents think next year will be better than this one. Do the sums and the number of those espousing this view hovers around the 75% mark, a figure that might, to an onlooker, seem incredible in view of the hit the sector has taken since the middle of last year.
On closer examination, this might not be quite as surprising as it might seem. Northern Irish-based Patton Fit-Out says it has experienced no decline in turnover in the past 12 months. This is not to say that it has grown, but in this climate, anything better than a negative figure is probably a very good result indeed.
Patton Fit-Out is well placed. Retailers may have soaked up a series of body blows of late, but there are still those that continue to open new stores, with Primark being among the more obvious examples. With its connections south of the border, Patton has been working with the discount retailer since 2004 and the latest fruits of this relationship are the retailer's store in Bremen,
Germany, and the 100,000 sq ft flagship in Bristol.
The trick, in this arena, is probably the ability to stick with clients through thick and thin, and particularly to work with those that prove successful in the thin bit of this spectrum. On which reckoning, the new business department at Patton Fit-Out must have highly sensitive antennae, with Topshop Oxford Circus and Debenhams both opting to use the firm this year.
Perhaps then, there is good cause for this company to believe that next year will see its fortunes on the rise. If it can generate about £60m in a year when many believe that retailers have more or less mothballed new build and refurbishment plans for their stores, then presumably next year could see a modest improvement.
Patton Fit-Out director of retail Brendan Boyd says: "In 2010 we see an increase in the European market and Northern Ireland is looking pretty good at the moment." He adds that maintaining revenues has involved "a lot of hard work, streamlining and focus". He says that a move into Europe has made up for shortfalls that could have occurred owing to the collapse of the retail sector in the Republic of Ireland.
But it is Boyd's view that working with the right clients – "the ones that are still spending, because a lot aren't" – is the most telling. Knowing where to pitch an offer is as important as having the right range of services.
Are things looking up?
However, it is those in the table stating sales will head north when they have seen their turnovers falling by an average of about 25% that must represent the triumph of hope over experience. There is a sense of exhaustion and the feeling that things cannot get any worse and therefore, almost by default, they are bound to get better.
This may well prove to be the case, but although retail spend was up against last year in July, there is still some way to go before retailers are likely to emerge from their foxholes and start spreading their new store wings once more. This is likely to mean that big projects, other than in the supermarket sector, are going to remain in short supply and that there will be few guarantees about the future for shopfitters.
This does not explain the small number of respondents in the survey – just five out of 23 – that say retail is not a good place to be at the moment. Once more, blind faith might appear to be carrying many through – although it is worth remarking that the number of firms prepared to say it's not worth bothering with retail in a magazine read by retailers is, inevitably, limited.
There are of course exceptions to the gloom about this year. Both NJL Yorkline and ISG Cathedral appear to be producing market-busting results, with double-digit increases against last year. For ISG Cathedral, this may have much to do with its seemingly inexhaustible appetite over the past two years for acquiring rival firms. This has seen the shopfitter changing its name to incorporate new add-ons almost as frequently as it has mopped up other shopfitters.
It may also serve as a pointer towards sector consolidation, something that has been much talked-about during the course of this decade, but which, to date, has yet to become a reality.
That said, ISG Cathedral, like Patton Fit-Out, may have winning ways as far as maintaining revenues are concerned, but no matter how many acquisitions are made, work still has to be won and retailers need to be persuaded to part with their capital.
And when it comes to winning work, the overwhelming majority of those that took part in the survey stated that keeping close to existing clients was the principal way in which this could be achieved. Speak to any shopfitter and it isn't long before the spectre of online tendering – a form of Dutch auction where the lowest price wins – is mentioned. This might well undermine the "love your client" strategy, but the counter argument would be that retailers need reliability of supply as much as they show a preference for low price.
The shopfitting sector is surrounded by much uncertainty at the moment, but outcomes are far from predetermined. According to NAS director Robert Hudson the savage declines encountered by some shopfitters during the first half of this year may now be subsiding, but this does not mean that a recovery is under way.
"There is evidence that we have come out of the nose dive that was evident, particularly in the first quarter. The smaller shopfitting sector [employing less than 50 people] has seen confidence rise about 21% and those employing more than 50 about 13%.
"The NAS crystal ball continues to tell us that we are travelling along a bumpy road as the economy rebalances and it is likely to be the second or third quarter of 2010 before we get out of the potholes. I would see it recovering to a more normal market in 2011."
Tough times then, but things are not terminal. Optimism may be the hallmark of the shopfitter, but retailers will continue to need to update their portfolios and, from time to time, to open or relocate a few stores. In the words of those who once appeared to know: "Things can only get better" (© New Labour, 1997).