Are bricks-and-mortar stores a vital sales channel or an unnecessary overhead for some fashion specialists?
"Fresh fears for the British high street", warned one national newspaper over the weekend as it reported that suitors of up-for-sale fashion retailers Coast, Oasis and Warehouse would seek to shut a raft of stores.
Potential buyers, which include turnaround specialists Endless and Alteri, would be expected to swing the axe on a number of loss-making branches.
Of course, no one wants to see empty shops on the high street or jobs lost, but do these quite specialist retailers actually need a network of shops in this multichannel age?
Making concessions
Surely a stellar online proposition – both a brand's own and listings on big marketplaces such as Asos, Zalando et al – and concessions in the big department stores are all that is needed to thrive?
Oasis, Warehouse and Coast already have both of these boxes ticked.
The fact is that these fashion stores are not destinations in their own right (perhaps with the exception of Oasis).
"I'm more likely to come back with a new Oasis dress from HoF, Debs or John Lewis as I am from one of its own stores"
I shop at all three but I don't head to the high street specifically to visit them – I stumble upon them as part of a wider shopping trip.
I'm more likely to come back with a new Oasis dress from HoF, Debs or John Lewis as I am from one of its own stores. I visit department stores because they are destinations where I know I'll find many brands under one roof.
To be frank, I'm also more likely – thanks to Asos's easy-to-use app and free standard delivery – to buy Oasis and Warehouse from a third party online.
Expensive brand builders
Of course, some prime retail spots such as Oxford Street, Bluewater or the Trafford Centre, are great brand-building locations.
However, I suspect much of Oasis, Warehouse and Coast's store estate is really an unnecessary overhead and, if shops were closed, a fair portion of sales would migrate to concessions and online.
Running stores is an expensive business and soaring rent and rate bills mean it's not getting any easier.
Oasis, Warehouse and Coast are not exactly thriving financially.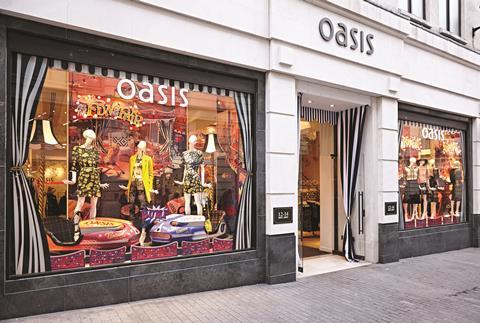 Last year Coast edged back into the black with £1.3m of pre-tax profit, compared to pre-tax losses of £10.8m the previous year.
Meanwhile Oasis posted flat profits of £6.3m and Warehouse made a £1.3m loss.
They are brands operating on a knife-edge, and I bet stores are a sizeable overhead.
So rather than lament more shop closures on the high street, I would applaud a move by a prospective new owner to build Oasis, Warehouse and Coast into thriving concessions-based businesses.
This would safeguard the future of these famous fashion labels and the livelihoods they provide.