Dealing with the fallout of the recession was the subject of a panel debate at the Retail Week Conference this morning.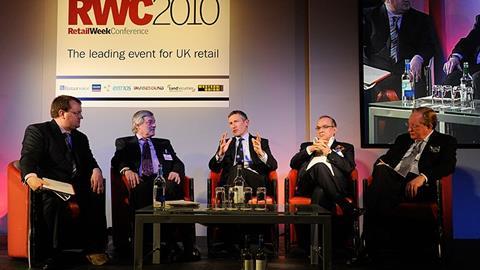 Comet managing director Hugh Harvey was clear about the action that needed to be taken: "I think you've got to talk to your people, you've got to adapt and you've got to have belief. The principles of good business are there in good and bad times."
He added: "The recession forces you to reassess everything you do. You do have to make assessments about costs."
Harvey said that igniting growth during a recession involved running a business for the future rather than today.
The Garden Centre Group chief executive Nicholas Marshall said that retailers should use a recession to cut out some of the "dead wood" that are to be found in businesses.
"You've got to be true to your brand and to what you do. Don't panic by going down the route of selling cheap product," he said.
For Touker Suleyman, owner of shirt brand and retailer Hawes & Curtis, external pressures such as poor exchange rates, and rising labour and raw materials costs were contributing to the pure economics of the downturn: "All retailers today are faced with where to go from here?
We've found that we sell more shirts online in areas where we have shops, so you need to be aware of the factors that affect multi-channel retailing," he said.
Robert Clark, senior partner at Retail Knowledge Bank, said growth would come, but that it was probable that the second half of this year, post-election, would see rising unemployment, before happened.