PAID FOR POST
More voices from the retail industry
There is much that can be said about the magic of entrepreneurship when constrained, whether that be by money, time, or both. Agile Retail's Marcus Fox looks at how having an experimental mindset can create huge opportunities
One thing we discuss a lot at Agile Retail is the difference between "pilots" and "experiments".
Pilots are typically fully formed ideas, can be expensive, involve a lot of resources, are long term and the risk of failure is high.
Experiments can be just part of an idea, frequent, quick to deploy, with a focus on learning and where the risk of failure is low.
At the start of lockdown, one of our customers was presented with the unexpected problem of getting products to their customers.
Their specific needs meant that this wasn't just a case of using a well-known national delivery network; this needed a premium touch and, crucially, a way of taking payment at point of delivery. They turned to us for help and needed someone to take the entire problem off their hands with an end-to-end solution – and quickly.
"Experiments can be just part of an idea, frequent, quick to deploy, with a focus on learning and where the risk of failure is low"
With an experimentation mindset, we took on the challenge and were making deliveries to their customers just four days later. In the first three months of lockdown, we were able to collect and fulfil thousands of orders that would not have otherwise been possible.
Maybe more importantly, it transpired that this method was more effective in terms of demand generation, delivered a better consumer experience and was ultimately more commercially effective than their standard model.
The shifting tides of normality
I often reflect on how this might have transpired under "normal" circumstances. Firstly, the brief would have probably never crossed my desk. Why would a customer with a successful business model feel the need to flip the status quo of their current operation?
Under normal circumstances I can easily see how it would play out; something we would have all seen at some point in our careers.
A lengthy process to scope it out; no fixed timeline or end point; endless project meetings; lots of stakeholders; iteration after iteration of the business case; every scenario meticulously documented in a process flow; multiple levels of sign-off; maybe finally agreeing to run a pilot.
If it was decided that there might be a commercial case to answer and the brief landed with us, we'd probably have a similar internal process.
How will this work? Who needs to be involved? What systems do we need? How do we price it? When could we start it?
In reality, we had a small team focused on turning the idea into an operation as quickly as possible, with limited resources and budget. We learnt on the job, focusing efforts only on the elements that required it.
"There's a huge opportunity to demonstrate entrepreneurial behaviours with great benefit when we're constrained"
We were constrained in many ways, but equally free from the usual constraints in others. It was invigorating.
We started using Excel spreadsheets to manage the orders. We borrowed iPads from other projects to turn into mobile EPoS systems. We briefed on the fly and flexed the process daily based on feedback.
Creating a strong focus
It was far from perfect, but the single-minded focus on getting it done and learning on the way served its purpose phenomenally well.
As things scaled, we invested in using app-based management tools. We automated reporting. We created glossy briefing packs. We established how and where we could be more efficient.
Crucially, we focused only on the parts that needed optimising – rather than the whole project, as we'd still be sat around discussing it – due to the time-sensitive nature of the brief.
If there's one lesson I've taken away, it's that there's a huge opportunity to demonstrate entrepreneurial behaviours with great benefit when we're constrained.
When there's a new idea, I remember this experience and employ the same mindset. How can I test this with limited funds and start testing it this week?
Rather than creating a fully scoped pilot, remember that great things can happen from an experiment, particularly when the worst-case scenario is that you learn something.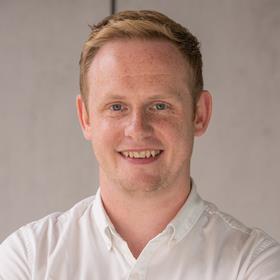 Marcus Fox is group managing director of Agile Retail
Fox has led retail businesses at both enterprise and scale-up level over the past ten years, including as a senior leader in Sainsbury's ecommerce team for more than five years. Obsessed with developing a new, successful future for the physical retail store, Fox has developed Agile Retail over the past four years and leads its work on delivering new and innovative retail concepts with some of the world's biggest brands.

Agile Retail helps brands to trial new things in retail and enable physical retail for those without stores. It helps online brands launch stores and trial new formats, and helps partners to increase scale and reduce costs.