PAID FOR POST
More voices from the retail industry
Retailers must ensure their returns experience is as slick as possible says Akash Gupta, chief technology officer at GreyOrange.
Retailers are usually rubbing their hands with delight as Christmas ends and the January Sales begin – but this year the picture looks a little different.
Ongoing supply chain issues, labour shortages, outdated warehouse technology and unpredictable peaks and troughs in activity are exerting extra stress on already stretched fulfilment centres.
However, retailers are still expected to deliver the same seamless ecommerce experiences to their customers.
Crucial to this is the issue of returns. A recent Doddle study found that 84% of consumers consider the returns experience to be important in encouraging them to shop with a retailer again.
As orders rise, with consumers half-heartedly committing to cheap purchases, and as more people admit that they don't actually like their panic-bought Christmas presents, returns will inevitably rise.
In fact, post-Christmas returns are expected to hit almost £4bn in the UK, according to ParcelHero.
As the world's leading retailers gather at NRF 2022, it is against this backdrop of expectations and disarray that many will be asking themselves: 'How will we overcome additional pressures while maintaining customer experience?'
Many unhappy returns
Returns are far more problematic to deal with than outbound logistics for retailers. Put simply, the arduous task of manually reprocessing stock, assessing its condition, processing refunds and figuring out what to do with it can easily become burdensome to businesses.
When it's done incorrectly it results in a waste of money and resources. Recent reports suggest that it can cost a retailer twice the price of delivery for a product to be returned to the supply chain.
Returns also create a backlog in inventory, preventing retailers from restocking faster and selling more products.
Covid-19 has caused the process to stall even further as stock can't be used until it's sorted, cleaned in accordance with health guidelines and verified to be back on shelves.
"Labour shortages affected every link in the supply chain and have continued past the festive season"
This problem has only been exacerbated by labour shortages in fulfilment centres as fewer staff members are able to process these returns. Labour shortages affected every link in the supply chain and have continued past the festive season, which will inevitably cause delays in refunds that result in unhappy customers.
Retailers need to look to technology to fill the gaps in fulfilment centres and speed up the process to ensure customers are kept satisfied and brand loyalty is maintained.
With AI and robotics technology integrated into returns operations, returns are processed, inventory is available and can be resold faster, meaning that brands can refocus their staff on challenges that require human judgement.
This combination of agents, both human and robot, can add value to every fulfilment centre as automated resources are added to labour-intensive tasks while humans can focus on more complex situations.
Speed up the process
With returns fluctuating over the course of the year, retailers need to identify methods to speed up the end-to-end process to be able to handle annual peaks and problems, such as the ongoing supply crisis, with ease.
Integrating technology like robotics can streamline this process, create synergy with human agents to fill the labour gaps and create operational efficiencies they wouldn't otherwise be able to.
These operational efficiencies help to keep retailers' processes on track, meet customer demands and maintain brand loyalty.
With the NRF's annual conference about to take place, conversations around AI and robotics will be top of the agenda to ensure returns are handled efficiently this festive season and for years to come.
Akash Gupta is chief technology officer at GreyOrange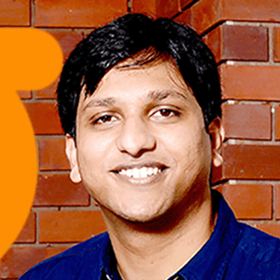 As one of GreyOrange's co-founders, Akash Gupta is central to the company's culture of innovation.
His primary focus is driving research and development and attracting the brightest talent globally as the company uniquely blends AI, software design, robotics, mechanical engineering, electrical engineering and data science to transform fulfilment for companies worldwide.
Gupta leads innovation across three R&D centres in the US and India from its Delhi headquarters.

GreyOrange provides state-of-the-art robotic orchestration capabilities through its intelligent decision-making software, GreyMatter, and an extensive smart robotic workforce. Founded in 2012, GreyOrange is headquartered in Atlanta, Georgia, and employs over 800 people, with over 50% focused solely on research and development. The company currently has 6,000+ robots in operation across the world, processing 630,000+ decisions per minute through GreyMatter, supported by offices and partners across the Americas, Europe and Asia. For more information on GreyOrange, please visit www.GreyOrange.com.