PAID FOR POST
More voices from the retail industry
There's no doubt that the global pandemic has brought unparalleled change to our daily lives, with the continual disruption to the norm meaning we are all forced to think differently.
Although we've witnessed the loss of some well-known retail brands over the past six months, there have been some success stories, too.
As one retail leader put it, "all things that mattered in the past are now much more important" – a clear sign that those who are to thrive, not just survive, need to embrace the energy and optimism that this seismic shift has brought about and push forwards harder than they were before. That means making brave decisions – and doing it at speed.
"All things that mattered in the past are now much more important"
At This Place, we have been speaking to global retail leaders across categories to really understand what the last six months have been like for them. We have distilled these insights into what we believe are the seven new rules for retail.
These rules can help any retailer rethink, reassess and reframe the current climate, looking positively at actionable steps that can be taken to kickstart profitable digital growth.
Our seven new rules for retail
1. Diversify to survive and succeed
Doubling down on what you did before the pandemic is not the way to survive. Retailers need to innovate outside their core proposition and embrace the fail-fast mentality to move forwards and grow.
Whether that's launching a new ecommerce platform or developing a new product range, retailers who adapt and diversify will be the ones to succeed.
2. Reimagine the store with digital at its core
We know the role of the store is changing and digital will be at the forefront of this evolution.
From stores acting as fulfilment centres for ecommerce to integrated inspiration and advice hubs for customers, how digital systems are integrated into physical stores will be crucial for their survival in this low-touch age.
3. Ditch the copy-and-paste ecommerce experience
Easy-to-use ecommerce platforms offer out-of-the-box solutions anyone can set up and run with, but that results in a host of identical ecommerce experiences.
Retailers that want to stand out from the crowd must break free from the traditional grid and think more about how to translate their store experience into their ecommerce platform to create a more immersive journey that engages customers increasingly suffering from digital fatigue.
4. Reframe convenience to balance the bottom line
The economics of ecommerce are notoriously difficult to manage, making it essential for retailers to reset customer expectations away from the Amazon model and towards a broader range of fulfilment options that work for the customer, the business and society.
5. Drive loyalty though purpose
Traditional points-based loyalty schemes have been wavering for a while now and, while they're seeing a resurgence right now, we think in the long term they're not enough to maintain true customer loyalty.
Now is the time for retailers to set themselves apart with a proposition bound by purpose as more customers make their purchase decisions based on social value.
6. Be picky when partnering
The recent rapid growth in brand partnerships has allowed retailers to reach customers in new ways – for example, Aldi using Deliveroo as its delivery provider during the peak of the UK lockdown.
There's no denying there are benefits to partnerships like this, but act with caution and make sure to protect what is strategically important for the long term, such as control over the customer experience and access to data.
7. Make design part of your DNA
Now is the time to truly embrace the value of design as a capability at the heart of a business, rather than something that makes things look good at the end of the process.
A design-thinking approach is crucial to put your customer at the heart of business to understand and cater to their fast-evolving needs.
In this rapidly changing world of business, we know retailers need actionable steps to quickly adapt and thrive. Our report, 7 New Rules for Retail, delivers just that. You can download a copy of the full report on our website, as well as find out more information about our approach.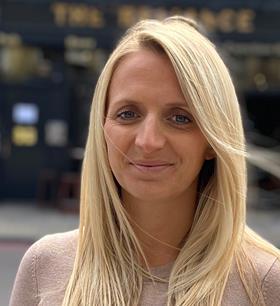 Dawn McKerracher is chief operating officer of This Place
Dawn leads This Place across Europe, Asia and North America, supporting clients on a range of strategic design challenges centred around digital transformation and growth. Dawn's focus at This Place is in blending business consulting with design to help retailers and brands launch and optimise new business models, ecommerce platforms, loyalty propositions and channels that drive results, fast.
Prior to joining This Place, she held senior positions at Condé Nast International and Accenture.


Delivering profitable digital growth, fast. We design sustainable digital businesses that work for customers, for shareholders and for society. Driven by purpose as much as profit, we design websites, apps and digital services used by millions of people daily. thisplace.com instagram.com/thisplacestudios