PAID FOR POST
More voices from the retail industry
With an overwhelming 42 different categories of loss associated with ecommerce, according to Professor Adrian Beck's Total Retail Loss typology, it is crucial to find innovative and efficient ways to reduce shrinkage says TSC Printronix Auto ID's Bob Vines
In just six years, counterfeiting, shrink and claims costs have cumulatively more than tripled, with claims alone rising from $36bn to $65bn, as referenced in our recent webinar with GS1 US.
In the ever-evolving world of ecommerce there is a huge breadth of challenges to be tackled, from fraud to theft, yet ensuring case pack accuracy is a simple starting place that will quickly reap rewards.
Claims issued when shipments are damaged, lost or inaccurate are one of the quickest, easiest wins that radio frequency identification (RFID) offers to reduce losses.
"You can't fulfil sales if items you thought were in stock aren't there"
RFID technology can read through cases without line of sight, so contents can be speedily evaluated for accuracy.
If cases that are packed have the wrong number of items, colour, styles, etc inside them, the inaccuracy can lead to several penalties:
The claim cost itself, plus labour, overheads of processing, researching or negotiating claims
A lower inventory accuracy, which, if unchecked, causes further issues, including inventory degradation further down the line
You can't fulfil sales if items you thought were in stock aren't there
It creates difficulties for omnichannel picking
Product substitution costs you if it's more expensive
It causes poor replenishment cycles
RFID was predicted by Retail Week to be one of the five tech trends dominating ecommerce this year and it is clear to see why. We see the top reasons for adopting it as:
Automatic and accurate inventory updates
Better visibility throughout the supply chain
Improved loss prevention
Frictionless in-store checkout
Reduced human error and effort
But does RFID make financial sense?
Utilising RFID can improve order accuracy and increase supply chain visibility.
At our webinar, GS1 cited a customised T-shirt supplier that after EPC/RFID deployment saw its order accuracy top 99.54%. Furthermore, the deployment reduced chargeback claims by 98.8%, and delivered a solid ROI and payback in less than eight months.
This customer can now record exactly how many T-shirts it packed into cases, when, where and why.
It can also share this information with its trade partners to enable visibility of its inventory across the complete supply chain.
GS1's electronic product code information services (EPCIS) enable that to be done as well as provide event data that not only helps operationally but also helps solve any claims challenges
Transparent authenticity
RFID provides a good narrative and understanding of a product's provenance and allows grey-market tracking, as well as other applications.
Such high-level information also forms the basis for data sharing, besides visibility and product authenticity.
Country of origin data can be used, for example, for tariff management. In fact, the RFID mechanism for tracking could be useful for many processes like reverse logistics, or evidence that distribution centres provided value added services like including product hangers.
"RFID provides a good narrative and understanding of a product's provenance"
But RFID science is complex – selecting the right partners, printers and equipment cannot be overstated; it's often the critical difference between success and failure.
Businesses need to select partners with advanced technical knowledge to properly support RFID projects. Approach a number of them, get a good understanding of their true level of expertise. If you are unfamiliar with the terminology, ask them to explain. If they can't, switch to another potential partner is our best advice.
Read more about RFID for omnichannel retail
Bob Vines is UK, Ireland & Nordics country manager for TSC Printronix Auto ID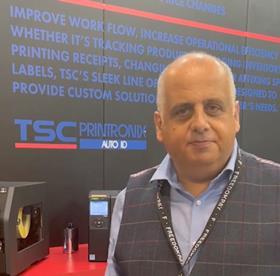 Vines is responsible for developing, educating, expanding and supporting our regional reseller partners, and promoting how our innovative technologies meet the needs of SMEs to Fortune 500 companies.

Founded in 1991, TSC Printronix Auto ID is a top five leader globally in barcode and RFID label printers. Its RFID portfolio comprises label supplies, including retailer mandate compliant labels. It also supplies a broad range of RFID printer encoders to suit a variety of needs and applications.
View full Profile