PAID FOR POST
More voices from the retail industry
Many business owners are under pressure to sell on social media for fear of missing out, but what does the data say about retailing through social channels, asks James King, head of ecommerce consultancy at payments experts Elavon Europe
In an online survey with Ipsos, we asked 1,108 people aged 16 to 75 across the UK how much they spent on the last impulse purchase they made – if they ever have – through social media. Here are our findings.
Who is not making impulse purchases through social media?
Before we get into the details of who is spending online, it's useful to identify who is not.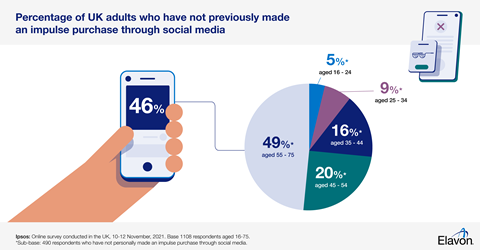 Almost half (46%) of adults in the UK say they have not made an impulse purchase through social media. Proportions increase with age, with almost half (49%) of those people in the 55 to 75 age range.
This is unsurprising considering there is still a lot of suspicion around buying and selling through social media, whether you're a consumer or business owner.
Retailing through social media is a relatively new concept, but there are some generations for which it has always been around, compared with older generations that have lived quite happily without it and may well continue to.
But take note: while your core audience may be reluctant to buy through social media right now, in time those who are comfortable buying through this channel may make up the entire market.
What amount are people spending on an impulse purchase through social media?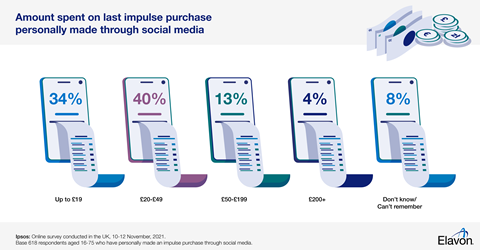 Of those who have made an impulse purchase through social media, the largest proportion – two in five (40%) – spent between £20 and £49. While higher amounts were trailing, there clearly are some (4%) who spent £200 or more.
In a nutshell, this tells us that impulse purchases through these platforms aren't limited to the cheapest items.
If this level of spending included non-essential items, imagine if your business sold necessities – it could be a very good indicator of potential.
What does this mean for your business and selling through social media?
Are you sending the right message to the right people in the right place for your business?
If your target market relies strongly on impulse purchases, then knowing your customers' age and your price point is crucial in deciding how suitable a channel this is for you to sell through.
Explore the full research here.
James King is head of ecommerce consultancy at Elavon Europe

Elavon is a leading global payments company with more than 2,400 employees across Europe. A subsidiary of US Bancorp, Elavon provides businesses with the technology needed to accept payments from customers, whether they are shopping in stores, at home or on the go.