PAID FOR POST
More voices from the retail industry
Fighting fraud has never been so important as we head into the festive season, says Brian Flesk, head of retail at Hitachi Capital Consumer Finance.
For many retailers, this year's golden quarter is more important than ever. It will see the industry return to a more 'normal' period of retail behaviour and shopping activity, with some strong early indications showing the bounce-back could be like no other.
There are always new challenges facing businesses and the retail industry has faced rapid changes due to technological evolution, concerns around supply chain issues and staff shortages across the UK.
Serious threat
While these issues are undoubtedly putting retail industries under pressure, they are not the only matters that might endanger consumer spending in the run-up to Christmas.
Fraud continues to pose a serious threat to customers – especially as the volume and rate of transactions increase over the coming months.
To put it into perspective, retail fraud increased by 50% between 2020 and 2021, and identity fraud increased by 11% in the first six months of 2021.
Furthermore, a recent survey by Sift showed that consumers prioritise security over loyalty, with 56% of those surveyed revealing that if visiting a brand's website had led to them becoming victims of fraud they would choose other competitors in the future.
Sophisticated fraud
It is vital that businesses invest in protecting their customers. Fraud is constantly evolving and becoming more sophisticated, so it is paramount that retailers come up with viable solutions to combat this.
The UK Treasury is scrutinising the steps being taken by consumer superpowers like Amazon and eBay to protect their customers adequately from fraud – however, there are steps that retailers of every size can take individually to make a difference.
Hitachi Capital Consumer Finance is constantly harnessing new technologies that further enhance the frictionless journey customers expect.
Integrated ID verification is transforming the online finance application process, capable of validating the authenticity of documents in real time that make the identification process as quick and efficient as possible while reducing potential fraud.
'It's paramount that the dangers of fraud are not lost among supply and staff shortages'
These changes arrive as Hitachi Capital Consumer Finance rebrands to Novuna Consumer Finance early next year, following the merger of the business' parent company with Mitsubishi UFJ Lease and Finance Company Limited earlier this year.
This development puts Novuna among the world's largest and most diversified financial groups.
It's paramount that in the golden quarter, the dangers of fraud are not lost among supply and staff shortages.
We need to empower consumers to be able to spend confidently, which is why Hitachi Capital UK's Identity and Verification app is such an important development for our customers' financial security.
In the lead-up to Christmas, fraud prevention must take its place as a priority for retailers.
Brian Flesk is head of retail at Hitachi Capital Consumer Finance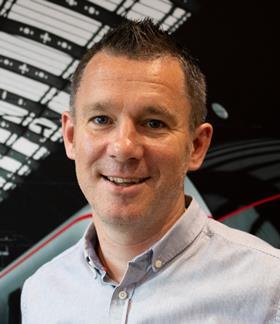 Brian Flesk leads the retail point-of-sale finance business at Hitachi Capital Consumer Finance, overseeing the relationship management with more than 3,200 high street and online retail partners.
He has been instrumental in implementing the digital transformation of the business, responding to the seismic shift in buying behaviour that has transformed the industry in recent times.
With a distinguished career spanning 20 years in financial services, before joining Hitachi Capital Consumer Finance, Flesk worked previously for Barclays and Premier Legal Funding.

Hitachi Capital Consumer Finance, a division of Hitachi Capital (UK) PLC, provides more than £1.7bn of consumer lending to more than 1 million customers each year. As the UK's leading provider of retail point-of-sale finance, the business works with more than 3,200 retailers from high street brand names to niche online ecommerce retailers, providing fast, flexible finance solutions that integrate into all channels.