PAID FOR POST
More voices from the retail industry
Forget SMS and email, a new Google-backed business messaging platform is set to shake up mobile marketing as we know it. Esendex's CCO, David Smyth, advises on what retailers need to know about RCS.
Do you know what the world's biggest business mobile messaging platform will be in two years' time? The answer is probably not what you're thinking, but more on that shortly…
On paper, mobiles have made it easier for retailers to reach customers, but in practice it's harder than ever to get customers' attention.
Emails are often ignored, SMS text messages are limited, and the strict rules around what retailers can send via Messenger and WhatsApp is curtailing their potential.
Showing remarkable foresight, 12 years ago a group of mobile network operators got together to improve the basic functionality offered by SMS.
The outcome was Rich Communication Services, or RCS. This would replace SMS as the default messaging app on mobile phones, but with greater functionality.
As projects with multiple stakeholders have a habit of doing, progress to launch was slow until Google got involved and gave this project a big push. In 2018, Google stopped work on its Allo messaging service and redeployed resources to make RCS a reality.
As of July 2019, RCS is here.
How does RCS benefit retailers?
RCS is easier to show than tell…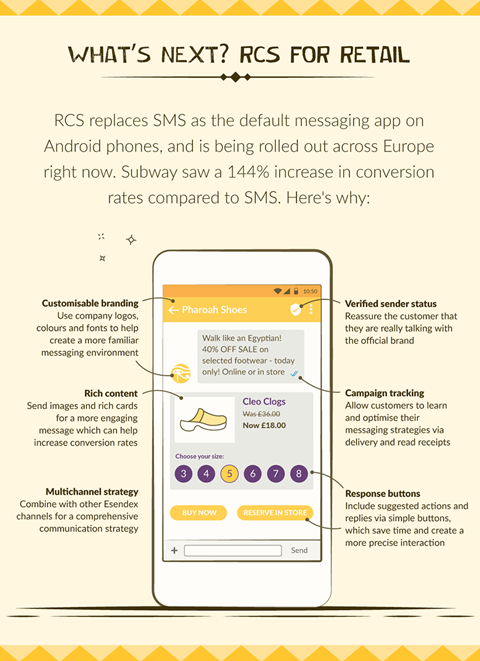 But, as an example, if a retailer wanted to promote a relevant line of merchandise to an existing customer, today you might send a text or an email with a link to a landing page.
In both cases, you're relying on a click-through and for the subsequent mobile experience to be good enough to coax the customer through the buying process.
With RCS, a retailer's promotion will be delivered within the message – carousels, video content, the ability to choose a size, and the ability to reserve stock or buy now.
Google Pay lets the recipient swipe to buy, and the order confirmation and delivery notifications are delivered through the same messaging application.
"14.8% of total smartphone users will be on RCS by the end of 2019"
The same permission rules that currently apply to email and SMS communication also apply to RCS – the customer must reasonably expect to receive this content and an opt-out must be respected.
However, what retailers send to customers isn't subject to approval like WhatsApp so retailers can be much more agile and responsive to demand.
What's the catch?
At the time of writing, Apple doesn't support RCS, and if you attempt to send an RCS message to an iPhone, the customer will receive a text with a link to a landing page that replicates the RCS experience as closely as possible.
While RCS will be the default messaging app on Android devices, rollout and adoption will take time as handsets and software are updated.
However, the analysts at business messaging intelligence service Mobile Squared believe RCS will be the world's biggest business messaging platform by 2021.
"At the end of 2019, 14.8% of total smartphone users are on RCS… brands take note!"
While there will be retailers who'll wait until 2021 to see if this prediction comes true, retailers shouldn't wait to test RCS and see what their retail business could achieve with it today.
Esendex is working with visionary retailers on RCS. Please get in touch if you'd like to join us.
David Smyth is Chief Commercial Officer at Esendex.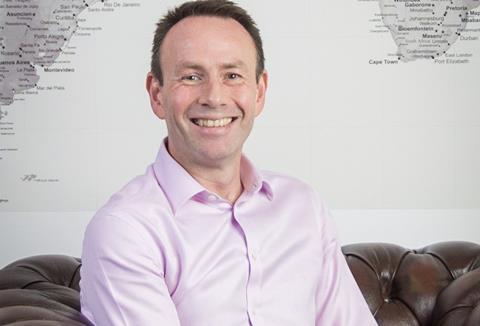 Esendex is on a mission to make business communication better. Founded in 2001 to provide reliable, fast and secure text messaging services for companies who wanted to make the most of the opportunities presented by mobile phone ownership, Esendex now has over 14,000 active customers.