PAID FOR POST
More voices from the retail industry
Basket abandonment is costing the retail industry billions of pounds of lost sales each year. Visa looks at how to create a seamless checkout experience
Across the world, people have reported changes in their ecommerce habits with online shopping increasingly recognised as a common part of everyday lives.
In the UK, between March 2020 and February 2021, the number of people saying they had been shopping more online grew from 40% to 75%, according to Statista1.
As the physical and digital shopping worlds continue to merge, consumers are looking for the best of both for a more satisfying experience – the convenience of ecommerce with the speed and security of payments we have come to expect in a physical store.
In this highly competitive digital landscape, retailers will need to continue evolving to attract new customers and keep existing ones.
A key part of that is having a seamless consumer journey – the payment experience is integral to this.
Avoid falling at the final hurdle
By implementing quick, easy and secure ways to pay, businesses are more likely to encourage people to come back for more instead of walking away from their online basket – an issue that cost the UK industry £39.4bn of lost sales in 2021, according to Barclaycard Payments.
In a store, the risk of a customer choosing to walk away from a till and leaving their shopping unpaid is small.
But for any business with an online presence, basket abandonment occurs in almost nine in every 10 shops, according to Statista2.
Creating a seamless checkout
A significant driver in this trend is having too many steps at checkout.
In many cases, shoppers need to make an account to make a purchase or sign in using lengthy payment forms.
This can be time-consuming, especially if a shopper needs to locate their wallet to do so or has forgotten their payment details.
Research has shown that something as simple as needing to fetch their card from another room is enough to prevent shoppers from buying an item.
In fact, research by Statista3 shows, 30% of consumers say they will leave a site without completing their purchase if asked to enter their card information more than once – even if they themselves mistakenly enter the wrong information the first time around.
Making it easier to pay for goods and services by removing the need to re-enter card details each time a customer pays is key to ensuring merchants do not lose customers at this important stage in the shopping journey.
Providing shoppers with the easiest ecommerce journey will not only boost their experience but also boost your bottom line.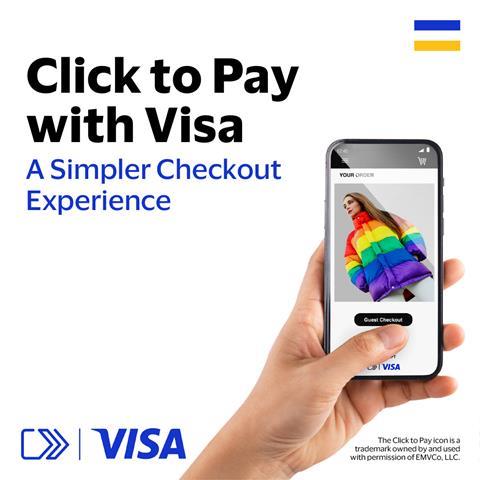 Click to Pay with Visa
Developed as an industry standard, Click to Pay is an innovative new solution created to simplify the checkout experience. It securely stores a person's card details after they've been entered the first time, so they can complete their next online purchase in just a few clicks, eliminating the need to fill in long forms and significantly reducing the steps needed to complete payment.
Click to Pay provides merchants with an easy, off-the-shelf payment solution to simplify the checkout experience.
Reach out to your payment provider or gateway partner to learn more.
1 Statista
2 Statista
3 Statista

Visa is a world leader in digital payments, facilitating transactions between consumers, merchants, financial institutions and government entities across more than 200 countries and territories. Their mission is to connect the world through the most innovative, convenient, reliable and secure payments network, enabling individuals, businesses and economies to thrive. Learn more at Visa.co.uk.