PAID FOR POST
More voices from the retail industry
In what have been challenging times for most retailers, contactless click and collect offers them a safe way to entice customers back into shops.
Everywhere you look, stores are now offering click-and-collect services as we shift slowly from home deliveries to persuading consumers back to stores.
If not implemented properly, however, it can become a costly drain on space and staff time.
The trend for creating an 'in-store experience' with new technology and providing more services has been apparent for some time, and contactless and self-service delivery has only been accelerated by Covid-19.
In-store click and collect is more profitable for retailers than home delivery. This is partly because customers tend to make impulse purchases when collecting their orders.
The cost to process and fulfil orders through an automated on-premise locker system also costs less than counter-queuing click and collect.
"Retailers that succeed in offering click and collect without long collection queues will gain a greater share of customer minds and wallets"
Retailers often come up short with click-and-collect programmes, creating customer frustration instead of a seamless experience.
Nearly a third of online shoppers, according to Forbes, said they had "long waits" while staff rummaged for their parcels in the back of stores. Running this service manually, with staff alone, has exposed inefficiencies.
A shopping experience is not seamless if poorly conceived store processes do not complement the overall omnichannel philosophy.
Retailers that succeed in offering click and collect without long collection queues will gain a greater share of customer minds and wallets.
Eliminating the frustration and inconvenience of queues by itself is a significant improvement to the customer experience.
One dynamic solution is to deploy click-and-collect smart lockers, which were already a growing trend prior to the Covid-19 outbreak.
These can help optimise store personnel's time by eliminating the need for interaction with every customer to collect goods. In addition, they provide valuable analytics on shopping patterns, dwell times and pick-up times.
Retailers see the need to incorporate contactless self-service solutions into their businesses to stay competitive, streamline operations, increase footfall in stores, sell more and adapt to the new normal.
Here are five key advantages to contactless self-service click-and-collect services in stores.
1. Convenient and enhanced customer experience
Recent years have seen retailers continually invest in stores with services such as coffee shops, beauty treatment rooms and personal shopping to create destinations and drive up dwell times and sales.
2. Increased footfall into stores
Contactless collection and returns using smart locker technology solutions provide a further compelling reason to visit stores, and if they are located in the right place additional sales will follow.
Stores located near transport hubs such as rail stations benefit from efficient and easy-to-use click-and-collect solutions as they are on the route home for customers.
3. Impulse additional purchases
The location of a click-and-collect smart locker within the store is key to additional impulse buys.
Current collection points tend to be in one section of a larger store. This can be problematic if, for example, they are located in the men's department and a woman is collecting her goods as she is then less likely to impulse-buy.
4. Freeing up in-store personnel
Long queues for click and collect can put customers off from using the service, while it also takes sales associates away from serving customers – something that is of critical importance at the moment.
By contrast, contactless options dispense with queues and free up staff to deal with customers.
5. Reduced delivery and returns costs
Home delivery costs are expensive for retailers and the rate of returns is high. Additionally, it can take a month or so to get goods reprocessed, depending on individual retailers' returns policies.
Smart locker click and collect and returns can dramatically reduce the time it takes to return goods as customers can potentially return on the spot if they are not happy with the product.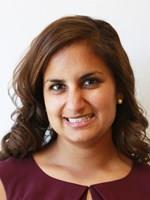 Trishna Jethwa is workplace services (WPS) service advantage business development director at Ricoh UK
To find out more about how Ricoh UK can help your business, visit ricoh.co.uk/business-services/all-services/workplace-services/smart-locker-services.html

Ricoh is a global company empowering digital workplaces using innovative technologies and is a leading provider of document management solutions, IT services, communications services, commercial and industrial printing, digital cameras and industrial systems.