PAID FOR POST
More voices from the retail industry
The Covid-19 pandemic presented huge challenges for retailers. With issues around reopening, enforcing social distancing and fluctuating lockdown rules, the industry has definitely had a tough time over the last nine months.
Many stores had to close completely at the height of the crisis and even after reopening, footfall decreased dramatically.
Consumer spend on non-essentials dropped to 40-50%, while overall revenues are expected to drop to 30-50% for 2020.
Supply chain and fulfilment issues caused headaches for retailers, but things are looking brighter for online shopping.
At this year's virtual Salesforce Live: UK and Ireland, we heard inspiring stories from top trailblazers on future-proofing their businesses, including iconic British retailer Fenwick.
How Fenwick achieved agile fulfilment
After closing all of its stores just before the first national lockdown, Fenwick first focused on making environments safe for customers and colleagues, before taking the opportunity to accelerate the growth of its online offer, originally launched in partnership with Salesforce.
"We started with one of our biggest stores, down in Kingston, and completely reworked the space and layout," Fenwick's digital director Kate Smyth told Salesforce Live. "Then a small, brilliant group of people from nearly every department in the business rolled up their sleeves and joined me in the back of the store to start fulfilling online orders."
Fenwick began by using just three stores to handle fulfilment, but also took the challenging step of re-equipping its flagship Newcastle store for online too, a process that took only two weeks. Each store functioned as a mini-distribution centre using the Salesforce Order Management System (OMS) to take multiple feeds from multiple locations.
"The OMS is really key, orchestrating the allocation of orders so as orders come in, it hands off the order to the store that's going to fulfil it," said Smyth. "We use a Salesforce partner as a mini-warehouse management system, and give the picking teams in-store a handheld decive that shows them the items they need to pick and then pack for each customer."
An emphasis on local communities
The pandemic also gave Smyth and her team an opportunity to take Fenwick's strong roots in local communities and transfer these into the business's online offer.
"We're proud of being a retailer with strong connections to local communities, and in our stores, we try to champion local brands and artisans," said Smyth.
"When we were looking at developing the online proposition, we wanted to bring that level of personalisation – the Fenwick quality of service. We made sure that when we designed the site, each visitor could customise it into their own version of Fenwick: we promote each store's services, events and brands, and content across the site is tagged by store with customers able to set local preference through in-built widgets."
Adapting in a crisis
Despite the challenges thrown at them by the pandemic, the Fenwick digital team, led by Smyth, managed to grow and adapt impressively quickly. Having multiple fulfilment locations nationwide was crucial when there was the risk of individual areas going into lockdown. Online orders and their potential peaks were managed by adding a third-party warehouse to distribution, meaning Fenwick could work with online partners for an extended range, all orchestrated and allocated by the OMS.
Smyth believes Salesforce has helped enhance the customer experience for Fenwick.
"It's enabled us to make huge strides across the business in a really short space of time, for example allowing our personal shopping teams to manage their appointments over video," she said. "A major part of our digital ecosystem is from Salesforce and Salesforce partners."
You can catch up on the full session, including the spotlight on Fenwick's success, here.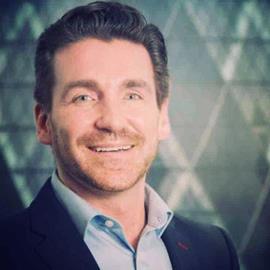 Michael Green is senior area vice-president and head of retail and TTH (travel, transport, hospitality) at Salesforce.
Michael brings more than 15 years of experience in driving growth, developing and nurturing some of Europe's top brands to innovation and success for their customers.
Currently, he leads the retail and TTH sales cluster, managing industry-focused teams to deliver results and bottom-line impact across sales, service, operations and marketing for businesses.
Working with global customers, Michael has a true passion for technology transformation and operational excellence. Prior to joining Salesforce, Michael worked in technology and helped IBM build trusted relationships and grow its European partnerships with leading businesses.

Salesforce is the global leader in customer relationship management (CRM). Founded in 1999, Salesforce enables companies of every size and industry to take advantage of powerful technologies – cloud, mobile, social, Internet of Things and artificial intelligence – to connect to their customers in a whole new way. For more information, please visit salesforce.com/uk.