Retail Week has launched its strategic toolkit, Retail Horizon, mapping out the winning strategies for businesses in 2023 and beyond. Retail Week data and insights director Lisa Byfield-Green explores some of the key trends set to shape the sector
As retail enters a third consecutive year of major disruption, navigating change and uncertainty has become second nature for resilient retail leadership teams.
Or has it? Because, in reality, as we lurch towards the end of the year, it is highly improbable that anyone would have predicted some of the challenges currently facing the industry.
With political U-turns and economic turmoil to navigate, alongside rising inflation and the fallout from the war in Ukraine, businesses are having to urgently address the cost-of-living crisis, supporting consumers as they rein in discretionary spend.
At the same time, retailers face their own crippling increases in overheads related to transportation, fuel, energy, staffing and manufacturing. This presents incredibly tough choices as cost bases and profitability are squeezed under intense pressure.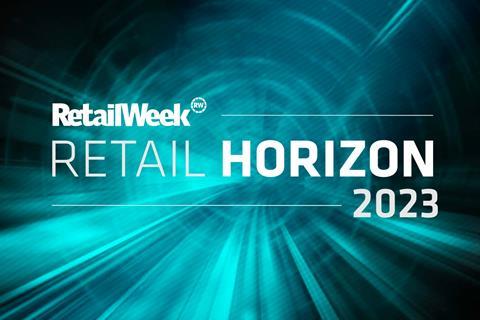 Retail Horizon 2023 – Winning Strategies to Navigate Disruption, is a strategic toolkit available exclusively for our subscribers.
What's more, the income divide is widening. More power has transferred into the hands of workers, with strikes and unrest impacting essential infrastructure such as railways and postal services, as wages fail to keep up with rampant inflation.
Building on our work over the last two years, Retail Week has analysed the major trends and disruptions that will shape retail in 2023 using our STEPIC methodology, spanning society, technology, the economy, policy, industry and culture.
Our latest Retail Horizon report hones in on the trends that every retail business needs to navigate, assessing the implications for your business and providing case studies to help you prioritise and plan for the future.
Our five winning strategies have also been updated for 2023, ensuring that businesses are ready to face – and overcome – the challenges ahead.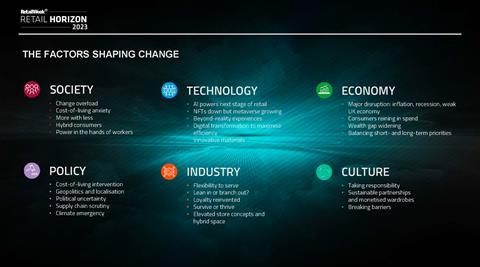 Cost-of-living anxiety
Consumers are finding life tough, as money concerns impact their day-to-day spending habits. For those on lower incomes, there is real fear around energy costs, mortgage rates, fuel prices and grocery inflation. Many are falling into poverty for the first time. Others are seeking to do more with less.
Mental exhaustion and change fatigue are plaguing us all – even in May 2022, before the worst of the political upheaval and energy price hikes had gripped the UK, Office for National Statistics census data revealed that 77% of British adults felt stressed as a result of the cost-of-living crisis. Women are more likely to feel anxious than men.
Amid the political and economic turmoil, we expect to see pressure on discretionary spending intensify in the coming months. In this bleak environment, retailers will need to demonstrate how they are remaining relevant, supporting customers with entry-level ranges and messaging that reflects a value-for-money focus.
With an eye on mental health and cost-of-living concerns, brands that are sensitive to these challenges, understand their core audience and can be present where their customers are will win. Consumers will resonate with strategy and communication that puts kindness and empathy at its heart.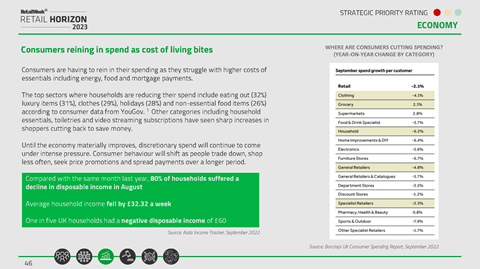 Survive or thrive mentality
Having been caught in a perfect storm of pandemic-related supply chain, staffing and financing issues, and now facing even tougher macroeconomic headwinds, many retailers will be in survival mode going into 2023.
As the strain continues to mount, the market will diverge between the success stories, and those that struggle or fall into administration under the weight of the mounting costs of doing business.
Decisive action is needed by retailers to ensure they are in the first of these groups – whether that means leaning into their existing proposition and stripping operations back to original strengths, or diversifying beyond retail to generate new revenue streams and grow profits.
Some, such as Sainsbury's with its food-first strategy or Moonpig's back-to-basics focus on greetings cards, are doubling down on what they are best known for and doing it well. Others, such as Pets at Home with its grooming and veterinary arm or John Lewis with its rental home and financial services propositions, are branching out beyond their core retail offer.
Introducing or expanding service-driven revenue streams furthers the evolution of brands as ecosystems, bringing retail and services together, and feeding into consumers' appetite for convenience and value. Whether they stick or twist, retailers need to fully commit.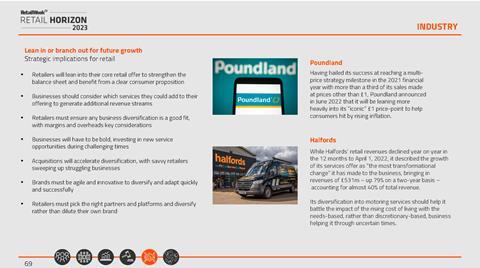 Flexibility to serve
As consumers respond to the disruption, retailers must keep up with rapid change by placing agility and flexibility at the heart of their strategies to ensure they can meet shoppers' constantly changing needs across all channels.
Following the accelerated shift online during the Covid crisis, the previously held view that ecommerce adoption was brought forward by up to 10 years is no longer playing out. Online sales have been in year-on-year decline since May 2021, according to the IMRG Capgemini Online Retail Index. Springboard figures show footfall has strengthened across retail parks, high streets and shopping centres, though it remains below pre-pandemic levels.
This shift is reflected in the squeeze on the technology sector, where high levels of recruitment and investment had been undertaken to support the online peak. Demand for rapid delivery still exists, but it has slowed – and providers are laying off staff and pulling out of some cities.
Meanwhile, distribution-dedicated space is being repurposed. Amazon is among the retailers recently driven to sublet warehouse space as the surge in online shopping slows.
For retailers, this means making critical channel-related decisions regarding business units, staffing and optimising space to support the rebalancing of consumer habits. Decisive action and agility are needed, as rising living costs and deal-seeking behaviour adds to consumer unpredictability.
Geopolitics, localisation and long-term planning
Navigating short-term challenges such as the cost-of-living crisis is non-negotiable, but retailers must also have a long-term strategy to emerge stronger from this difficult period.
With many high-impact yet uncontrollable factors causing shocks to the economy and supply chains, businesses are assessing ways to lessen exposure to unnecessary risk both in the UK and overseas. The war in Ukraine, political instability in Russia and China, and the falling value of the pound against the dollar have combined to create higher overheads, volatility and global risks that are becoming too obvious to ignore.
With the majority of international businesses forced to exit Russia, many will now adopt a more risk-averse strategy towards the global exposure of their retail operations and supply chains. As businesses seek alternative sources of goods and manufacturing, we anticipate a move towards more localised economies. Businesses including Next, Kingfisher and Zara are among those exploring this more diversified approach, which brings long-term benefits for the climate, as well as offering flexibility and faster go-to-market innovation.
Important long-term priorities for retailers include keeping sustainability and purpose-led strategies at the forefront as the climate emergency accelerates. Product innovation, partnerships, innovations in technology and sustainability will also play a key role in preparing retailers for a path out of the short-term crisis.
All of this means setting aside budget for long-term innovation and investment. Customer-led innovation will win loyalty and drive long-term growth as we emerge from this tough economic period.
AI to power up the next stage of retail
Cashierless stores have been adopted by a number of retailers over the past five years, but the adoption of such technology in the UK has slowed owing to disappointing sales and high costs – undoubtedly exacerbated by the cost-of-living crisis.
However, practical AI solutions will continue to increase efficiency throughout the value chain. These include AI demand forecasting, intelligent routing and automating the pick-and-pack process in warehouses. Grocers have already taken the lead in integrating AI solutions to power operational efficiency and these will be adopted across more sectors.
An interesting development to watch is the acceleration of driverless deliveries. Amazon is poised to begin drone deliveries to Prime customers in Lockeford, California, before the end of 2022. In the UK, a 265km drone 'superhighway' is to come into effect over the next two years linking Reading, Cambridge, Oxford and Coventry. If trials go well, this could become standard for the delivery of medicines and other urgent items, avoiding road traffic on time-sensitive deliveries.
Continued long-term technology investment will focus on large-scale warehouse and autonomous supply chain projects, requiring regular reviews and updates. Smaller, data-driven intelligence tools can add short-term value at low cost, such as AI digital assistants, cryptocurrency payments and digital wallets.
Climate emergency and delivering on progress to net zero
The UK government is targeting net-zero carbon emissions by 2050 and the majority of big businesses have set their own targets, including the 80 UK retailers signed up to the British Retail Consortium's Climate Action Roadmap.
Consumer expectations of businesses are high but, in some instances, there is a gap between target setting and the reality of progress being made. Retailers must ensure they do not become distracted by short-term priorities – the climate emergency is an even bigger crisis than the cost of living, and one that has long-term consequences for us all.
Scientifically measurable targets must be set and broken down, with clear communication on the steps to get there and progress made. Sustainability innovation will help to drive businesses forward for the long term including the use of innovative new materials and packaging solutions.
Additionally, regulators such as the Competition and Markets Authority (CMA) have called out brands and retailers for greenwashing and can be expected to increase their vigilance over businesses' sustainability claims. Now is the time to address these issues. Credible certification bodies such as B Corp or The Carbon Trust can provide a framework for companies and build consumer trust.
Winning strategies to navigate disruption
Our winning strategies have evolved for 2023 to reflect the fast-changing retail environment. These are:
Agility and focus
Strengthened propositions and ecosystems
Customer obsession
Innovation and ingenuity
Power in purpose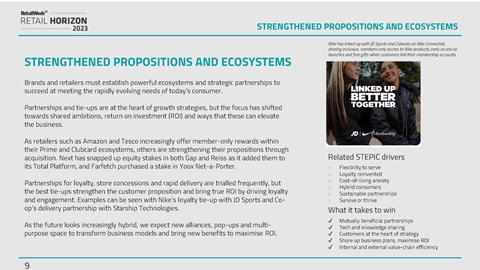 In such a tough and competitive environment, it is essential for retailers to take charge of changing priorities, prepare for the long term and ensure they do not stand still.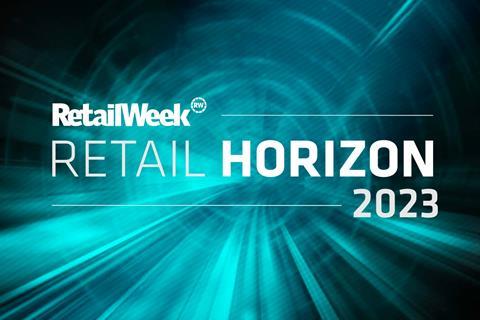 Retail Horizon 2023 – Winning Strategies to Navigate Disruption, is a strategic toolkit available exclusively for our subscribers.