Retail Week's ranking of the industry's top 100 most influential individuals
What does it mean to be a retail leader in 2020?
In an environment that has tested retail chiefs like no other, Retail 100, our highly anticipated annual ranking of the sector's leaders, seeks to answer that question.
We bring to the fore those leaders who have prioritised people and purpose, and who have innovated, collaborated and operated with agility to meet unprecedented challenges.
In recognition of the extraordinary circumstances the sector finds itself in, this year's ranking has placed special emphasis on leaders acting decisively and creatively in the face of the pandemic.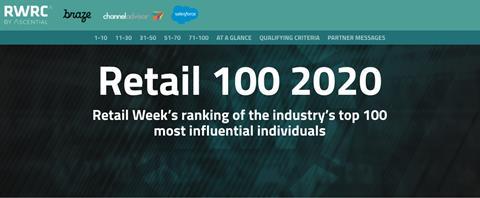 Access your free Retail 100 guide today to learn from the best and discover the names transforming retail.
You'll uncover:
Retail's most influential leaders ranked from one to 100
Why leaders from food and grocery dominate the top 30 – and which grocer has taken the top spot
Why purpose, agility and increased diversity characterise this year's list
The 23 most significant women in retail today
Eight ones to watch set to make waves over the coming year
The highest risers and fallers in the Retail 100 ranking – and what makes them so