The Hut is an entrepreneurial retail success story, and its founder and chief executive is eyeing an eventual float.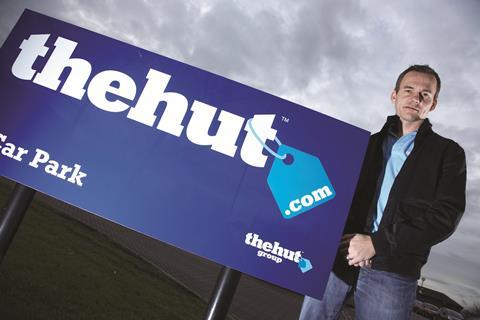 "I must've been pretty dumb," says The Hut boss Matthew Moulding of his decision to set up the etailer in 2003. "I had no experience in online or in entertainment but I remortgaged everything and went for it."
The gamble has paid off. The Hut revealed last week that EBITDA rocketed from £300,000 to £4m in the six months to June 30. Turnover was £143m in 2011 and the etailer is eyeing a float eventually. A recent spate of top-level appointments to an already stellar board will boost its chances.
The retailer, chaired by former Matalan boss Angus Monro and in which Sir Stuart Rose and Sir Terry Leahy are investors, is expected to bring at least one more high-profile director onto its board.
Moulding, who was born in Colne, Lancashire – "most famous as the birthplace of [northern retailer] Boundary Mill," he says – wasn't always an entrepreneur. He started out as a chartered accountant.
It was his time working as chief financial officer of 20:20 – the distribution division of Phones4U tycoon John Caudwell's business, Caudwell Group – that helped cultivate his entrepreneurial skills. "The way it was structured allowed us to basically run our own business," he recalls. "When I set up The Hut I wasn't trying to be some big-time Charlie, it was just an extension of what I was already doing."
It was at the Caudwell Group that Moulding had the idea to launch an entertainment etail business. It was not an obvious route for someone who was far from being a tech wizard. "I didn't bother with the internet at all – I was a late adopter," he says. "It was 2003 when I first bought anything online – a CD from Play.com. I thought this could be big business. I already had a big warehouse. I thought, combined with the internet, this could be a pretty disruptive model."
Moulding pitched the idea to launch a website to Caudwell Group but the company was gearing up for a sale and had other priorities. So he decided to go it alone, raising £500,000 seed money from friends and family. However, it wasn't plain sailing and the group has gone through many transitions to grow into the online giant it is today.
"It was a pretty poor idea to start off with," admits Moulding. "Especially as I was doing it all by myself and had no IT or product experience. We had no brand so marketing cost a fortune."
While haemorrhaging cash, he had a stroke of genius and decided The Hut needed to build its own platform, enabling it to become a 'white label' retailer. "It made sense not to spend thousands on marketing but to partner with Asda and let it send us its customers. Within six months, we'd turned the business around," he says.
The retail business has now turned full circle, according to Moulding, ditching most of the white label business to focus on the direct operation he first envisaged. It now runs a raft of its own sites selling anything from handbags to protein supplements through brands such as Zavvi, Mybag and Lookfantastic.
The Hut focuses on FMCG products that generate a high level of repeat purchases. It sells goods with a low return rate – across the group, returns are in low single digits, says Moulding – and does not deal with perishable goods.
If there are barriers to launching businesses in new markets, The Hut simply acquires its way in. Moulding sticks unwaveringly to the formula. "If you want to go on the stock market your model will come under scrutiny. We've made sure ours is watertight," he says.
Floating is clearly on Moulding's agenda although he says the market may not be primed for it yet. "It's not a great time for an IPO, I can't think of any [in retail] in the past 18 months. But we're sorting out our board and when the market is right we'll look again," he says.
Outside work, the father of four still finds time to go to the gym at six each morning. That exercise, along with the big hitters on his board, should give him the stamina to eventually get a float away.
Timeline
2004 The Hut launches
2004 Asda entertainment launches
2008 Tesco entertainment launches
2008 The Hut acquires Zavvi
2010 Zavvi launches in the Netherlands and Spain
2010 Acquisition of Iwantoneofthose
2011 Acquisition of Myprotein, Mankind and Lookfantastic