The gregarious New Yorker who's 'blown the dust off' Liberty is ensuring the retailer – now also trading at Westfield Stratford – makes the most of its history.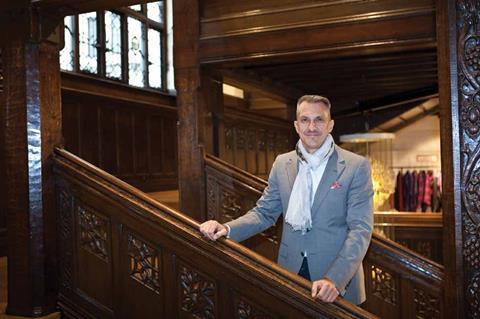 Luxury London department store Liberty may be a quintessentially British brand, but it is the larger-than-life American at its helm who has widened its appeal and targeted tourists.
Ed Burstell, who took on the post of managing director two years ago, led the launch of the retailer's Westfield Stratford City store, which opened a fortnight ago and seeks to benefit from the Olympic footfall.
It is the only Liberty store other than its flagship on Great Marlborough Street. The Stratford store was originally planned as a pop-up shop but Burstell has not ruled out keeping it open long term.
The gregarious New Yorker says the retailer missed a trick not pursuing holidaymakers. "When I came here, they seemed almost ashamed of its mock-Tudor setting, but I was like, oh my God, it's amazing," he says. "Where are tourists going to go in London? They're going to go to Harrods and Carnaby Street."
Burstell says the new shop fits with its tourist-friendly strategy and puts the brand in front of a global audience.
Burstell took on the managing director role following private equity firm Blue Gem Capital's acquisition of the retailer for £32m in 2010. He was previously buying director at the retailer, which he joined from US luxury emporium Bergdorf Goodman in 2008.
He was a popular choice for the top spot and, with his raucous, hyena laugh he clearly injects some fun into the Liberty office.
"They're not a shy bunch," he says of his co-workers. "They're constantly doing impressions of me. I was blessed with this nasal voice. They're always asking if I want some kwoifee."
Despite the thick New York accent, Burstell is now an adoptive Brit. "I don't miss home at all," he says. And no wonder, the American is too busy exploring London.
"I've spent the past three and a half years walking," he says. "I grab a cab and a map and point to a place and say take me there, then I make my way home.
"You find some amazing little places. Columbia Road, Hampstead, Stoke Newington. You also find there are some areas where you shouldn't carry a bag with you. I don't know if I'm brave or stupid."
Burstell lives in Ladbroke Grove, which he says reminds him of New York.
Since he arrived almost four years ago Liberty has experienced continued double-digit growth. "I brought more of a commercial slant to the business. It always had so much great merchandise. It just needed to have the dust blown off."
He says Liberty has a special place in the UK and is one of the "great shopping emporiums".
"Our buying and merchandising team are amazing," he says. "They create stories. The customer should have a sense of discovery moving from department to department."
Burstell insists that the jewel in the department store's crown is its distinctive Liberty floral prints, which he has been putting to good use. Liberty is collaborating with brands such as Barbour and Nike using prints. "It's using our history and making it relevant," says Burstell.
The American is confident that Liberty's Westfield shop will help the business to continue its recent growth spurt and says its first week's trading was strong.
He doesn't rule out further openings and insists that Blue Gem is willing to plough money into growing the business.
"They're money people. If they're getting ROI, they're happy to invest," he says. "I wouldn't rule anything out."
Perhaps Burstell's enthusiastic adventures, map in hand, could be giving him ideas for new store locations.
Career history
2010 to present Liberty managing director
2008 to 2010 Liberty buying director
2004 to 2008 Bergdorf Goodman senior vice-president
1998 Henri Bendel general manager
1994 Henri Bendel divisional merchandise manager