Angela Spindler, The Original Factory Shop boss, is taking her extensive fashion retail knowledge to N Brown to lead the plus-size specialist.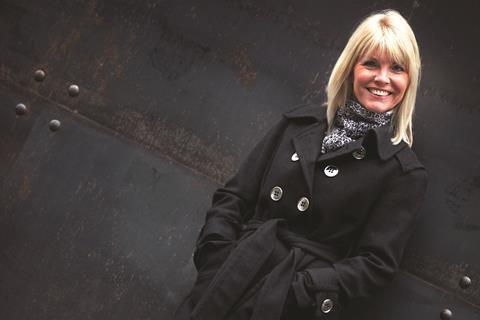 The Original Factory Shop boss Angela Spindler was unveiled as Alan White's successor at the helm of home shopping giant N Brown last week.
Spindler has the fashion credentials to lead the plus-size specialist, following stints heading George at Asda and Debenhams, but perhaps surprisingly it was in pet food that the glamorous retail boss first made her name.
She was in charge of the category while working at Mars-owned Pedigree Masterfoods and says the FMCG firm was a great breeding ground not just for her but for a wealth of retail leaders.
"It was a brilliant place to learn about business," she says. "Mars makes sure you have cross-functional experience. They're developing leaders. You look around retail and so many great leaders started at Mars.
Justin King and Allan Leighton both started there."
It was at Mars that Spindler first encountered former Asda chief executive Leighton, who she cites as a significant influence in her career. She followed him to Asda at a time when he and chairman Archie Norman were executing their turnaround.
"It was a really exciting time to be there," she says. "They had brought in such a great pool of talent, much of it from FMCG. So many of today's senior directors across retail were there at the time."
Spindler took on roles as diverse as chilled foods director and retail development director, working on new formats such as Asda Living and Supercentres, before taking over from Andy Bond as managing director of own-label clothing brand George.
Spindler says that George was viewed as the "jewel in the crown" of the Asda business by US owner Walmart.
"It really forged the way for fashion in supermarkets - not supermarket fashion, but a credible fashion label at affordable prices," she says.
In 2008, after three years in charge at George, she was wooed by Debenhams, where she became managing director and was tipped to succeed chief executive Rob Templeman, someone she says left a lasting impression on her.
"He's a veteran of the private equity world and by osmosis I learned a lot from him about it. One of the things that piqued my interest in The Original Factory Shop was the opportunity to understand the private equity world more. I was intrigued to see if it could work for me," she says.
After just a year at Debenhams, she moved on to the Duke Street-owned value department store group.
In her time at The Original Factory Shop, Spindler has helped drive the retailer to impressive growth and will leave the business an attractive proposition for a potential buyer when Duke Street decides to sell.
On her departure this summer, she expects to have doubled sales and store numbers and almost doubled profits during her tenure.
Spindler is excited about taking the reins at N Brown, not least because it brings the Cheshire native back to her home turf.
In her new role at the helm of the £750m multichannel giant, which she is due to take up before July 1, Spindler will become one of the most powerful women in UK retail.
She says: "There isn't a glass ceiling but the cultural difference between men and women is that women are
less likely to put their head above the parapet and say I'm better than him.
"Any woman in a senior position has a responsibility to be a mentor and encourage others to do the same."
When not in the boardroom, fitness fanatic Spindler is likely to be found in the gym or on the tennis court, where she is an adept player. She will aim to perform just as well at the net with the online giant.
Career history
January 2009 to present The Original Factory Shop, chief executive
January 2008 to January 2009 Debenhams, managing director
November 1997 to January 2008 Asda - roles included managing director of George, marketing director and food trading director
1988 to 1997 Mars Pedigree Masterfoods, trading director