Mclaughlan will take over as chief executive from Kevin Bradshaw
Mclaughlan will oversee Wyevale's supply chain and IT transformation plan
He joins the business after resigning from Toys R Us last year
Wyevale Garden Centres has appointed former Toys R Us UK boss Roger Mclaughlan as its new chief executive.
Mclaughlan, who quit Toys R Us last October, will take up the role at Wyevale on Monday (March 14).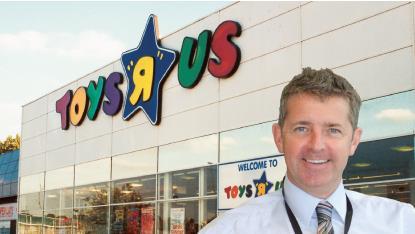 It comes following reports last month that Wyevale's private equity owner Terra Firma, whose senior team includes former Sainsbury's boss Justin King, is mulling a sale of the business.
Mclaughlan takes over from Kevin Bradshaw, who has been boss at the garden centres firm since November 2012.
Bradshaw will remain with the business for the next few months to ensure a "smooth transition", Wyevale said.
Mclaughlan left Toys R Us last year after being made chief merchandise officer of the retailer's European operation following a restructure. He had been Toys R Us' managing director since late 2011.
Prior to Toys R Us he had stints at Asda as retail director of its Living business and at Marks & Spencer as womenswear head of selling.
Wyevale Garden Centres' chairman Stephen Murphy, said: "Roger joins us with a fantastic track record in leading retail businesses and he is perfectly placed to build on the success so far and drive further value as the business enters the next phase of its transformation."
King said: "I am looking forward to working with him (Mclaughlan) and the team to execute the next phase of our transformation strategy as we transform our supply chain and IT to provide a solid platform for future growth."
Wyevale, which employs around 6,000 staff, was acquired by Terra Firma for £276m in 2012.
In its last reported full-year, Wyevale profits soared 55% to £34m off the back of a 5% rise in sales to £290.4m.
Flint Hyde Executive Search placed Mclaughlan in the role.
For a full profile of Mclaughlan, click here