As Philip Clarke's three years as Tesco chief executive come to an end, Retail Week pinpoints the seminal moments of his tenure.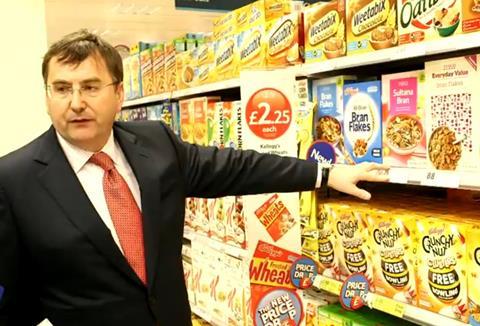 March 2011
Clarke takes over as group chief executive from predecessor Sir Terry Leahy after a lifelong career at Tesco that began as a shelf-stacker at the age of 14.
August 2011
Tesco pulls the plug on its struggling Japanese business.
September 2011
The grocer launches a Big Price Drop cost-cutting drive in the UK ahead of Christmas. It was later labelled the Big Price Flop by the media.
March 2012
Clarke ousts Tesco UK chief Richard Brasher and takes on responsibility for the retailer's UK turnaround.
April 2012
Tesco reveals first fall in UK profits in two decades.
A £1bn plan to turnaround Tesco's core UK business is unveiled, with the investment earmarked for store redevelopments and a renewed focus on fresh food.
May 2012
Clarke turns down his bonus after the profit warning.
October 2012
Tesco discloses the first fall in group profits since 1994 after a slowdown in sales in the UK, the cost of a £1bn turnaround plan and pressure on its international businesses.
December 2012
Tesco launches a strategic review of its loss-making US business Fresh & Easy and at the same time highly regarded deputy chief executive Tim Mason, who led the US business and oversaw global marketing, departs.
In the same month Chris Bush is promoted to head up the UK operation as Clarke steps back from the day-to-day management of the UK business.
Jan 2013
Clarke defends Tesco buying a 49% stake in independent coffee chain Harris + Hoole.
February 2013
Clarke kick-starts a "root and branch" review of Tesco's supply chain after the retailer is caught up in the horsemeat scandal.
April 2013
Clarke announces an end to the 'space race' in the UK supermarket sector with the scrapping of town centre developments.
March 2013
Tesco buys the Giraffe restaurant chain.
June 2013
Former Tesco chairman and chief executive Lord MacLaurin urges Tesco's board to back chief executive Philip Clarke after saying he was "saddened" by Sir Terry Leahy's legacy.
July 2013
Clarke culls 50 members of senior management across all departments as part of its UK turnaround plan.
Reports emerge Clarke has been banned from driving for six months after he was caught speeding.
August 2013
Clarke unveils an overhauled Extra in Watford, where new ideas to reinvigorate the reatiwler's giant stores are showcased.
September 2013
Tesco lends Ron Burkle's Yucaipa investment company $80m to take on its Fresh & Easy business.
Clarke reveals a budget priced own-brand tablet called Hudl, ahead of the busy Christmas period, which flies off the shelves as Tesco sells 35,000 tablets in the first two days after launch.
May 2014
Following the success of the Hudl, Clarke says Tesco will launch its own smartphone by the end of the year.
The 54-year-old Clarke tells the BBC he wants to stay at Tesco until his retirement at the age of 60.
July 12, 2014
Clarke steps down to make way for Unilever lifer Dave Lewis. News of the leadership change comes a day before Clarke's party to celebrate 40 years at Tesco was scheduled.