Giraffe's co-founder and managing director Andrew Jacobs is stepping down following widening losses at the restaurant chain owned by Tesco.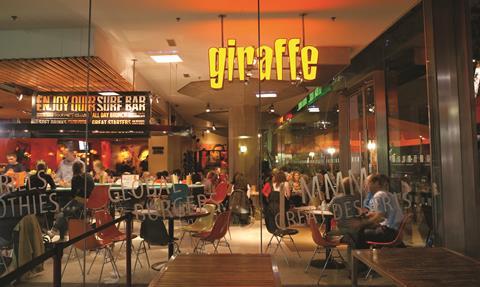 Jacobs is leaving the business to "concentrate on more entrepreneurial start-ups and smaller businesses within the sector", according to a statement from Giraffe.
Operations director Tom Crowley will take over as managing director this month.
Jacobs is the last of the original founders to leave the business, following the departures of Juliette and Russel Joffe last summer.
Jacobs said: "To be involved in the creation of Giraffe, to nurture its growth and be surrounded by such collective professionalism has been an incredible journey. The Giraffe business is much loved and respected and I know there are more great times ahead for all involved."
Giraffe chairman Adam Fowle added: "The underlying growth in the business remains strong, the brand continues to grow and we are very clear on the way forward. We owe Andrew a great deal for doing so much to drive the Giraffe development over such a long time."
Tesco acquired Giraffe, coffee shop chain Harris + Hoole and garden centre business Dobbies as part of former boss Philip Clarke's plan to drive footfall to big-box stores by transforming them into retail destinations.
However, investment in Giraffe has hindered Tesco profits and losses in the business rose to £4.1m last month.
Jacob's departure comes months after Harris + Hoole founders Nick, Andrew and Laura Tolley stepped down to focus on their other business, Taylor Street Baristas. The Tolley siblings have retained their stakes in Harris + Hoole, totalling 51%.