Meet the new chief executives of Tesco, Morrisons and Kingfisher, who all enter the Retail Week Power List top 100 for the first time.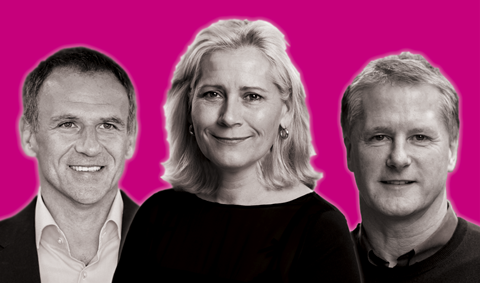 There has been an exodus of chief executives from some of the UK's biggest retailers in recent month – paving the way for a host of new faces to take the reins.
As we wave goodbye to Tesco's Philip Clarke, Morrisons' Dalton Philips and Kingfisher's Sir Ian Cheshire, Retail Week profiles the new bosses making an appearance for the first time.
Dave Lewis, chief executive, Tesco
The former Unilever man was parachuted into the UK's biggest retailer one month earlier than planned last September, after his predecessor Philip Clarke issued a series of profit warnings.
Lewis was immediately forced to display his mettle when it was discovered the grocer had overstated profits by £263m, prompting probes by the Financial Conduct Authority, the Serious Fraud Office and the Groceries Code Adjudicator.
Amid the scandal, Lewis has begun to implement his strategy and made some big decisions. He's impressed the market with coolness under fire and quiet determination to rebuild Tesco's strength.
In 2014 Clarke ranked fourth in the top 100, but will Lewis place higher or lower in this year's list? Find out on Friday.
David Potts, chief executive, Morrisons
In a long career at Tesco, David Potts started as a shelf-stacker before ultimately heading its Asian arm. He retired from the grocer in 2011 to fulfil personal ambitions. But his career was back in focus at the start of the year, when he pipped several other heavyweights to take the hot seat at Morrisons, replacing Dalton Philips.
He's already been forced to make some tough decisions – cutting five senior managers from the ranks in March and the following month culling 720 roles at head office. See how all this has translated for Potts on Friday, in Retail Week's definitive list of the top 100 most influential people in retail.
Véronique Laury, chief executive, Kingfisher
After taking on the Kingfisher helm from Sir Ian Cheshire, Véronique Laury has wasted no time making her mark on the retailer and has already revealed she will close 60 B&Q stores that are not generating enough sales per square foot.
Laury has set the bar high for herself by saying she wants to create a unique and compelling proposition for Kingfisher in the DIY sector, much like Apple, Primark and Zara have done in their respective sectors. So how will her influence be reflected in the Power List rankings?
Power List 2015: Grocery chiefs absent from retail Power List top five
1

2

3

4

Currently reading

Power List 2015: Tesco, Morrisons and Kingfisher bosses profiled