Supermarket bosses failed to break into the top five of the Retail Week Power List for the first time in its history.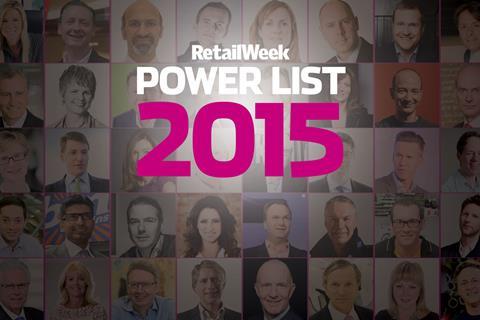 Power List 2015
The grocers, which have traditionally dominated the rankings, are not featured in the top five spots of the Retail Week Power List for the first time this year.
The lack of supermarket chiefs at the top of the list reflects the unprecedented shift in food retail with the big four – Morrisons, Sainsbury's, Tesco and Asda– under pressure from the success of German discounters Aldi and Lidl.
It also speaks volumes about the innovative strategies being spearheaded by the five most powerful and influential bosses in British retail.
Chris Brook-Carter, editor-in-chief of Retail Week, said: "The absence of the big grocery chains from the top five for the first time really shows just how dramatically the UK retail landscape has changed. With new leadership at some of the biggest supermarkets, there are encouraging signs that the more established household names could be starting to get back on track to recovering their former glory."
A place on the Retail Week Power List 2015 is not simply secured by presiding over the industry's biggest and best players. While certain bosses might have the muscle to make rivals take note, others from smaller or emerging retailers are on the list by virtue of their clear vision and exploitation of emerging trends.
Whatever size of business they lead, these are the people whose actions and words are influencing the broader sector and redefining what excellence looks like. When they speak, others listen.
If ever evidence was needed that retail is going through an intense and unprecedented period of change, this year's Power List demonstrates that. The chief executive in the number one spot has risen a massive 15 places from last year, and the top 10 has one new Power List entrant and three individuals who have been catapulted up the list.
These 100 power players are steering a steady course through a shifting retail roadmap as they adapt to new consumer behaviours and game-changing technological innovations.
Power List 2015: Grocery chiefs absent from retail Power List top five
1

Currently reading

Power List 2015: Grocery chiefs absent from retail Power List top five

2

3

4